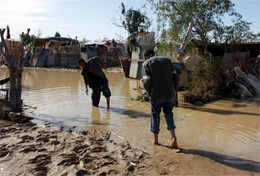 OCCUPIED

GAZA

STRIP

(

IRIN

) - Thousands of Palestinians in Gaza made homeless by Israel's 23-day military assault on the Gaza Strip which ended just over a year ago, are still in tents and damaged buildings; cold weather and recent flash floods have exacerbated their plight, say aid workers and the

UN

agency for Palestine refugees,

UNRWA

.

Heavy rain and flooding on 25 January badly hit tented communities in Beit Lahiya in northern Gaza; al-Mughraqa, a town six kilometers southwest of Gaza City; and Ezbet Abed Rabbo, east of Jabaliya town in northern Gaza, said Hamas officials.

UNRWA described conditions in al-Mughraqa as "shocking." Most of the residents there have no land of their own and live in shelters or tents with their livestock, on which they depend for their livelihoods.

Residents said many of their animals were killed in the floods and people were surviving on food distributed by Hamas, the de facto ruling authority in Gaza since 2007.

In Beit Lahiya, rain brought misery to many local residents, according to Hamas officials.

"We don't sleep at all when it rains like this in winter," said Umm Subhi Awaja, 33, who is pregnant and lives in a tent in Beit Lahiya with her husband and five children. "We stay up the whole night scooping water out and trying to dig a small ditch around the tent to prevent more water getting in, but it doesn't help. My children are afraid and we don't have enough blankets or clothes. It's so cold we're freezing."

Umm Subhi's husband is unemployed, in debt, and has six children with a second wife who lives in another tent in Beit Lahiya.

"I'm not sure how we will cope … The children are always getting sick, coughing or getting a fever," she said.
Rent relief
According to an April 2009 UNRWA and UN Development Program assessment of the damaged caused by the Israeli assault and subsequent fighting, some 4,036 houses in Gaza were totally destroyed or beyond repair, and 11,514 partially destroyed.
Those made homeless have squeezed in with relatives, rented apartments or made do in their damaged homes, aid workers said.
Ahmed Harb al-Kurd, Hamas social affairs minister, said on 27 January that Hamas has offered to pay rent of up to $3,000 a year to any Gazans who lost their homes during the war. He told IRIN that this would be until "the government finds a solution to reconstruct their houses once Israel lifts its barbaric siege, and construction materials, such as cement, are allowed to cross to Gaza."
Israel has not allowed cement and building materials into Gaza since June 2007, shortly after Hamas took over in the Strip, because it says they could be seized by Hamas to fortify their military structures.
The UN has repeatedly called for the lifting of the blockade on humanitarian grounds.
"We have seen nothing" of the $4.4 billion pledged to the Palestinian Authority by more than 80 states and organizations at a donor conference in Sharm al-Sheikh, Egypt, in March 2009, al-Kurd said. The money was meant for the Palestinian economy as a whole and Gaza in particular.
"Everything agreed at that conference was merely ink on paper," he said.
"The humanitarian situation of Palestinians in Gaza is going to deteriorate if something doesn't give," Jamal Hamad, an UNRWA spokesman in Gaza, told IRIN on 27 January.
This item comes to you via IRIN, a UN humanitarian news and information service, but may not necessarily reflect the views of the United Nations or its agencies. All IRIN material may be reposted or reprinted free-of-charge; refer to the copyright page for conditions of use. IRIN is a project of the UN Office for the Coordination of Humanitarian Affairs.