Last Saturday activists of the Flemish Palestine Solidarity Committee (
VPK
) campaigned for a boycott of Israeli products, in front of several supermarkets. They asked the customers to sign a petition to the supermarkets' directors, and built a 'living slogan'. In this way, the activists want to pressure Israel to enforce its respect for international law.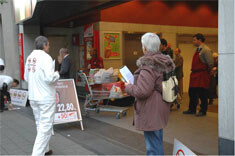 The profits of every Israeli product sold (also in Belgium), allow Israel to maintain the occupation of Palestine. Since the international community doesn't impose sanctions against these violations,
VPK
calls for a consumer boycott of all Israeli products. Some of the well-known trade marks in Belgian supermarkets are Carmel, Jaffa, Tivall and Sabra.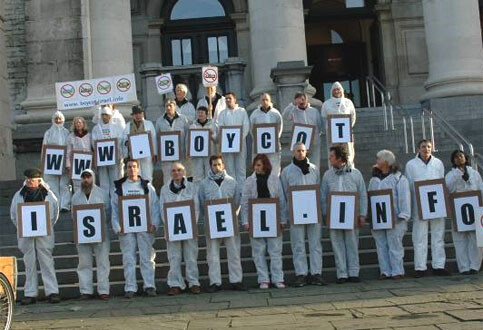 A boycott of agriculture goods - even if this counts only for 2% of Israeli exports to Belgium - shows the most important causes of the Israeli-Palestinian conflict: the systematic strangling of the Palestinian economy, the theft of farmingland and water, the exploitation of labour forces. In total actions have been held in front of 15 supermarkets in eight Flemish towns, where five to ten activists distributed flyers and collected signatures. In order to attract press attention, 30 sympathisers gathered in Antwerp, to build a 'living' slogan that asks a boycott of Israel.
The customers generally reacted in a positive way, and activists handed about 100 signed letters to the supermarkets' managers, with the explicit demand to exclude Israeli products from its shelves.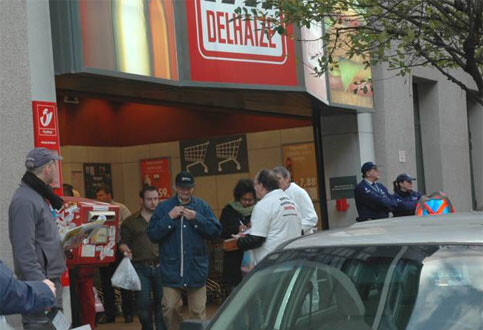 This action can be called a success and a considerable progress in comparison with similar actions in the past. Furthermore the activists found themselves boosted by the voice of the consumers in their message that 'it's high time to act against Israel'.
All Images: Myriam Vandecan/CODIP
Related Links

Research: Dozens of Dutch companies support or facilitate Israeli occupation of Palestinian and Syrian territories,

UCP

(16 November 2006)