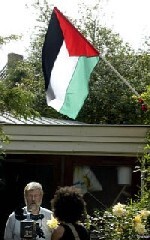 'Did you hear the news yet?' asks Awatef as I walked down to the office. I expected another Israeli invasion of yet another Palestinian town or refugee camp, another killing, home demolition, or another plan or arrangement brought forward by

CIA

directors. 'It's the flag again.' Also, Iyad, another colleague read it in the Palestinian daily Al Quds.

Last week, I already wrote about the amazing Gretta Duisenberg, whose husband is the Dutch president of the European Central Bank, who has received a death threat because of her support for the Palestinians by flying the Palestinian flag from her balcony at their home in Amsterdam. She removed the flag a few days ago after protests from her Jewish neighbours. A Dutch Jewish organisation even accused her of anti-semitism and filed a case against her in court.

This sparked a pro-Palestinian group in the city of Haarlem to encourage Dutch citizens to fly the Palestinian flag. The group said that the initiative is aimed to defend the freedom of expression. Also in the city of Leiden, where I studied, the same initiative has been followed, telling people where to buy Palestinian flags and asking them to fly them in solidarity.

The Dutch Palestine Committee said that it has received dozens of telephone calls and emails from people who want to obtain a flag. A spokesperson of the largest factory for flags in the Netherlands, the Dokkumer Vlaggencentrale, said: 'It is striking that since May the sale of Palestinian flags has increased. There are lots of people who want the flag.'

The Borgers family in Gorinchem raised Gretta's flag from their historic house boat. 'In particular in these times people must dare to make a political fist', says Carla Schenk-Borgers. Actually, it is an initiative of her husband to support Gretta Duisenberg. 'Gretta's initiative, flying the flag, was portrayed as an anti-semitic action, my husband found that unacceptable.'

The Borgers family decided that Gretta's flag should be passed over and flew every three days somewhere else. To start from the house boat of the Borgers family. Gretta and Jos want the same: awareness for the Palestinian cause and peace for both the Palestinian as the Israeli people. 'That's why the flag must fly throughout the whole country.'

Picture of the flag in Haarlem was shown in Haarlems Dagblad.