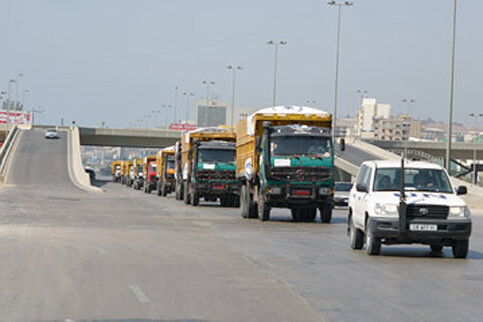 BEIRUT
/
DAMASCUS
—
UNHCR
's first relief convoy - carrying 140 tonnes of emergency relief items for thousands of displaced people in Lebanon - arrived safely in Beirut on Saturday after making the journey from Syria. The supplies of blankets, mattresses and kitchen sets will be distributed rapidly in the mountain areas outside Beirut where tens of thousands of people are crammed into schools.
"The arrival of this first convoy is really good news. We are relieved that our emergency supplies are finally able to enter Lebanon, and this is just the start," said UNHCR's representative in Lebanon, Stephane Jaquemet, as the convoy pulled into the Lebanese capital. "So far we've been buying goods on the local market to help the displaced, but the market is getting depleted and the situation in the communal shelters is becoming increasingly dire."
The convoy, loaded with 3,500 blankets, 3,600 mattresses, 2,820 collapsible jerry cans and 54 kitchen sets drove from Damascus to the Al Arida border crossing point on Friday night. On Saturday morning, the aid was transshipped at the border to six United Nations trucks for the two-hour journey to Beirut.
Two more convoys are planned for Sunday and Monday bringing in mainly tents which will be used to help decongest overcrowded existing communal shelters. More convoys carrying supplies from UNHCR's huge stockpiles in the region will follow.
An estimated 700,000-800,000 people have been displaced by the conflict. According to the latest statistics from the Lebanese government's Higher Relief Committee, some 106,700 displaced people are living in 652 schools in Lebanon.
On Saturday, a UNHCR field team visited the local authorities and villages in the mountainous Jbail district where 20,000 displaced people are living in shelters and with local families. The strain of hosting an influx of thousands of people, they found, is beginning to make its mark.
"The situation up in these mountains is worse than what we have seen so far. People are starting to eat into their own reserves and the generosity is running out. Soon we will be at the tipping point," said UNHCR's Arafat Jamal by phone from the area.
In neighbouring Syria, where some 100,000 Lebanese are staying after having fled their homeland, around 20,000 are living in communal shelters and are in need of assistance, which UNHCR is delivering in close collaboration with the Syrian Red Crescent.
Syrian families have been extremely generous in hosting Lebanese crossing the border and needing accommodation, but they also need help with relief items to relieve the strain, says UNHCR's Laurens Jolles from Damascus.
UNHCR teams estimate that around 10,000 people a day are crossing over into Syria through four major border points. With more people arriving, the local capacity to cope will become increasingly stretched. UNHCR is setting up field units with mobile teams to monitor the northern borders of Lebanon and help assist those displaced in the Syrian cities of Homs, Tartous and Aleppo.
UNHCR has substantial regional stockpiles to draw from to send urgently needed items to Lebanon and Syria. In Jordan and Syria alone the agency has 250,000 blankets; 50,000 mattresses; 30,000 kitchen sets; 22,000 family tents; 17,000 stoves and other relief items. Additional quantities are also available in stockpiles in Iraq and Kuwait.
By Astrid Van Genderen Stort in Beirut, and Annette Rehrl in Damascus
Related Links