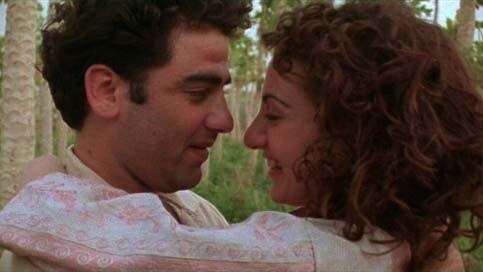 Several films featured in this year's Chicago Palestine Film Festival examined the debilitating and life threatening effects resulting from Israel's "security" wall. Since the beginning of the wall's construction in 2002, artists and filmmakers around the world have been protesting its existence with work that articulates and documents the grave conditions it has created for Palestinian civilians. Since the wall stands as both a literal and symbolic embodiment of the destruction and injustice that has resulted from the Israeli occupation, it is logical for the topic to shape current visual culture regarding Palestine. Such work is amassing into a substantial subtopic of the documentation of modern Palestinian history.
Najwa Najjar's short feature film, Yasmine's Song, 2005, uses the story of Yasmine, a young Palestinian woman living in a small Palestinian village, to articulate the even greater difficulties Palestinians are facing as their land, villages, communities and families become increasingly divided by the wall. In her film, Najjar examines the stifling effects of the Israeli occupation on Palestinian life through the most universal subject, love.
The narrative of the film revolves around the love story of Yasmine and Ziad (a young man from her village). Though the young couple plans to wed, Yasmine is faced with the fact that she has been promised to another suitor by her parents. As the story develops and the complexity of Yasmine's dilemma intensifies, the wall begins to have an ominous presence. Najjar alludes to the expansion of the invasive structure in hints strewn throughout the first part of the film. Scenes of Yasmine and Ziad in their daily lives are interspersed with impacting shots of white village homes against dramatic Palestinian landscape. This landscape is later interrupted by the construction of the wall.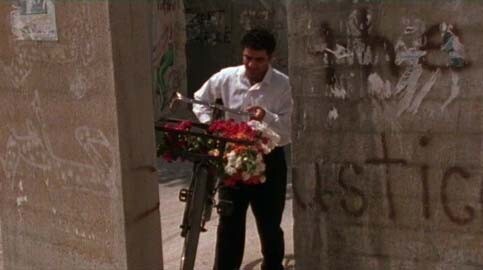 With cinematic ingenuity, Najjar takes the viewer on an almost surreal journey through Palestinian landscape. Scenes of Ziad traveling back and forth between his work, home and Yasmine's neighborhood, along old streets and sprawling Palestinian countryside, provide the viewer with images of the picturesque scenery through which the wall is being built. Partway through the film, as the wall becomes increasingly visible in the village, shots of Ziad passing imposing slabs of concrete and unearthed rubble indicate a stark violation of the landscape. Such scenes betray Najjar's pristine panoramic shots, signifying a dichotomy of representation, which further emphasizes the obtrusion of Israel's current "security" measures on Palestinian life.

Throughout the film, close-ups of main characters and villagers are accentuated with vibrant colors of costumes and vegetation that radiate against barren homes. This prompts the viewer to focus on the humanity of each character, while also calling attention to the unsettling reality that villager life remains threatened with the suffocation of being nearly imprisoned by the wall.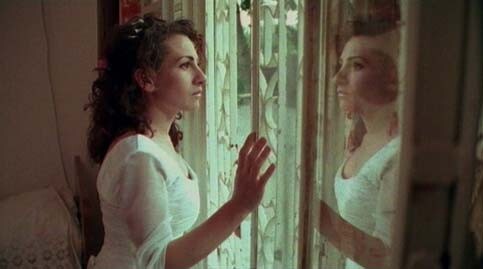 With Yasmine as a bride, Najjar employs the utmost symbol of a people attempting to survive. The importance of marriage is used to communicate the foundation of Palestinian culture and society, the family. As Palestinians attempt to endure a brutal military occupation, the significance of regeneration becomes a form of resistance, an assertion of their determination to sustain their communities even under the most challenging conditions. Several artists and filmmakers have used images and narratives of Palestinian brides separated from their grooms, communities or families as a means of articulating the difficulties the occupation has created for every aspect of Palestinian life. Given that family and love are universal elements of human life, such narratives place the Palestinian struggle as a struggle of mankind.

Leading contemporary Palestinian artist, Tamam Al Akhal, used such imagery in her 1999 mural painting, The Rift, as a Palestinian bride is shown isolated on one side of a land divide, while male members of her community (and perhaps her groom) remain tortured in prisons on the other side. Najjar's film continues the use of such imagery while creating intimate portraits of Palestinian civilians with her close attention to detail that result in moving shots of the main characters. In this respect, Najjar's representations are even more impacting than previous examples of the use of such imagery, affecting the viewer with the intense compassion through which she portrays her subjects and a poignant ending that cannot be dismissed.

Maymanah Farhat is a freelance writer and researcher of visual arts and culture, and is a specialist in Modern and Contemporary Arab art. EI has sponsored the Chicago Palestine Film Festival since its inception.

Related Links: