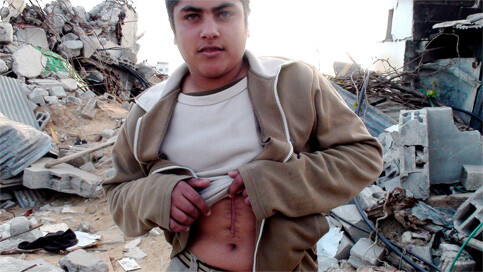 Edward Salem's documentary Impunity has a very puzzling title. The word means an exemption from punishment or loss. The film ends with some text about the

UN

-commissioned Goldstone report and international action following Israel's Operation Cast Lead attack on Gaza in December 2008-January 2009. There is no significant discussion of accountability prior to this point. Another puzzling aspect of the film is the menu frame of the

DVD

which seems to portend a J-horror feature. These puzzling features, though, bookend an innovative and remarkable film. Salem's is not a conventional documentary in the sense that it doesn't offer any one or series of narratives for the audience to follow. Impunity is instead best appreciated as a profound ethnography on the coping mechanisms of a people under siege and in the aftermath of the massive destruction of Operation Cast Lead.

Salem visited the Gaza Strip a month after the end of Cast Lead and traveled throughout the territory filming conversations with men and women of all ages and joining them for various daily activities and nighttime excursions. An early sequence is exemplary of the open inquiry Salem conducts about life after the Israeli assault. Salem finds a group of children of whom one is really pleased to ham it up in front of the camera. The youth, with a totally straight face, moves from one plea of poverty to another, ending with the statement, "We're bankrupt, so we eat like donkeys." He does this while he and his friends, giggling and laughing hysterically, eat pieces of grass to emphasize the point.

With 80 percent of Gaza families dependent on UN food handouts due to the ongoing Israeli blockade that has devastated the economy, there is a good chance these children are at times lacking in food and finance. And their comedy routine has a backdrop of destroyed and partially destroyed buildings. But the context of destruction and suffering does not make the routine any less funny, and it is very funny. The film has several examples of this, to use Donna Goldstein's phrase, laughter out of place, macabre humor used to make sense of a trying situation.

Salem captures other mechanisms of coping, and not coping, such as the stoicism of a young girl he follows through the rubble of a destroyed neighborhood. She relates matter-of-factly the death and injury of family members. He finds a family that shares their grief in painful detail, others with deeply emotional lamentations, displaced aggression and more. And he does so with few missteps, a notable one being a completely unnecessary and exploitive declaration that a deaf character is difficult to translate. He has found a remarkable cast of characters; in addition to the child with a gift for improvisation, they vary from a 100-year-old tattooed refugee who alternates between fatalism and nihilism to armed fighters with the Popular Front for the Liberation reflecting on armed resistance and their morale as fighters versus their morale as men.

The recovery process is a long one and Salem captures much of the struggle and confusion, represented by the warped geography of the destroyed physical infrastructure that now includes illogical entryways, unreachable upper floors, unintended elevator shafts and walls that rise from the ground for no apparent reason, these among the buildings that survived. Salem's photography in capturing this imagery is consistently engaging and revelatory. His handheld work makes personal the conversations and offers unconventional frameworks for the subjects, often showing a fascination for mouths and heads other than those doing the talking. He stages some pranks and happens upon conflict. He finds situations of unexpected comedy such as when a North American activist, attempting to use the Arabic word for Palestinian, addresses the "Philistine" audience. He joins a lively dance party. He intervenes from behind the camera in vérité style to elicit further remarks and insights and more, works in the original style of vérité juxtaposing contrasting imagery to get at truths hidden in the space between. And in the constant shift from the tragic to the comedic to the stoic, and everywhere else Impunity, puzzling name and all, gets to a lot of truth.

Impunity will be featured at the ninth annual Chicago Palestine Film Festival, 16-29 April 2010. Click here for ongoing coverage from The Electronic Intifada.

Jimmy Johnson is a supermarket employee in southeast Michigan and can be reached at johnson [dot] jimmy [at] gmail [dot] com.