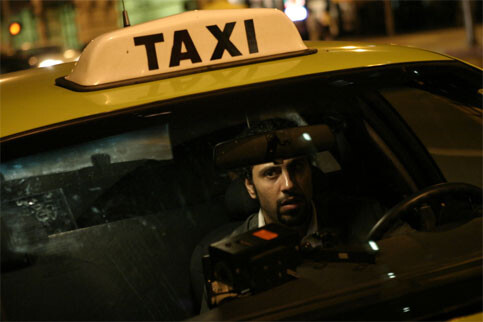 It is a familiar dilemma. You are on a plane, or at a social gathering, and a stranger asks you where you are from. Your mind races to come up with an answer. If you say "Palestine," you know that it's not likely to be a short conversation. You will be called on to provide history, political analysis, a personal narrative, and usually condemnation or justification for the actions of others. Sometimes you have to carefully calculate what negative consequences — large or small — uttering the words "I am Palestinian" might have. The possibilities are endless and you don't always want to face them every moment of the day. So, you might answer instead "I am from Chicago," or "I am Jordanian," or any other answer that is true, but does not tell quite the whole story, does not put you on the spot when you just want to enjoy the party or gaze out at the clouds until your plane lands.

Bashar (Bashar Da'as), the main protagonist of Driving to Zigzigland, Nicole Ballivan's 2006 feature film, uses a different strategy. An accomplished theater actor in Palestine he has set his sights on conquering Hollywood. He arrives in post-11 September Los Angeles to join his American wife Nicole (played by Ballivan).

Bashar instantly impresses producers at an audition where he is asked to play a terrorist threatening to behead an American hostage. The casting director gushes at Bashar's performance — he shouts in Arabic: "Where is my steak? I am very hungry! I want to eat four pieces of falafel!" while circling the hostage menacingly. But he refuses to play a terrorist on principle, and so all he can do to make ends meet is drive a taxi until he finds the perfect role.

It is in the driver's seat that Bashar must audition before a relentless parade of odd, funny, cruel, deadbeat, heartbroken and desperate passengers who look at his face on the small screen of the rear view mirror. He quickly realizes that answering the question "Where are you from?" with "Palestine" is a good way to come face to face with a lot of ignorance and prejudice. So, "I am from Zigzigland" becomes his standard answer.

This device allows Bashar to gain a measure of control having lost so much, moving from the security of family life in Jerusalem, and his labor of love at the theater in Ramallah, to land on America's lowest socioeconomic rungs. By providing fanciful descriptions of the imaginary country (sometimes it is "South of South America," and other times "between Spain and China") he can mock the ignorance of Americans about the world in which they so ruthlessly exercise power and privilege. And, he can listen to their unedited opinions. Zigzigland is also "a place that has no tanks, no refugee camps, no Bush, no Cheney," Bashar explains in a sharp and witty voiceover.

The central drama occurs when Bashar must drive a 24-hour shift to make $500 to pay his overdue utility bills and be done in time to pick up his cousin arriving from Palestine the next morning. While waiting for a passenger, Bashar discovers a letter from the Department of Homeland Security amidst his unopened mail. And then his cousin arrives. These two events place him before a heart-wrenching choice.

"Driving to Zigzigland" is a sweet and funny film and Bashar Da'as delivers a sympathetic and convincing performance. The film is based on true stories, and indeed Da'as' biography bears close similarities to that of his character. Filmed on location in both countries, the scenes in Los Angeles are more comedic and theatrical, while flashbacks to Palestine feel natural, even sentimental at times.

Without losing its lightness or optimism, Driving to Zigzigland manages to contemplate discrimination and fear in the post-11 September era, the desire to leave one's homeland and the yearning to return to it, and the constant reinterpretations of identity that we all engage in. It is not only Palestinians who dream of Zigzigland, Bashar explains, "The American dream is just a Zigzigland dream." In life, he says, "there is only struggle and survival."

Co-founder of The Electronic Intifada, Ali Abunimah is author of One Country: A Bold Proposal to End the Israeli-Palestinian Impasse (Metropolitan Books, 2006).

Driving to Zigzigland is featured in the upcoming Chicago Palestine Film Festival (25 April-7 May) as well as the Houston Palestine Film Festival (9-11 May and 16-18 May).