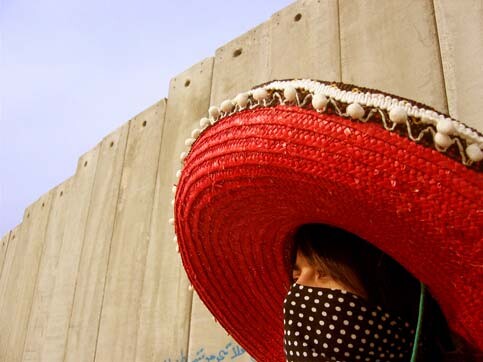 Bethlehem Bandolero is a quirky six-minute short by Palestinian filmmaker Larissa Sansour. In the role of a "Mexican gunslinger" that could be straight out of a Spaghetti Western, Sansour's performance captures the irrationality of Israel's building of a twenty-five foot "security" wall as means of seeking "peace" with Palestinians. Sansour confronts the illogic of the situation with her own demonstration of absurdity in a witty but bizarre journey in her native Palestine where she takes on the wall in a High Noon-like duel, dressed in a pistol-toting getup that includes a large red sombrero and a black and white polka-dot bandana that covers her face.

The film begins with a panning shot of the wall. Silhouetted shapes of buildings, a water tower and telephone wires then allude to the wall's intrusion on the cityscape, as a male figure walks between it and a Bethlehem neighborhood. This simple but elegant shot, in which the male figure's presence is dwarfed by the colossal scale of the wall, contextualizes Sansour's performance within the history and proximity of the oppressive structure.
Shots of old neighborhoods and the ringing of a church bell tower are reminiscent of classic Westerns, as the viewer is introduced to the narrative's unruly heroine. It is at this point in the short where Surf Guitar music (the genre which was created by Dick Dale, who is of Lebanese heritage) blasts the female bandit into her energetic, colorful pursuit of the wall.
As Sansour walks through Bethlehem, residents are fascinated by the young bandit that struts through the town's cobblestone streets with cameraman in tow. The vividness of her sombrero juxtaposed against the grays and beiges of the old city carries the short through several scenes. With its cleverly Kitsch-infused scenes that play out in beautifully split screened montages of the protagonist and images of the city, the film moves rapidly to edited close ups of Sansour's figure, her bandana covered face and pistols.
Bethlehem Bandolero then captures memorable portraits of residents-an old man, two priests, a young girl, a cat-some smiling along with the viewer as they take in her performance. At this point the tempo of the music is intensified and the short becomes a kaleidoscope of imagery. In the end, Sansour's image multiplies, creating an army of pistol-toting bandits that can assist her in her impending duel with the wall.
Although Sansour's short is smart and humorous in nature, it reflects the ridiculousness of the monstrous wall, reminding the viewer that with such actions the Israeli government has imprisoned both its own citizens and Palestinian villages through apartheid segregation that only serves as a powerful reminder and instigator of continuous conflict.
Maymanah Farhat is a freelance writer and researcher of visual arts and culture, and is a specialist in Modern and Contemporary Arab art. EI has sponsored the Chicago Palestine Film Festival since its inception.
Related Links: