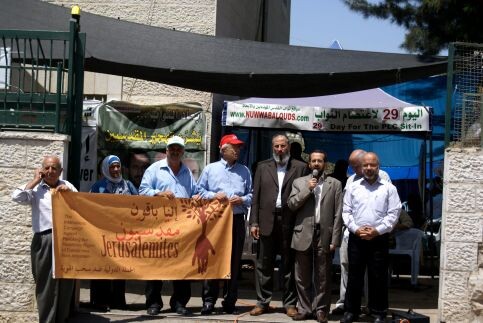 Earlier this summer, Israel arrested Muhammad Abu Tir, a member of the Palestinian Legislative Council (

PLC

) and Hamas. Israel also ordered two other

PLC

members, Muhammad Totah and Ahmad Attoun and the Palestinian Authority's (

PA

) former minister of Jerusalem affairs Khaled Abu Arafeh to leave their home town of Jerusalem.

Rather than comply with the order, the three men have sought sanctuary in the Red Cross compound in occupied East Jerusalem. Israel's order is an open violation of international law, which forbids the expulsion of a population from occupied territory, and the three men are hoping the international community will intervene. Their choice of the Red Cross compound while they wait for such intervention has also exposed the hypocrisy of the international donor community, which finances humanitarian aid organizations with a fraction of the funds that are supplied to Israel with military and financial assistance.

While the three taking shelter at the Red Cross are threatened with separation from their families, certain other Palestinian public figures enjoy the limited privileges of a co-oped leadership.

In a farewell article to the four men published in June by The Palestinian Information Center entitled "You Shall Return as Conquerors," Abdel Sattar Qassem, a prominent Palestinian author, reminds us that there are Palestinian politicians and officials who have received VIP status from the Israeli authorities. This status allows them to travel unimpeded, to shop in Israeli malls or visit Tel Aviv's beaches. This includes some politicians, like the PA's appointed Prime Minister Salam Fayyad who are not even elected. Meanwhile, many Palestinian residents of the occupied West Bank, especially children, have not seen the Mediterranean Sea in many years — if ever. When the Minister of Prisoner Affairs Issa Qaraqi took advantage of his VIP status to attend the reception held for members of the Arab Monitoring Committee on their return from Israel's bloody attack on the Gaza Freedom Flotilla earlier this summer, his VIP pass was immediately confiscated by Israeli authorities.

In contrast to these VIPs, there are leaders who were elected because they serve their people in their daily struggle against the Israeli occupation, which continues to adopt new rules expanding its apartheid regime. The Palestinian struggle for survival in Jerusalem was always difficult, and has become more unbearable since the 2009 election of Mayor Nir Barkat. Barkat was supported by Jerusalem's secular public, not surprising since secular Zionists always committed the cruelest crimes against Palestinians from the 1948 dispossession to the winter 2008-09 invasion of Gaza. Under Barkat, the situation for Palestinians has worsened: house demolitions, land expropriation accompanied by new construction of exclusively Jewish settlements, confiscation of identity cards, deportations, families torn apart by Israel's apartheid wall, and daily harassment by the municipal authorities.

After the three men sought refuge in the Red Cross compound it became a place of pilgrimage almost overnight. Supporters from all levels of Palestinian society and representatives of all political parties visited the three. International delegations have not stopped flowing to the solidarity tent in support of the expelled, among them a group of British lords, as well as Egyptian and Jordanian ambassadors. But most exciting are the constant visits by local delegations from all over Jerusalem, including groups of children from summer camps.

When a group of elementary school students paid a visit, Totah, Attoun and Abu Arafeh welcomed them and treated them with attention and respect, not skipping one handshake for each of their forty little guests. The children asked questions and were treated as seriously and respectfully as the lords and ambassadors.

One of the children asked, "Since they expel adults, will they also expel children?" Abu Arafeh, trying to calm the child's fears, answered, "I do not think so, but if you will oppose the occupation when you grow up, they may expel you." The child insisted, "But they expelled one boy to Tel Aviv!" Abu Arafeh acknowledged that the child was right. One child from nearby Silwan was expelled to the the West Bank village of Anata and another child to Tel Aviv, where his elder brother works. There is no way to protect children from knowing the harsh truth.

Meanwhile, Israeli authorities continuously monitor the Red Cross compound, photographing and videotaping all those who enter and leave. A few days ago they suddenly arrested Muhammad Totah's brother, Muatassem, who was sitting at the compound's gate, in a case of mistaken identity. Other relatives are constantly threatened with arrest and Totah's children have complained that they were asked to put pressure on their father to leave the compound and surrender to the police.

Although the men have found refuge in the Red Cross compound, there is no denying the obvious truth that these humanitarian aid organizations serve as a fig leaf for the Israeli occupation. The Red Cross — like the different UN bodies — is one of countless Western humanitarian and nongovernmental organizations that quickly multiplied during the Oslo period (1993-2002). Their activities provide a veneer of respectability to the ongoing negotiations and obscure the continuing Israeli occupation, actually relieving Israel of its obligations as the occupied power.

Since the Red Cross is supposed to protect Palestinian inhabitants of occupied East Jerusalem but has never fulfilled that role, Totah, Attoun and Abu Arafeh have put Red Cross officials in a difficult and awkward position. Since Israel occupied the city in the June 1967 War, 86,226 Palestinians have been stripped of their residency rights. By seeking refuge in the Red Cross compound, the three men have drawn attention to the hypocrisy of the international donor community which funds both the aid organizations and underwrites Israel's apartheid policies. The principle is clear: human rights organizations multiply in direct proportion to the deepening of oppression. They keep real activists out of the struggle, compete with authentic local organizations, blur the signs of oppression and create an illusion of normality in the overall situation.

Israel, which has often ignored international public opinion, can send its forces into the Red Cross compound at any moment. Such an action will arouse international media attention for a few days at the most. Totah, Attoun and Abu Arafeh are aware that this will be the likely outcome and insist that there is no going back for them. They will not leave the Red Cross compound voluntarily until they are assured of their right to remain in Jerusalem. In the interim, the three men are a source of inspiration and optimism in the depressing daily reality that Palestinians must endure. They are loved not because they are VIPs but because of their boundless devotion to their people. This is what makes them an existential threat to Israel and a strategic threat to the US and its allies.

Rahela Mizrahi has a degree in fine arts from the Betzalel Academy in Jerusalem and is currently completing her second degree, writing on the "Patterns of Expropriation, Conversion, and Appropriation of Palestinian Heritage through Israeli Art" at Tel Aviv University.