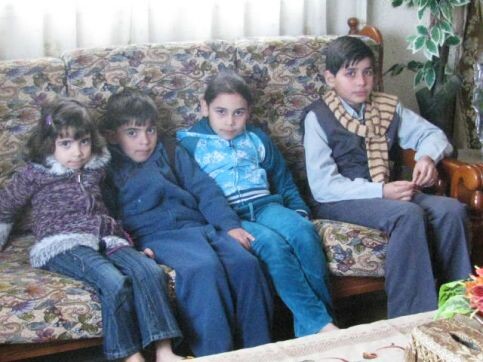 In mid-January Derar Abu Sisi, 42, the operations director of Gaza's sole electricity-generating plant, left the Gaza Strip for Ukraine where he was applying for citizenship, along with his Ukrainian wife Veronika. Several weeks later, Abu Sisi disappeared from Ukraine, and reemerged apparently as a prisoner in an Israeli jail. How he got there remains a mystery, and a source of anguish for his family in Gaza who believe he was kidnapped by Mossad, Israel's international agency for spying and carrying out assassinations.

"We in the family are baffled as to why my brother Derar was kidnapped and then imprisoned in an Israeli jail," Suzan Abu Sisi told The Electronic Intifada at her home in Gaza's Jabaliya refugee camp.

Derar Abu Sisi has lived in Gaza with his wife for 12 years, and they have six children.

"Derar left Gaza on 16 January and on his way to Ukraine he visited family members in Jordan," Suzan said. "Later, after two weeks, his wife returned alone to Gaza, while Derar remained in Ukraine. One week after her return, she received a phone call from family members and friends over there, informing her that Derar had not been seen or heard from. She went back to Ukraine right away, in order to complain to local authorities about the absence of her husband, my brother."

Then on 25 February, Suzan said, an Israeli lawyer phoned the family, informing them that Derar was being held at Ashkelon prison in southern Israel. "The lawyer who phoned us didn't give details, saying that the Israeli government did not reveal any information about his detention," Suzan said.

In Israel the case is under a court-imposed gag order, but HaMoked, an Israeli human rights organization, has confirmed with Israeli authorities that Abu Sisi has been in Israeli custody since 19 February and was being held at Shikma prison near Ashkelon, just north of Gaza, according to media reports.

Suzan is the only member of Derar Abu Sisi's extended family living in Gaza. Most of the family — which originates from Huj, a village in what is now called Israel whose Palestinian residents were ethnically cleansed in 1948 — now live in Jordan.

As she spoke, Suzan held her brother Derar's two-year-old son Muhammad; she is now taking care of all her brother's children — three daughters and three sons, the eldest of whom is Mousa, aged 11.

"I hold the Ukrainian authorities, topped by the president of Ukraine, responsible for the kidnapping of my brother by Israeli intelligence agents," Suzan said. "How could such a kidnapping take place in a sovereign country?"

Maksim Butkevych, spokesman for the United Nations High Commissioner for Refugees in Ukraine, told the Associated Press last week that Abu Sisi has been in custody in Israel since shortly after his disappearance.

The UN agency said it believed Abu Sisi was abducted and illegally transported by Israeli security forces, perhaps with the aid of Ukrainian counterparts.

"We don't know details of his trip from Ukraine to Israel — let's put it this way," said Butkevych. "But unfortunately, what happened looks like a violent abduction and not a legal extradition or any other legal action on the part of authorities."

In the Gaza Strip, the Hamas-led government condemned the kidnapping as "breach of the sovereignty of Ukraine" and called on Ukrainian authorities to reveal everything it knows about Abu Sisi's abduction.

Suzan Abu Sisi spoke of the difficulties her brother's children were facing in their parents' absence. "For the past few weeks, they have been living with me at this house," she said. "I have been trying to take care of them as much as I can, but let me tell you that they have not been feeling well. They are bored many times, sadness is drawn on their faces and even their eating is very little, compared with the period before their father was kidnapped and imprisoned."

"Every morning I get up worried and anxious," Derar's eldest son, Mousa, told The Electronic Intifada, and started to cry as he spoke. "While I am at school, I don't pay attention to my teacher. I always think of my father and remember the times he spent with us."

At the Gaza power plant where Abu Sisi works, staff were instructed not to speak to the press. Suzan Abu Sisi for one believes her brother's abduction was related to his role in maintaining Gaza's precarious electricity infrastructure, crippled by years of Israeli bombing and siege.

The Washington Post reported on 11 March that Ghazi Abu Sisi, a brother of the engineer, "said [Abu Sisi] had overseen a modification of the Gaza power plant to receive diesel fuel smuggled from Egypt, instead of from Israel, which had previously been the sole source of fuel for the power station."

"Derar has been a purely professional person and we have never thought that such an energy expert would be treated this way," Suzan said. Speaking of Israel's intentions, she added, "they want us an illiterate people."

Rami Almeghari is a journalist and university lecturer based in the Gaza Strip.
Tags