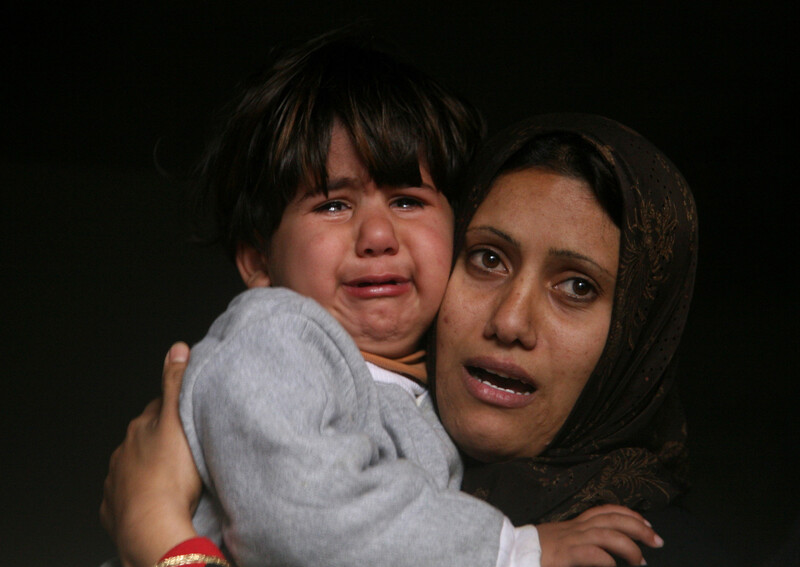 Adela Shurrab lost two of her brothers when Israel attacked them in January 2009. She recently heard that an Israeli court had agreed that her family should be paid $108,000. "If this were hundreds of thousands of millions of dollars, it wouldn't compensate our great loss," Adela said.
Her brothers, 28-year-old Kassab and 18-year-old Ibrahim, were driving between their farm and home in Khan Younis, a city in southern Gaza. They were ordered from their car and shot by Israeli soldiers, who were detaining several other men in a nearby house. Kassab died instantly; Abbas was shot in the knee and bled for a long time. Ibrahim died the following day after the Israeli troops denied him access to medical attention.
Their father was also in the car. He was wounded in the attack but survived.
The attack took place at a time when Israel was supposedly observing a truce, in order to allow the delivery of essential supplies to Gaza.
With the help of the Palestinian Centre for Human Rights (PCHR), the Shurrab family filed a law suit against the Israeli military.
"We didn't think of any financial compensation," said Adela. "We wanted to send out a message that Israel's actions against us civilians are brutal and that Israeli soldiers who committed such a crime should be punished — even internationally. It is our right to bring Israel to justice."
"Never bargain your brother's eyes"
Adela had to comfort her grieving mother, Um Kassab, before speaking to The Electronic Intifada. Um Kassab started yelling as this reporter approached the family's home: "Enough, enough, do not renew my grief, do not renew my pain. We do not need journalists to talk about us, leave us alone."
"Since they have been killed, my mother has not stopped crying almost on a daily basis," Adela said. "My elder sister will get married in two weeks and my mother is now in a very bad state of mind, crying and praying against Israel all day long.
"Imagine that my brothers were not killed, our joy would be real. I have two other brothers who are outside of the country; one is studying at a California university in the United States. Only myself and two other sisters and a brother live along with our parents here."
The Shurrab family is considering donating the Israeli payment to other families who lost loved ones during Operation Cast Lead, Israel's all-out attack on Gaza that began in December 2008 and lasted for 23 days. To explain how she felt about the Israeli payment, Adela quoted the Egyptian poet Amal Donqol: "Never bargain your brother's eyes for another's eyes. Even if these eyes are replaced by two jewels, never bargain them."
According to the Palestinian Centre for Human Rights, the Shurrabs are the second family in Gaza to have been given a financial payment by an Israeli court in relation to Cast Lead ("In the second case of its kind, PCHR succeeds in ensuring reparation for the family of two victims of the Israeli offensive in Gaza," 9 September 2012). In July 2011, PCHR negotiated with Israel to secure a slightly larger payment (approximately $120,000) to the Abu Hajjaj family. Raya Abu Hajjaj, 67 years old, and her daughter Majida, 37, were both killed by Israeli troops during the same offensive.
Refusal of responsibility
Mohammed al-Alami, a lawyer with PCHR, asserted that Israel did not agree to pay compensation to the two families. Instead, it agreed to a compromise.
"In the case of the Abu Hajjaj family, Israel did not admit any legal or moral responsibility for the killing of the two women," al-Alami said. "Can you imagine: the Israeli officer who shot dead the two women was sentenced to 45 days of imprisonment and this was not enough in legal terms [to illustrate Israeli responsibility]?"
PCHR has begun proceedings in 100 cases since Cast Lead. So far, however, Israel has only offered financial payments to the Shurrab and Abu Hajjaj families.
Israeli courts have rejected 26 of the cases.
The Israeli government had previously tried to prevent Gaza-based organizations such as PCHR from suing its troops on the grounds that it had declared Gaza to be a "hostile entity" in 2008. Yet PCHR successfully challenged the Israeli decision.
Earlier this month, an Israeli court in Nazareth dismissed a claim filed by PCHR on behalf of the al-Daya family in Gaza. Even though 22 members of that family were killed when Israel bombed a two-story building during Cast Lead, the court ruled that Israel was not responsible for their deaths as it was conducting a military operation ("In continued denial of access to justice, the Israeli Central Court dismisses a claim filed on behalf of the al-Daya family," Palestinian Centre for Human Rights, 11 September 2012).
"My entire family — including my pregnant wife, five children, parents, sisters, brothers, nieces and nephews — were all killed at once during the war," Mohammad al-Daya, a 32-year-old survivor of Cast Lead, said.
"What did a pregnant wife, elderly parents and little children do to be killed that way? I appeal to all concerned bodies, including the International Court of Justice, to bring to justice those who committed the crime against my family. I am not asking for any funds or money, what I am asking for is that justice prevails and that we in Gaza feel safer."
Editors note: an earlier version of this story identified one of the two killed brothers as Abbas Shurrab. The article has corrected with the correct name of Ibrahim Shurrab.
Rami Almeghari is a journalist and university lecturer based in the Gaza Strip.
Tags