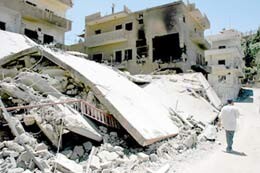 BEKAA
VALLEY
- The Maliban glass factory, owned by an Indian businessman based in London, used to produce some 200 tons of glass a day in Chaura, 40km east of Beirut in the heart of the Bekaa Valley, and employed around 400 people. Now burnt steel bars rise like giant teeth against a clear blue sky.
Salah Baraki, 60, the manager, looked out over a sea of devastation. "The factory is 42 years old, of which I worked here for 41," he said. "In two minutes, everything was gone." On 18 July, two Israeli fighter jets fired a handful of rockets on the production hall, reducing it to rubble.
The current conflict began on 12 July after Hezbollah, a Shi'ite Muslim political and militia group based in south Lebanon, captured two Israeli soldiers. Israel has responded with a land, sea and air blockade of Lebanon, with the intention of preventing supplies from reaching the militia group.
The Israeli Defense Force (IDF) has bombed targets throughout Lebanon; Hezbollah has fired thousands of rockets into northern Israel.
"We had only 41 people coming in that day," Baraki said. "We were lucky, as they bombed around lunch time and most of us had gone out or found a quiet place to eat." Two workers were killed.
He said five factories were bombed in the area, resulting in some 1,300 people losing their jobs. "I have five children, two still in university. I should be retiring soon, but now I don't know. It is the same for the 400 other families who were dependent on this factory." Baraki thinks it will take millions of dollars to rebuild the factory.
Economic impact of warfare
This was not the only factory bombed by the IDF in "broad operations designed to strike at the forward infrastructure of the Hezbollah terror organisation" in the Bekaa Valley, a few kilometres west of the Syrian border.
Dalaal, which houses several factories under one roof, including a prefabricated homes plant making temporary accommodation units for the US army in Iraq and Afghanistan, was another. According to the owner, Toufic Dalaal, the Israeli jets made several raids. "When they saw one building was still standing, they returned and bombed again."
He said none of his 400 employees were killed because he closed his company when he heard of the bombing in Maliban. "Everything has been destroyed," Dalaal said by phone from the United States. "I'm here to buy machines so that I can start again as soon as possible. We have a name to keep up and we have a lot of work to do."
He does not understand why his factory was bombed. "The only thing I know is that we are too far from the border [with Israel] to fire Katyushas [Hezbollah's rockets], and this is a Sunni [Muslim] area. Hezbollah are Shi'ite and not even represented here. The only thing I can say is that Israel is involved in some sort of economic warfare."
The Israeli Air Force (IAF) denies this allegation. "We are striking decisively and intensely at a wide variety of targets to undermine and destroy terror infrastructure in Lebanon," said Brig-Gen Ram, an IAF squadron leader.
On the road to Baalbek, a Hezbollah-dominated city further north in the Bekaa Valley, a milk factory, Libanlait, was also destroyed by two Israeli rockets.
"This month the company will pay the salaries of the 300 employees, but after that it will depend on the decision of the shareholders whether to rebuild or not," said Mohamed Zeidan, a technical consultant for the company.
The main shareholders are Christians and Sunni Muslims, and a major Lebanese bank. "Many of the employees are Shi'ite, of course," he said, "but we don't do politics here, we make milk."
Related Links
This item comes to you via IRIN, a UN humanitarian news and information service, but may not necessarily reflect the views of the United Nations or its agencies. All IRIN material may be reposted or reprinted free-of-charge; refer to the copyright page for conditions of use. IRIN is a project of the UN Office for the Coordination of Humanitarian Affairs.