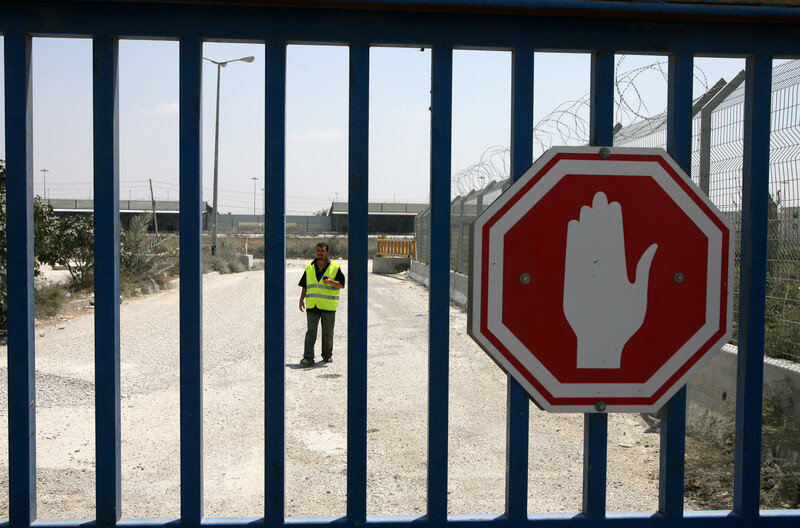 GAZA CITY, occupied Gaza Strip (IPS) - Waddah Bsaiso is ready to export, if the Israeli-imposed siege would allow him. He has the experience, the contacts and the products, but is prevented by Israel's strict ban on virtually all exports from Gaza, save a token amount of flowers periodically allowed out of the Strip.
"We started a furniture factory in 1996 and over the years exported to different European markets, as well as to Arab nations and the occupied West Bank," Bsaiso says. Sitting at one of his tables, a dark wood dining table with a natural finish, Bsaiso says that his business, Bsaiso and Alami Company LTD, formerly netted $2 million per year.
"Now we are lucky if we can earn $400,000 per year," he says.
A mix of classic wooden furniture and modern, bright-fabric living room sets, his furniture factory is one of more than thirty businesses participating in the 2011 National Furniture Show organized by the Palestine Federation of Industries (PFI) and Paltrade, an organization promoting Palestinian trade, among others.
Ahmad Munir, manager of the Industrial Modernization Center (IMC), an arm of PFI, greets visitors at the entrance and answers their questions. "We give training in craft and furniture making, and connect recent design and other graduates with firms."
PFI played a significant role in getting Gaza's mangled factories back in running condition. "We helped repair factories and brought in equipment that was needed," says Munir.
More than 700 private businesses were destroyed or damaged in Israel's 2008-09 attacks on Gaza, among them 325 factories and workshops, according to the Palestinian Centre for Human Rights (PCHR). Even before the 23-day Israeli attacks, 97 percent of Gaza's industry had shut down for want of raw materials and replacement machine parts banned under the Israeli-siege imposed in 2006 shortly after Hamas was elected.
The World Bank notes that factories in Gaza import 95 percent of their raw materials, rendering them heavily dependent on the border crossings. All but the Rafah crossing, under Egyptian control, are controlled by Israel. Kerem Abu Salem, the crossing sporadically open to imports and almost never to exports, is less functional and more congested than the former Karni crossing.
No relief from Gaza siege
Despite Israel's declared "easing" in June 2010 of the total siege on Gaza, in June 2011 the World Food Programme (WFP) reported that "only 5 percent of the pre-blockade export volume was reached from November 2010 to April 2011."
The El Helou furniture company has found a way around the Israeli control of the entry of raw materials. "Many of our products are made from olive trees bulldozed in the last Israeli war on Gaza," Mohammed el Helou explains. Near him, an irregular-shaped olive wood mirror frame and a three-piece table and chair set still in the shape of the tree trunk itself. These products, popular in North American and European markets, sell for a fraction of their market value or not at all in Gaza's over-stocked furniture market.
"When we were able to export to European markets, our prices were higher because the standard of living there is higher. But to sell anything in Gaza we have to drastically reduce our prices," says Waddah Bsaiso.
"Other factories that formerly exported are now forced to sell solely in Gaza, so the market is flooded, and our outside contacts have lost faith in receiving anything from Gaza," he says.
"Our greatest problem today is that we can't export anything. Consequently, we are using just ten percent of our production capabilities."
The loss in revenue does not affect just Bsaiso and his family. "If we had the customers, we could employ up to 150 workers. But at present we only employ 15."
Gaza denied self-sufficiency
Abed Abu Seedo imported recycled glass vases and bottles from Nablus, in the occupied West Bank, to refinish and sell abroad. Decorated with smoky finishes and fine painting, the glassware sold well in British, European and US markets.
"I haven't been able to import glass from Nablus for years now. And exporting is out of the question. There isn't much interest in my products in Gaza. People think about the necessities, not frivolities like glass decorations."
Down the aisle, a wall of hand-embroidered purses and pillow covers, as well as hand-woven decorative rugs, once sold in Jerusalem's busy tourist markets. Now Mahmoud al-Sawaf sells to some foreigners in Gaza, but his shop is otherwise largely unvisited. Facing export impossibilities, Waddah Bsaiso feels Israel has an ulterior motive for prohibiting exports. "Israel wants people like me who export to feel like we can't do anything. The policies are to destroy our will to work, produce, and survive," he says.
"Gaza these days is merely a recipient of aid, not an exporting, self-sufficient country. We don't want this, we want to sell our own goods and live like normal people," says Bsaiso.
A March 2011 Pal Trade study highlights that the main constraints on Gaza businesses are "the unreliable supply of electricity, the unpredictable availability of raw materials and extremely limited access to export markets." "Everything is ready: the machinery, workers, everything," says Waddah Bsaiso. "We just need the border to open to exports."
All rights reserved, IPS - Inter Press Service (2011). Total or partial publication, retransmission or sale forbidden.
Tags