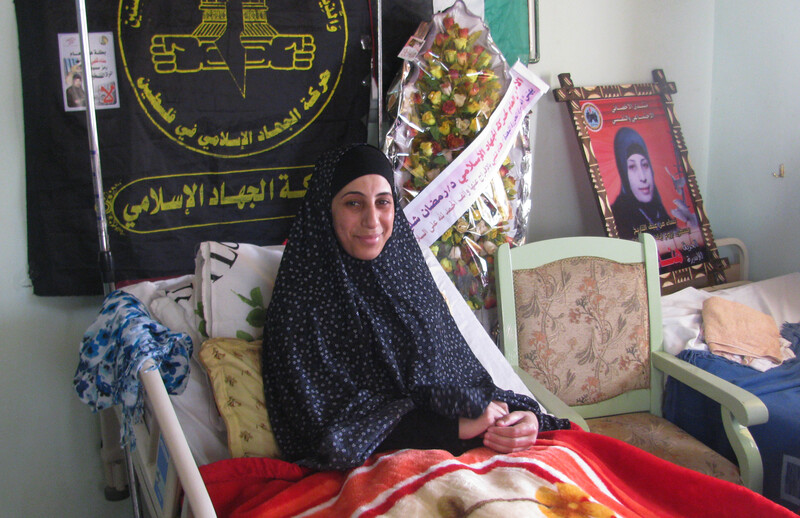 A week after her banishment to Gaza, Hana al-Shalabi spoke exclusively to The Electronic Intifada. She is currently at al-Quds hospital in Gaza, receiving treatment following her 43-day hunger strike against her detention without charge or trial by Israel that ended with her 1 April banishment to Gaza for three years.
In her comments to The Electronic Intifada, al-Shalabi demanded that her lawyer clarify to her and to the public the controversial circumstances surrounding the deal to send her to Gaza.
Al-Shalabi's account casts doubt on the claims that it was her "choice" and confirm that she may have received misleading information in order to induce her to accept the deal.
She also revealed that a senior Islamic Jihad prisoner had written to her to tell her that Israel had asked him to urge her to accept deportation, but that he had refused.
Al-Shalabi's father Yahya al-Shalabi had clashed publicly with Jawad Boulos, her lawyer, in a heated 2 April debate on Nazareth's Ashams radio over the the deal. Yahya al-Shalabi accused Boulos of misleading the family.
On 29 March, Ma'an News Agency first reported the deal in which al-Shalabi would end her hunger strike in exchange for being banished to Gaza for three years. The report stated:
"The Palestinian prisoners society confirmed the deal in a statement praising Shalabi's resolve. It expressed its appreciation for her efforts to bring attention to Israel's policies toward prisoners."
Ma'an added, "Qadoura Fares of the prisoners society said Shalabi agreed to the deal 'in return for ending her strike and being freed. … We reject deportation, but this is her decision and her own life,' Fares said."
According to Ma'an, "Shalabi's lawyer, Jawwad Boulous, also confirmed the agreement" ("Officials say deal reached to free Hana Shalabi").
Moreover, prisoner's rights group Addameer, and Physicians for Human Rights-Israel, whose lawyers and doctors were denied access to al-Shalabi, expressed great concern that she may have been coerced into accepting the deal, which they consider illegal under the Fourth Geneva Convention.
Amnesty International said the deal "could amount to forced deportation" ("Palestinian detainee in Gaza deportation deal should be released to West Bank").
Al-Shalabi previously spent more than two years without charge or trial in "administrative detention" until she was let go in October 2011 as one of 1,027 Palestinians released by Israel in exchange for an Israeli occupation soldier who had been held as a prisoner in the Gaza Strip.
On 16 February, she was violently rearrested from her family home in the West Bank village of Burqin and once more ordered held without charge or trial.
While Israeli officials attacked her via social media and claimed she was involved in "terrorism" with the Palestinian group Islamic Jihad, they refused to charge her with any crime or provide her with an opportunity to defend herself.
The Electronic Intifada correspondent Rami Almeghari interviewed al-Shalabi in the Gaza Strip so she could tell the story of her detention and release deal in her own words.
Rami Almeghari: Please introduce Hana al-Shalabi to our readers.
Hana al-Shalabi: First and foremost, let me greet The Electronic Intifada and all its audience including Palestinians and internationals. My name is Hana al-Shalabi, a resident of Burqin village near the West Bank City of Jenin. I was born in 1982 and I have been placed under administrative detention twice.
RA: What does Palestine mean to you as a Palestinian woman?
HS: Palestine is a symbol for all of us. When I was a child, I began to realize that Palestine is being occupied by a foreign enemy. I belong to a struggling family and I used to see the Israeli military actions against us Palestinians, and therefore I began to be influenced. My family is originally from the northern historical Palestinian city of Haifa and they moved to Jenin after 1948.
RA: What has mainly influenced your personality, that you reached this place in your life?
HS: One of the scenes that has formed my character was that of someone being martryed in front of me while I was walking to my school at the age of six. I do remember well that during the first intifada of 1987 I began to recognize what occupation means.
RA: Have you opted for your path voluntarily?
HS: Yes, I have definitely chosen it myself and I am proud of my path. Hana al-Shalabi is a symbol for struggle and is equal to men in such a struggle.
Arriving in Gaza
RA: How did you feel when you arrived in Gaza?
HS: When I was liberated to Gaza, I was feeling sad as my parents met me briefly at the Israeli Erez [crossing into Gaza]. Meanwhile, I felt so happy to be among my other family in Gaza, especially those belonging to the Islamic Jihad.
RA: How were the conditions, including the hunger strike, inside the prison?
HS: When I was detained in mid-February, I announced my hunger strike and I can tell you that I was fasting before I was detained, in solidarity with the then hunger-striking prisoner Khader Adnan.
RA: How were you treated during your detention and hunger strike?
HS: When I began my hunger strike during detention, the Israeli jailers used to practice psychological pressure on me. For example, they used to tell me that my strike would not work, given the fact that I was the only hunger striker. Also, they placed me in a room with other female prisoners who were not striking or fasting.
In addition, they threatened me that senior prison inmates of mine [other Palestinian political prisoners] would be kept in solitary confinement, unless I stopped the hunger strike.
RA: While you were on hunger strike did you get any information about the support you were receiving from around the world?
HS: I was only able to get news of outside from the prisoners radio station and the Amwaj station and this was while I was being kept in solitary confinement. I did not have enough opportunity to hear such news.
Pressure and "mystery" over banishment deal
RA: Did you feel pressure to accept deportation to Gaza? Did this idea come from the Israelis?
HS: There is a mystery behind this, and I want the lawyers for the Prisoners Society and my lawyer Jawad Boulos, to clarify this to me and to the public. Jawad Boulos told the prisoners' affairs bodies that Hana wanted to be deported, while he told me personally that the Shabak [the Israeli General Security Service also often known as "Shin Bet"] and the Israeli courts had no option for me, and that they didn't want me to return to the West Bank and that the only option left is to deport me. Boulos was the last one to visit me, shortly before I was sent to Gaza.
RA: Did you ask to see anyone that the Israelis refused to allow to visit you?
HS: I asked to see the senior Islamic Jihad leader inside the prison, Sheikh Bassam al-Saadi, from whom I received a letter that the enemy [Israel] bargained with him that I was to be deported to Gaza for one year, but al-Saadi refused. Yet Jawad Boulos, my lawyer, agreed to [Israel's] option that I was to be deported to Gaza for three years.
RA: What advice do you give to young Palestinians?
HS: I address all young men and women in Palestine to further support the prisoners issue by holding or organizing more activities that are aimed at helping lobby until all prisoners are released from the occupation's prisons. I would like to advise young Palestinian generations to keep up the struggle and never fear Israeli detention. Just be steadfast, just be steadfast and you will eventually win your freedom.
Rami Almeghari is a journalist and university lecturer based in the Gaza Strip.
Tags