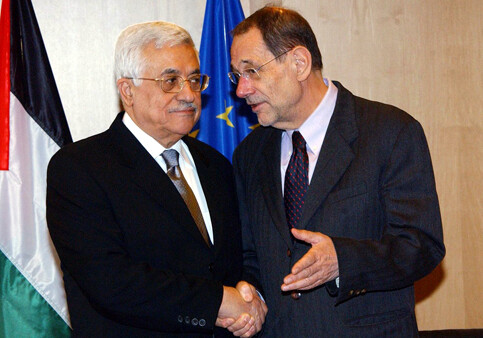 While in Paris a few weeks ago, whenever I would discuss Middle East politics with anyone, I would be overwhelmed with the traditional refrains of classical anti-Americanism: "they have no culture and deal with the world as if it had no culture," "they have no morality in their foreign policy," "they go to war for oil and money" and so on with inane over-simplified stereotypes. Soon after would come the cackle of self-righteous pride: "we Europeans are different," "we want our foreign policy based on a concept of morality," "we attempt to promote justice in the world and fix up the mess left behind by the Americans." I would then usually be told something about all the aid that Europeans give to Palestinians as proof of the decency of Europeans as opposed to the rabidly Zionist Americans who give billions to fund Israel's murderous army.

Would that this were true.

Europe's policy with regard to Palestine/Israel is so racist, short-sighted, counter-productive and hypocritical that it could almost pass for American policy.

When looking at the current situation in Palestine, an observer will find an illegal Israeli occupation that has been festering for 40 years, combined with illegal ethnically-exclusive colonies built on stolen Palestinian land, and the world's only ethnically-segregated road network, where many routes can only be accessed by Jews. An internationally-illegal apartheid barrier surrounds Palestinian towns and villages, not only cutting them off from one another, but also cutting off farmers from their lands, children from their schools, patients from their hospitals and workers from their jobs. Israel controls all of the Palestinians' openings to the outside world, stifling not only Palestinians' freedom of movement, but also their economy and trade. The Israeli army, one of the world's strongest, is regularly unleashed on civilian populations in Palestine, murdering thousands and killing innocent children with complete impunity. The Israeli government has as its Deputy Prime Minister an unabashed fascist who openly and regularly calls for ethnic cleansing and mass murder of Arabs as a solution to the conflict. Israel continues to deny millions of Palestinians their legal right to return to their own homes from which they were ethnically cleansed in 1948, restricts land-ownership to Jews only, and has discriminatory racist laws in countless areas from marriage to immigration.

In the face of this travesty of justice, what is the only thing that the Europeans do? Demand that the oppressed, the Palestinians, only elect political parties that "recognize Israel's right to exist" as a precondition for sitting on one table and discussing what to do about all these travesties.

Let us first bear in mind that the idea of Hamas — or any Palestinian political party for that matter — recognizing Israel's "right to exist" is a patently meaningless idea that makes as much sense as Manchester United Football Club recognizing Tanzania's "right to exist." Nowhere is it written that nation states have a "right to exist" themselves. What is meant by "recognition" in an international setting is what happens when countries exchange embassies and establish diplomatic relations. Nowhere but in Palestine has the idea of a non-state entity recognizing a state ever been seriously discussed. Further, the imbeciles who repeat this canard conveniently ignore that Israel is not merely "not recognizing Palestine's right to exist," but actively, deliberately and comprehensively destroying any chance of a Palestinian state ever existing. But, for the morally superior Europeans, Hamas' "recognition" of Israel is the thing that bothers them the most about Palestine/Israel today, and not all of the crimes listed above. The kicker, of course, is not just that this is a morally and logically absurd position, but that Israel's actions are the root of the conflict, and not whether Hamas recognizes Israel. This recognition won't change anything on the ground and won't affect the lives of anyone in any way, but the walls, settlements, killings, checkpoints and Israel's racist policies will. Only when these are ended can there be peace, regardless of what Hamas "recognizes" or declines to "recognize."

All of the aforementioned crimes by Israel constitute clear violations of the EU Neighborhood Policy terms under which EU neighbors get preferential access to EU markets and a slew of other benefits and perks. The EU regularly uses its economic and diplomatic influence to try and get countries to desist from carrying out racist policies: it makes trade deals dependent on improvements in human, labor and minority rights; it has made Turkey's accession to the EU dependent on Turkey's human rights record, and has stopped Austria from bringing Jorg Haider into the government. Far from taking any action to try to pressure Israel to stop some of its crimes in Palestine, the EU has cowardly chosen a policy of rewarding their transgressions with more carrots, and Israel continues to enjoy extremely generous benefits from its relationship with European countries, even being sold arms by many of them.

The tragic aspect of Europe's policy with regard to Palestine today is not just that is practically indistinguishable from the policy of the US, but that it comes bundled with great self-righteousness and an unshakable belief that it is not only the correct policy, but is also vastly morally superior to anything anyone else is doing. The financial aid provided by Europe is the major rationale supporting this smugness.

As the Europeans continue to do nothing to stop Israel from destroying the livelihood of the Palestinian people, they take out their checkbooks and assuage their conscience by providing money to the Palestinians. Before the election of Hamas, this money went to prop up the increasingly unpopular Palestinian Authority in order to guarantee its survival and a continuation of the painful status quo. After Hamas' election, they tried to surpass the PA by sending money through increasingly complex, inefficient, and often counter-productive mechanisms.

Here is a small microcosm of how this madness works: A Palestinian town has a wall built surrounding it from all sides, making it impossible for previously prosperous farmers to access their land, patients to reach their doctors and children to reach their schools. Naturally, the town is devastated. That's when Europeans send in their conscience-assuaging, smugness-propping aid "experts" to "save" the town, in the process relieving Israel from having to deal with the consequences of its crimes. They provide the farmers with food to replace the food they could have produced themselves, and proceed with projects to teach Palestinians "alternative industries," "new business models," "good local governance," "participatory development," "creative educational techniques" and countless other meaningless prattle that the Palestinians would gladly give up for having the wall removed, an independent state and some sense of normalcy bestowed on their lives. Naturally, these projects have a short shelf-life; the funding soon dries up, the "experts" leave, but the apartheid wall remains, the livelihood of a whole town is devastated, and the mirage of Palestinian independence is even more distant. And worst of all: the next time an unfortunate Palestinian like myself visits Paris, they will be bombarded with self-righteous recitation of countless such micro projects, and expected to bow in deference of the mighty superiority of European morality.

High percentages of European citizens have a good understanding of the conflict and would like to see a better policy and a just solution. Countless Europeans spend a lot of time and money in helping Palestinians, many volunteering to travel there to protect Palestinians and protest and document the occupation. These brave souls are some of my personal heroes. There are many sincere and honest European politicians who have opposed these policies. I do not doubt the sincerity of many of those who genuinely want to improve the lives of Palestinians, and am personally very grateful to them. But a combination of indifference on the part of many and malice on the part of the leaders kow-towing to the US produces this criminal policy, and donates a lot of aid to try to appease those who care. Europeans have to recognize that the only way things will improve is not through charity, but proper, principled and sustained political action.

True, Europe has shown some principled and humanist action in their foreign policy towards many countries. They may give more aid, send more peacekeepers and broker more peace deals than the Americans, and they have certainly improved a lot in the way they deal with the world over the last few decades. But whatever Europe does, its complicity in the abhorrent oppression of Palestinians will remain to blight any claims it has to moral authority. After all, you are only as moral as your least moral action.

Saifedean Ammous, who hails from Ramallah, Palestine, is pursuing a PhD in Sustainable Development at Columbia University, New York. He blogs at TheSaifHouse.wordpress.com. This article first appeared on the Rootless Cosmopolitan website: http://tonykaron.com.