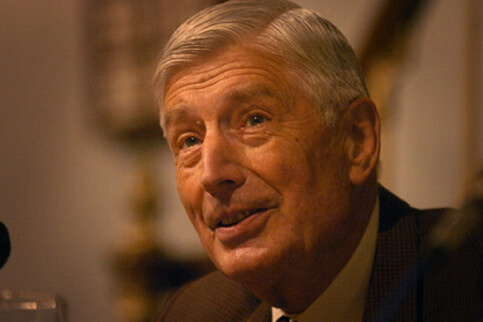 JERUSALEM
— Between 22 and 28 August, a European Delegation of former ministers from The Netherlands, Ireland and Germany and a high-ranking former ambassador from France paid a fact finding visit to Israel and Palestine (i.e. Occupied Palestinian Territories). The Delegation also consisted of five civil society representatives from Europe. The Delegation was led by Prof. Andreas van Agt, Prime Minister of The Netherlands from 1977 to 1982.
After visiting Israel and Palestine for five days and meeting with numerous civil society representatives on both sides, as well as several parliamentarians, the Delegation calls on the European Union and EU Member State officials and institutions dealing with Israel and Palestine, in particular their own governments, to act decisively and hold Israel accountable for its ongoing violations of International Law.
The visit took place shortly after the evacuation of Israeli settlers from the Gaza Strip. The Delegation embarked on its trip at this crucial moment in time, to witness and assess at first-hand those facts that (continue to) threaten the prospects for a just peace and that are not being decisively addressed by the international community.
Israel's disengagement from Gaza has raised hopes among many that peace is now within reach. In light of the facts it has witnessed on the ground, the Delegation regrets having to report that this hope is unjustified.
The Delegation views Israel's occupation and other policies of the Government of Israel which are illegal, and which cause much suffering among Palestinians, as the root cause of the current deadlock and lack of progress in reaching a negotiated, just and durable peace in accordance with applicable international humanitarian and human rights law.
The Delegation comes to the conclusion that in light of Israel's persistence in the these policies, and the destructive impact of such policies on the situation the ground, an end to the Israeli-Palestinian conflict depends in the first instance on a more determined international intervention to achieve accountability from Israel and enforce its compliance with International Law.
The Delegation deplores the fact that the international community has to date not brought an end to these policies of successive Israeli governments, thus sustaining a situation of lawlessness and impunity in Palestine.
The Delegation urgently calls on the European Union and its Member States to take immediate action aimed at holding Israel accountable for its ongoing violations of International Law, thereby contributing to the preconditions for a just and sustainable peace in Israel and Palestine.
The Delegation's call (see annex) is signed by the following members:
Prof. Andreas van Agt, Head of Delegation (Prime Minister of the Netherlands, 1977-1982) Mr. Michael D. Higgins (Minister of Culture, 1993-1997, and a current member of the Parliamentary Committee on Foreign Affairs, Ireland) Dr. Norbert Bluem (Minister of Labour and Social Affairs, 1982-1998, Germany) Mr. Lucien Champenois (Minister Plenipotentiary, France, retired) Dr. Rupert Neudeck (President of Greenhelmets, Germany) Dr. Hajo G. Meyer (Board Member of "A Different Jewish Voice" and board member of "International Forum for Justice and Peace", The Netherlands) Ms. Chris Tilanus (The Netherlands) Mr. Ben Smoes (Chairman "International Forum for Justice and Peace", The Netherlands) Mr. Jan van der Kolk (Former member of the Board of Trustees, Interchurch organisation for development co-operation, The Netherlands)
More Information
For more information and interviews with Dutch Delegation members, please contact Lambrecht Wessels Wessels of United Civilians for Peace: +31-6-51999711 +31-30-8801539 or lambrecht.wessels@icco.nl. View the delegation's call and webog at www.euromission.blogspot.com

Statement by European Delegation to Israel and Palestine

Between 22 and 28 August, a European Delegation of former ministers from The Netherlands, Ireland and Germany and a high-ranking former ambassador from France paid a fact finding visit to Israel and Palestine (i.e. Occupied Palestinian Territories). The Delegation also consisted of five civil society representatives from Europe. The Delegation was led by Prof. Andreas van Agt, Prime Minister of The Netherlands from 1977 to 1982.

The visit took place shortly after the evacuation of Israeli settlers from the Gaza Strip. The Delegation embarked on its trip at this crucial moment in time, to witness and assess at first-hand those facts that (continue to) threaten the prospects for a just peace and that are not being decisively addressed by the international community.

The Delegation came to Israel and Palestine to gather these facts. They wish to bring such facts to the attention of the international media and the political representatives and officials in the countries from which they come.

The facts as observed by the Delegation

In the Jerusalem area, the Delegation witnessed the expansion of settlements, taking place at the present time. It visited a settlement east of Jerusalem, called Ma'ale Adumim. This settlement, home to 30.000 settlers and 14 kilometres deep in occupied territory, is part of a ring of settlements, which effectively cuts off occupied East Jerusalem from the rest of the West Bank.

It also witnessed the Wall in and around East Jerusalem, e.g Abu Dis, as well as in the Bethlehem area. In these and other parts of the West Bank, the Wall obstructs the daily lives of hundreds of thousands of Palestinians, cutting through Palestinian neighbourhoods, isolating Palestinians from basic services and each other and constituting de facto annexation of vast swathes of occupied land.

Unless all settlements, the more than 400.000 settlers and the Wall in the West Bank are removed, the establishment of an independent, sovereign and viable Palestinian state will not be possible.

In Hebron, the Delegation witnessed the effective imprisonment of 150.000 Palestinians within their own locality and their total subordination to the interests of a few hundred Israeli settlers, residing illegally within their midst.

For a short period, the Delegation experienced the humiliation that the citizens of the Old City of Hebron can expect to undergo every day. On a street, protected overhead by netting, several objects, including refuse, were lodged. In a spot without netting, a glass bottle was thrown at Palestinians and Delegation members in such a way as could have caused serious injury.

The Delegation also witnessed, in several respects, the more general features of the hardship that Israeli suffocation of the local economy brings to the Hebronites' lives. For example, about 2.500 Palestinian businesses have been shut down due to orders of the Israeli army.

Just a few days after the removal of the settlers, the Delegation visited the Gaza Strip. When entering the strip at Erez crossing point, the Delegation experienced the oppressive procedures, dehumanising infrastructure and humiliation, which Palestinians encounter on the occasion of every entry and exit.

The Delegation concluded that the occupation of the Gaza Strip is far from over, considering Israel's continuing control over vital aspects of the lives of the Gazans. All external borders, including air and sea, remain controlled by Israel, so that the Gazans continue to be isolated. The Israeli army is to remain inside parts of the Gaza Strip for an undisclosed period.

The Delegation witnessed some of the widespread destruction that 38 years of occupation have brought to the lives and properties of over one million Palestinians in the Gaza Strip. About two thirds of the local population is unemployed and lives below the poverty line. These conditions pose a real and continuous threat to their human dignity.

Facilitated by UNWRA, the Delegation visited the Jabalia refugee camp in the Gaza Strip, where 106.000 people live on 1,3 square kilometre. There, the misery is beyond description, among other things because of a shortage of water and access to education and health care. It concluded that the well-being of these and other refugees in the Gaza Strip, numbering 900.000 in total, is at great risk following Israel's disengagement.

In numerous parts inside the West Bank, the Delegation encountered physical obstacles, such as checkpoints and roadblocks, put in place by the Israeli army, which seriously infringe on the Palestinians' freedom of movement and hurt their livelihood and economy badly.

The Delegation also spoke to a number of key actors on both sides. Meetings were held with Israeli and Palestinian civil society representatives and parliamentarians. High level meetings were requested on both the Israeli, as well as the Palestinian side. The latter responded positively, granting a meeting with Prime Minister Ahmed Qurei.

All of these meetings reinforced the grave concerns of the Delegation members, that the existing threats to the prospects for peace must not be underestimated.

Conclusion

Israel's disengagement from Gaza has raised hopes among many that peace is now within reach. In light of the above-mentioned and other facts it witnessed on the ground, the Delegation regrets having to report that this hope is unjustified. The evacuation of settlers from Gaza does not constitute a withdrawal in any meaningful sense.

The Delegation recognises the need for democratisation and the strengthening of the rule of law on the Palestinian side and respect for human rights by the Palestinian Authority. It recognises and reaffirms Israel's right to exist and its right to security. It condemns any attacks directed against civilians. The Delegation unequivocally condemns suicide bombings. This view was shared by all of those with whom the Delegation had meetings.

It firmly opposes the persistence of the Government of Israel in policies, in particular the settlement policy, which are illegal and cause much suffering among Palestinians on a daily basis. The Delegation views the continuing occupation and these policies as the root cause of the current deadlock and lack of progress in reaching a negotiated, just and durable peace in accordance with applicable international humanitarian and human rights law.

To date, the international community has not brought an end to these policies of the Government of Israel, thus sustaining a situation of lawlessness and impunity in Palestine. This fact has led to the Delegation's concentration on a call for action where it feels the greatest need for change exists.

The Delegation comes to the conclusion that in light of Israel's persistence in the above-mentioned policies, and the destructive impact of such policies on the situation the ground, an end to the Israeli-Palestinian conflict depends in the first instance on a more determined international intervention to achieve accountability from Israel and to enforce a compliance with International Law.

Intervention should be shaped in accordance with the relevant rules and principles of International Law as, inter alia, stated in the July 2004 ruling of the International Court of Justice on the Wall. To promote justice and peace, such intervention, by the European Union among others, must continue until Israel fully complies with International Law.

a. The Delegation concludes that the "constructive dialogue" between the EU and Israel has not led to tangible results with respect to forcing an end to policies of successive Israeli governments; policies that have caused, and are causing much suffering, and that obstruct peace;

b. It regrets that their own and other European governments, as well as EU institutions, have chosen not to apply such effective pressure on Israel as would lead to a compliance with International Law;

c. It deplores the fact that the recently concluded Action Plan between the EU and Israel does not include non-negotiable, operational and effective benchmarks referring to human rights standards, with which Israel has to comply before enjoying (extended) benefits;

d. It particularly deplores the fact that Israel's illegal Wall, and the human rights violations it causes, are not mentioned in the Action Plan and that a special working group on human rights has not been established;

e. The Delegation notes the call by 106 Palestinian organisations representing Palestinian refugees, Palestinians in the West Bank and Gaza Strip and Palestinian citizens of Israel, to use boycotts, divestment and sanctions against Israel, until it complies with International Law;

f. It welcomes actions by civil actors, like the divestment initiative of the Presbyterian Church (US) and other churches, aimed at ensuring that they do not contribute in any way to supporting the occupation of Palestinian land and people.

Hence, the Delegation issues the following call.

The Delegation calls on the European Union and EU Member State officials and institutions dealing with Israel and Palestine, in particular their own governments, to:

1. continue confirming the applicability of, and the demand for the enforcement of relevant rules and principles of International Law as a guiding feature of any efforts towards peace in Israel and Palestine, in particular within the Quartet;

2. call for an international peace conference, in support of the Roadmap for Peace, to be convened at short notice, in accordance with prevailing International Law;

3. remind Israel, following the evacuation of its settlers, of its continuing responsibilities as the Occupying Power of the Gaza Strip (in accordance with the Fourth Geneva Convention); and to exert pressure on Israel to allow freedom of movement of Palestinian goods and people within and in and out of the Gaza Strip, including from air and sea and a freely accessible transit corridor with the West Bank;

4. live up to their obligations as stated in the ruling by the International Court of Justice on the Wall and force Israel to immediately stop building the Wall in occupied territory and dismantle the parts already built there; and to urge the Security Council of the United Nations to take immediate action, based on UNGAR ES-10/15 and aimed at enforcing this ruling;

5. suspend all forms of military co-operation with Israel which may contribute to or facilitate the suppression of the Palestinians; and to apply without delay the EU Code of Conduct on Arms Trade to the transit of military equipment to Israel via (air)ports of EU Member States, as well as to the export of such equipment to Israel;

6. force Israel to end its settlement activity in the West Bank, including East Jerusalem, and to exclude settlement-based enterprises from engaging in trade with EU member states;

7. actively support the rule of law and democratisation on the Palestinian side and promote the Palestinian Authority's respect for human rights;

8. contribute to the establishment of a special working group and monitoring mechanism addressing Israel's Human Rights behaviour;

9. contribute to the development, outlining, and putting into operation, of concrete benchmarks, which Israel has to meet before enjoying benefits, and to refrain from extending privileges to Israel until it lives up to these benchmarks and its international legal obligations;

10. indicate the clear intention to activate the human rights clause of the EU-Israel Association Agreement and suspend this agreement if Israel does not live up to these benchmarks and its obligations in due time;

The Delegation calls on the EU and its Member States to take such and related action, without delay, in the interest of justice and peace in Israel and Palestine.

Related Links
Delegation headed by former Dutch prime minister Van Agt witness restrictions on movement,

UCP

(25 August 2005)
In bed with Israel:

EU

's close relationship with Israel supports abuse, Arjan El Fassed (11 March 2005)
EU

launches new initiative as deportation of Palestinians is extended, Arjan El Fassed (3 November 2004)