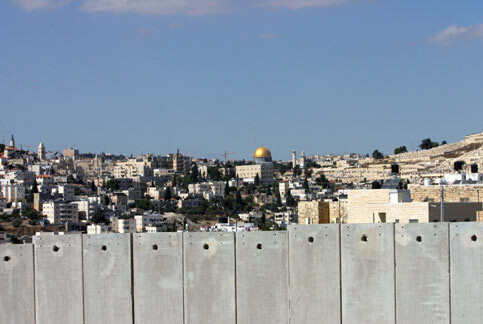 A draft report by the Jerusalem and Ramallah heads of missions, representatives of the EU member states, to their foreign ministers, was leaked to the media. In the report the diplomats recommend a more critical approach toward Israeli policies in East Jerusalem. The diplomats want clear statements by the EU and the Middle East Quartet that Jerusalem remains "an issue for negotiation by the two sides," and that the EU should call on Israel to desist from "all measures designed to pre-empt such negotiations."
The diplomats want the EU to request Israel "to halt discriminatory treatment of Palestinians in East Jerusalem, especially concerning working permits, building permits, house demolitions, taxation and expenditure" and said that the EU might consider and assess "the implications and feasibility of excluding East Jerusalem from certain EU/Israel co-operation activities."
"Israeli measures also risk radicalizing the hitherto relatively quiescent Palestinian population of East Jerusalem," the report said.
Earlier this week, the EU decided to delay the release of the report. In a meeting on Monday, EU foreign ministers discussed the situation in the Middle East and decided to only express "concern" over Israel's policies in occupied East Jerusalem. The foreign ministers called for a report to be prepared for the next foreign ministers meeting in December. However, the diplomats in Ramallah and Jerusalem had already prepared the report; but the foreign ministers decided that the "timing" was not appropriate.
Meanwhile, at the UN General Assembly, the EU helped Israel to prevent a UN resolution containing criticism and condemnations of Israel from being voted on at the UN General Assembly. The resolution on the state of Palestinian children and humanitarian aid has been voted on in the last four years and won the support of most UN members. The resolution would have expressed serious concern for the fact Palestinian children are still denied basic rights and that the situation of Palestinian children in the occupied territories, including in East Jerusalem keeps deteriorating. According to the Israeli daily Ha'aretz, a successful round of talks held on Monday by the Israeli ambassador to the UN with support from EU members removed the proposal from the agenda of the current assembly.
On Monday, the EU-Israel Association Committee met to discuss procedural issues around the EU-Israel action plan and approved to staff a border-monitoring mission that the EU believes is crucial for opening up the Gaza strip to the rest of the world. The EU will initially send about a dozen monitors for the Rafah crossing between Gaza and Egypt, to allow about 500 daily crossings from today. In the statement released after the meeting of the foreign ministers, the EU called on Israel to assist Palestinians with the upcoming parliamentary elections, especially in improving voting arrangements in East Jerusalem, including registration and access to the polls.
This weekend, EU heads of states and Mediterranean countries will participate in a conference in Barcelona marking the tenth anniversary of the Euro-Mediterranean Partnership.
Related Links
Annan: Barrier, settlements and security challenge two-State Israeli-Palestinian solution (21 November 2005)
In bed with Israel:

EU

's close relationship with Israel supports abuse, Arjan El Fassed (11 March 2005)