Areen Bahour is a seventh-grade student at Friends School in al-Bireh, Ramallah. The following is an essay she wrote as a class assignment: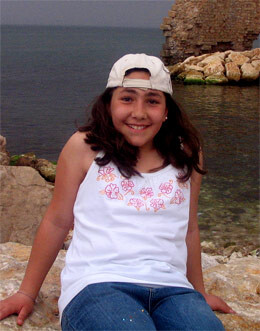 Thinking about the end of the world is hard. I'm still 12 years old and I didn't face the world yet so I can't imagine the end of the world that I didn't face yet!
Well, now for me as a girl that her life is between school, home and activities I can't think of anything except for my family. I love every member of my family, but the end of the world is something to do with my father.
My father is Palestinian but he had lived all his childhood and even after in the United States, so he doesn't have a Palestinian ID. In this case we all know that he needs to renew his visa every three months. This was not a problem before the Israelis started not to renew the visas for most of the people, it became you and your chance, and I realized that my father can be forbidden from entering Palestine any time he tries to renew his visa.
So, the end of the world for me is if my father will not be able to live with us, or worse — us moving to Jordan or to USA. I thought of what will happen, I won't be able to see him every morning, I won't have the chance to talk to him about school and friends, I will have no one to help me with computers and sometimes English and the worst two things are that I will see the empty chair at the table each time we eat, and the second thing, not telling him "good night" every night. Well, this is about dad living away, but the other problem is if we move to another country, it might seem fun, but I will leave my friends, my school, my grandparents, and I will miss every street, every house, and every person I saw on my land "Palestine."
At the end I would like to say that each and every human has different thoughts of what the end of the world will look like, but we should still have faith in ourselves that we can change and make things better.
Related Links
BY

TOPIC

: Banning of internationals and foreign passport-holding Palestinians (25 June 2006 onwards)