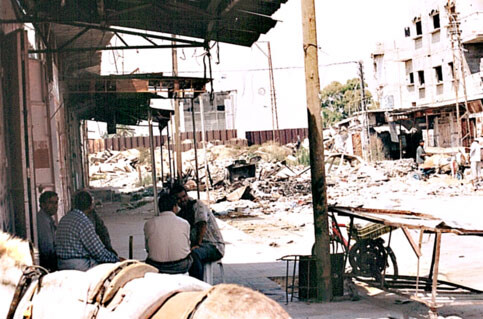 NEW
YORK
— The Israeli military's use of tanks and helicopters yesterday to fire on non-violent demonstrators in the southern Gaza Strip constituted an unlawful and unnecessary use of force, Human Rights Watch said today. At least eight people were killed and dozens were injured.
"It's outrageous that Israeli forces used battlefield weaponry to block peaceful marchers," said Sarah Leah Whitson, executive director of Human Rights Watch's Middle East and North Africa division. "By using heavy weapons against non-violent demonstrators, Israel has violated not only international law, but also its own open-fire regulations."
In a large-scale incursion in the southern Gaza Strip, Israeli forces earlier this week moved into and sealed off the Tel al-Sultan area along the Egyptian border, between the Palestinian refugee camp of Rafah and the Israeli settlement area of Gush Katif. In a statement, the Israel Defense Forces outlined the measures they took yesterday during a protest march by Palestinians toward Tel al-Sultan. The IDF said that one of its helicopter gunships launched a missile at a nearby open area to deter the protesters from proceeding toward Tel al-Sultan and that tanks subsequently directed fire against an "abandoned structure" near the protestors, causing the deaths. The IDF also claimed that it used flares to warn the protestors against proceeding toward Tel al-Sultan.
In contrast, eyewitnesses told Human Rights Watch that the killings were not preceded by any warning fire, and that shelling continued as protestors sought to evacuate the wounded. The incident took place on a major road in a built-up area. According to witnesses, there were no "abandoned structures" nearby.
Israeli forces have not alleged that they came under attack from the protestors. Accounts offered by the eyewitnesses interviewed by Human Rights Watch and the IDF differ over whether some of the demonstrators were armed, but the mere presence of some armed protestors would not justify such excessive and indiscriminate measures.
Human Rights Watch called on the Israeli government to abide by the U.N. Basic Principles on the Use of Force and Firearms by Law Enforcement Officials, which apply to the armed forces when policing demonstrations. The Principles require that security forces, in carrying out their duty, shall as far as possible apply non-violent means before resorting to the use of force. Whenever the lawful use of force is unavoidable, law enforcement officials must use restraint and restrict such force to the minimum extent necessary. The legitimate objective should be achieved with minimal damage and injury, and with respect for the preservation of human life.
Human Rights Watch also expresses its deep concern over Israel's policy of demolishing Palestinian houses. The IDF announced yesterday that, after a Palestinian was killed on May 2 while carrying out an attack in the Gaza Strip that left five Israeli settlers dead, the army demolished his house weeks later during its current incursion. The demolitions appear to be part of the IDF's policy of collective punishment, which international humanitarian law strictly forbids.
Moreover, top Israeli officials announced on May 13 plans to demolish hundreds of houses in order to widen the "buffer zone" along the border between Rafah and Egypt. Afterwards, over the course of several days, the Israeli army demolished between 80 and 116 houses in the border area, rendering more than 1,000 homeless.
Such demolitions are purportedly aimed at preventing the possible use of houses as cover for Palestinian gunmen or arms-smuggling tunnels from Egypt. After international criticism, the Israeli government said that it would not carry out mass demolitions at this time, although it will continue to destroy homes "if necessary" during the course of combat.
"Demolishing houses as collective punishment or razing entire residential areas is unlawful," Whitson said. "Under the laws of war, private property can be destroyed only if rendered absolutely necessary by military operations. If unlawful destruction is widespread and wanton, it constitutes a war crime."
Human Rights Watch urged the Israeli government to allow independent monitors to conduct an impartial investigation into its recent operations in the Rafah area, and to discipline or prosecute as appropriate those found responsible for wrongdoing. Further, the government should cease all house-demolition policies that do not conform to international standards, including those aimed at "deterring" future attacks. Finally, the international community should demand that Israel fulfill its international obligations as an occupying power to protect civilians and their property.
Related Links