Broadbased coalition in support of an end to Israeli occupation set for launch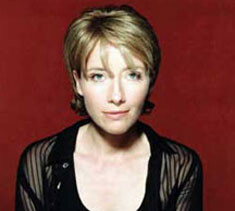 Record-breaking actor Emma Thompson revealed today why she is helping to make political history by supporting Britain's first broad-based alliance for a just peace in the Middle East. Ms Thompson earned her Oscars for best actress in Howard's End and for best-adapted screenplay for adapting Jane Austen's novel Sense and Sensibility. The only person ever to have won film Oscars for acting and writing is backing a new historic drive for a just settlement between Israelis and Palestinians.
The ENOUGH! coalition, representing over three million people in charities, trade unions, faith and campaign groups has come together to mark this year's 40th anniversary of the Israeli military occupation of the Gaza Strip and West Bank, including East Jerusalem.
The launch will come only days after a report, funded by the British government, warned that Israel's separation wall is trapping 250,000 Palestinians. The report on Israel's separation wall was produced by the Israeli planning and rights organisation Bimkom. The report says the wall is cutting off Palestinians from employment, education, healthcare needs, undermining social and family life and isolating farmers from markets.
Ms Thompson said: "This report cites the devastating effects on Palestinians' health and livelihoods of Israel's separation wall. It shows the vital need for our ministers to make fresh moves for a just peace. It is high time the UK government matched its rhetoric with action which can save Palestinians and Israelis from another 40 years' conflict."

ENOUGH
will be launched with a news conference at 11.00 am next Tuesday (30 January) in the Wilson Room at Portcullis House, Victoria Embankment, London
SW1A
2LW
.
Supporters include actor -Miriam Margolyes, now appearing in London's West End hit musical Wicked - and other celebrities such as Richard Wilson, Stephen Fry, Angus Deayton, Zoe Wanamaker and film director Mike Leigh.
Other ENOUGH! backers include the MP Clare Short, former UK international development secretary, comedian Mark Steel, playwright Caryl Churchill, poets Benjamin Zephaniah and Adrian Mitchell, artists John Keane and Laila Shawa, and novelist Ahdaf Soueif.
Ms Margolyes will introduce the news conference, where the speakers will be: Palestinian farmer Sharif Omar, whose livelihood has been hit by Israel's separation wall, Mona El-Farra, a Gaza doctor treating children traumatised by occupation, Professor Manuel Hassassian, the Palestinian delegate to Britain and former Israeli pilot Yonatan Shapira, who refused to fly missions over the occupied territories.
The news conference precedes a public launch rally later the same day. Tony Benn, the ex-UK cabinet minister, will address the rally, along with award-winning Gaza cameraman Zakaria Abu Harbid, Yonatan Shapira, Sharif Omar, Mona El-Farra and Professor Hassassian. It will take place at 7.00 pm on Tuesday, 30 January at Friends House, 173 Euston Road, London NW1 2BJ.
ENOUGH! coalition will organise throughout the year: In April - local events across the country with a special focus on Jerusalem; 9th June - a national demonstration and concert in London on Saturday 9 June, to mark the 6 Day war 28th November - a lobby of the British parliament to mark the United Nations International Day for Palestine.
The coalition comprises: Amicus, Amos Trust, BFAWU, Britain-Palestine All Party Parliamentary Group, Britain Palestine Twinning Network, CAABU, Friends of Al-Aqsa, Friends of Birzeit University, GMB, Green Party, ICAHD UK, Interpal, Jews for Justice for Palestinians, Jewish Socialist Group, Medical Aid for Palestinians, Muslim Association of Britain, Muslim Council of Britain, Muslim Public Affairs Committee, NUJ, NUS Black Students Campaign, Open Bethlehem, Palestine Solidarity Campaign, Palestinian Forum in Britain, Palestinian Return Centre, Pax Christi, PCS, Quaker Peace and Social Witness, T&G, Trade Union Friends of Palestine, UNISON, War on Want, Welfare Association.
Related Links