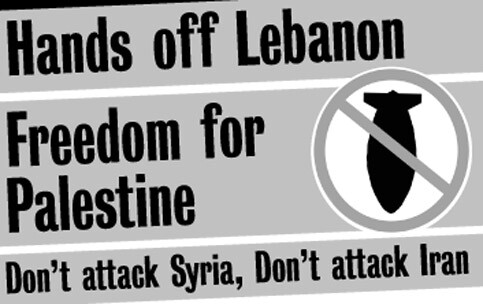 Israel's war in Gaza and Lebanon is escalating into an international crisis which could soon engulf the whole region. The promise by Bush and Blair in the lead up to the Iraq war that their wars would bring freedom and democracy to the Middle East and peace to Palestine, have yet again been shown to be lies, just as the anti-war movement has consistently said they were.
This weekend there are emergency demonstrations in Birmingham, Bristol, Edinburgh, Exeter, Glasgow, Kirkcaldy, London, Manchester, Newcastle, Sheffield and York. Join the call to end the carnage and destruction now.
LONDON: Saturday 22 July
Assemble Embankment 12 Noon
Organised by Stop the War Coalition, Palestine Solidarity Campaign, Muslim Association of Britain, British Muslim Initiative, Lebanese organisations.
Download leaflet with full details (

PDF

)

Contact office@stopwar.org.uk, Tel 020 7278 6694.

BIRMINGHAM: Saturday 22 July. 1-3pm, outside Waterstones at the entrance to the Bullring.

BRISTOL: Friday 21 July. 5.30-6.30pm. City Centre, opposite the Hippodrome

EXETER: Saturday 22 July 11am-1pm at Bedford Square on Exeter High Street

EDINBURGH: Saturday 22 July
Assemble 2pm: The Mound precinct, Princes Street.

GLASGOW: Saturday 22 July Assemble 12 noon: George Square

KIRKCALDY: Saturday July 22 Assemble 12 Noon outside Kirkcaldy Town House

MANCHESTER: Saturday 22 July Assemble 1.00pm: Outside the BBC. Oxford Road. Contact: info@mancsagainsttanks.org, Tel: 07760 224 580

NEWCASTLE: Saturday 22 July Assemble Grey's Monument 1pm Nearest Metro: Monument. Organised by Tyneside Stop the War Coalition and the Palestine Solidarity Campaign: Contact 07914 606 452

NORWICH: Saturday 22 July, From 1pm. The Haymarket, Norwich city centre.

SHEFFIELD: Saturday 22 July Noon. Town Hall.

YORK: Saturday 22 July. 1.00pm. St Sampsons Square.

Related Links