We are thrilled today, on International Human Rights Day, to launch Version 3.0 of the The Electronic Intifada, a major upgrade of The Electronic Intifada website.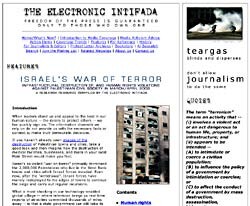 The changes you will see on the site take nothing away from all you have come to know and trust about EI, but add some fantastic new features to address the needs of the site as it has grown, and in response to feedback from regular EI users.
These features include:
Stronger visual design
New

BY

TOPIC

directory
Improved navigation
New search tools
News from other sites

Features will be refined in the coming weeks.

Since we launched The Electronic Intifada in February 2001, millions of people all over the world have used our site as a resource for the latest news and in-depth analysis about Palestine and the Israeli- Palestinian conflict.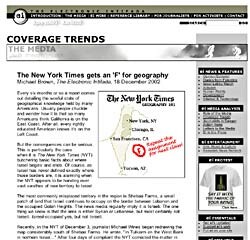 In barely three years, the scope of our coverage has grown — covering not only the fundamentals of the conflict, but human rights, activism, the pro-Israel lobby, arts & culture, and the good, bad and ugly of the mainstream media.
Today EI is recognized as the leading web resource on Palestine.
Because our audience is growing, and the gulf between what is happening on the ground in Palestine and what people around the world know about is still so wide, EI is always striving to deliver a better service to users.
In 2004, our main focus will be improving the scope and quality of our content. We plan to develop even more connections with writers, photographers and people with key skills on the ground in Palestine. A major factor in EI's success is that it has been a window through which people in Palestine and in the Diaspora can make their voices heard. As we go forward we recommit to strengthening those connections both with individuals and organizations who share our educational mission.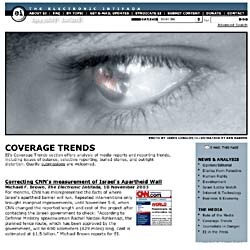 Although most of the labor that creates EI is donated, none of what you see on the site would have been possible without the generous support of hundreds of individuals who contribute financially to our work. These donations help pay for the equipment we use, the servers that host the site, and the technical and creative expertise that gives EI its distinctive look.
This support remains essential to our continued work and growth. To learn how you can support EI, please visit: http://electronicIntifada.net/v2/article2162.shtml
We hope you like the new EI, but most of all we hope that you will put it to use as an educational tool, as Palestine's weapon of mass instruction.
Ali Abunimah
Arjan El Fassed
Laurie King-Irani
Nigel Parry
and the rest of the EI Team