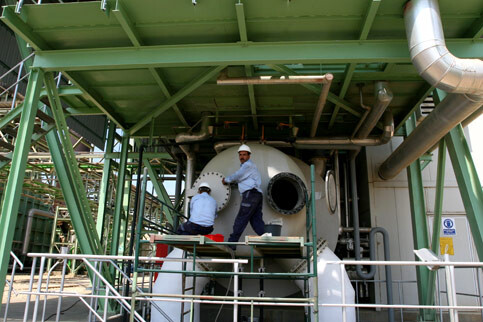 Gaza's only power plant has completely ceased providing power after Israel's four-day closure of the border crossing through which fuel supplies enter the Strip and the European Union's freezing of funds. Gazans' already hard living conditions are expected to rapidly aggravate without proper power supplies.
Israel, which has full control of Gaza's border crossings, has continued its policy of closure, a serious measure of collective punishment against Gaza. Since 2000, it tightened the closures, but completely sealed off the Strip in June and imposed unprecedented restrictions on the movement of people and goods. Gaza has seen substantial shortage of food and other basic goods, and its economy is at the verge of full collapse. On 16 August 2007, Israel closed the fuel crossing for alleged security reasons.
Israel's abuse of its control, including control over fuel supplies into Gaza, has extensively contributed to the deterioration of the humanitarian and human rights situation, especially economic and social rights.
The cut of funds supporting the power sector in Gaza by the EU has added to the closure of Gaza. In addition, the Palestinian Authority (PA) has not yet taken any measures to secure fuel supplies to Gaza's power sector.
As Gaza's power station, which provides one-third of the Gaza Strip's needs, has shut off all of its generators, Gazans suffer prolonged electricity cut-offs. This is expected to gravely affect the work in the health sector, including hospitals, drinking water and sanitation. Hospitals may be forced to use small generators again. Those proved ineffective in 2006, when Israel bombarded the power station. This situation will also put at grave risk the sick and most vulnerable, especially those needing dialysis treatment. Moreover, it will hinder municipalities' pumping of water to households.
Al Mezan Center strongly condemns Israel's closure, which has seriously affected the power supply in Gaza under security and financial pretexts. Al Mezan emphasizes that Israel, as an Occupying Power, bears the ultimate responsibility for the life and well-being of civilians in the Occupied Palestinian Territories (OPT), including Gaza. Israel's restriction of the entry of basic goods to Gaza represents a flagrant violation of human rights; a violation that infringes upon the well-being of the entire population. This conduct is a form of collective punishment, which is prohibited by international law under all circumstances.
It must be stressed that Israel also bears human rights obligations towards the OPT's population, at least not to obstruct the Palestinians' efforts to provide for their own rights, which is an inevitable consequence of closure.
Al Mezan also denounces the use of an essential good such as electricity as a tool of political competition between Palestinian parties. Gaza's power station must be kept out of this competition, especially given its serious impact on the humanitarian situation.
Al Mezan renews its calls upon the international community to intervene to spare the Gaza Strip a worse humanitarian crisis, and to exert pressure on Israel to stop its collective punishment of Palestinian civilians. The flow of fuel and other basic goods must not be restricted. Moreover, Al Mezan calls on President Mahmoud Abbas to take steps to ensure regular provision of fuel and power to the Gaza Strip.
This report has been edited for clarity.
Related Links