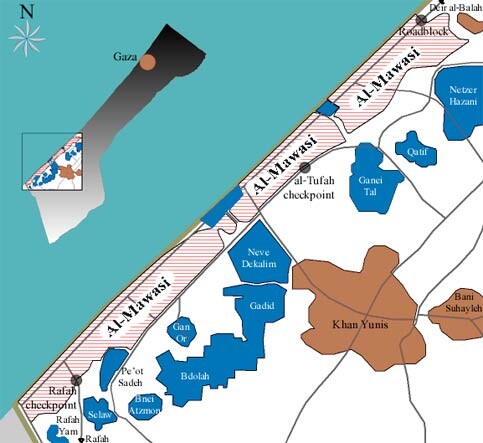 8 January 2005, 14:00 GMT — PCHR is gravely concerned that at least 180 residents of al-Mawasi area in the southern Gaza Strip have been prevented from traveling back to their homes in the area by Israeli Occupation Forces (IOF). This measure will further increase the suffering of these Palestinians, as it particularly deprives them of participation in the Palestinian presidential election on Sunday, 9 January 2005.
According to information available to PCHR, IOF have continued to partially close al-Tuffah checkpoint at the entrance to al-Mawasi area for several weeks. Under this closure, only women and male Palestinians who are over 50 years old are allowed to cross the checkpoint, but under severe restrictions. The Palestinian civil liaison in the southern Gaza Strip reported that around 180 Palestinians from al-Mawasi area have been stuck at the checkpoint not allowed to travel back homes. If these measures continue on Sunday, these Palestinians will be deprived of their electoral right. PCHR staff have also received reports that another 100 - 120 civilians have been staying in Khan Yunis town and refugee camp.
PCHR condemns these restrictions on the freedom of movement by IOF and calls upon the High Contracting Parties to the Fourth Geneva Convention of 1949 and international NGOs to exert pressure on IOF to stop measures of collective punishment against Palestinian civilians and allow these civilians to practice their electoral right in the Palestinian presidential election on Sunday, 9 January 2005.
Related Links