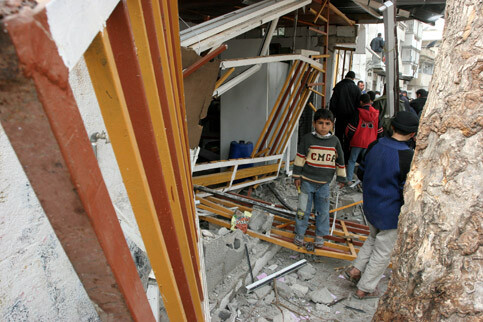 Israeli Occupation Forces (
IOF
) continued their military operations in the Gaza Strip. Over the past 24 hours,
IOF
carried out several air raids against civilian targets and resistance fighters. As a result, eight Palestinians were killed. Two of the victims were unarmed civilians, one of them a child. With yesterday's victims the tally since Wednesday, 27 February, till time of publication, soared to 108 victims killed, including 54 unarmed civilians. The civilians killed included 26 children and five women. In addition, dozens were injured, many of them still in serious condition.
PCHR's investigations indicates that IOF have use excessive and disproportionate lethal force during aerial and land operations against populated areas and civilian installations. The use of force disregarded the threat to civilian lives, causing many direct civilian casualties inside homes. In addition, IOF intentionally obstructed the work of medical crews. Many of the victims died bleeding to death in front of their family members. In addition, IOF directly targeted medical crews, killing a paramedic and seriously injuring another in Jabalia. Ambulances sustained damage as well.
The Center's preliminary investigation indicates that at approximately 4:00am on Monday, 3 March, IOF redeployed their forces outside of the town of Jabaliya and its vicinity after four days of military operations in the area. IOF troops withdrew outside the borders of the Gaza Strip. During the last few hours of the operation, IOF killed four Palestinians, two of them civilians (one a child). At approximately 1:45, an IOF artillery shell targeted a group of children at Zimmo intersection near the Palestinian Red Crescent Society building. Two people were killed, and a third was seriously injured. The victims killed were:

1. Mahmoud Abd al-Khaliq Abu Ateyya (18 years old)
2. Abd al-Rahman Mohammad Saleh (17 years old)
The injured child is Abd al-Hadi Ibrahim al-Debes (17).
At approximately 9:00pm on Sunday, 2 March, an IOF plane fire a rocket at a group of resistance members in Sikka Street east of Jabaliya refugee camp. Two of them were killed:

1. Naim Abu al-Hosna (45 years old)
2. Ra'id J'neid (22 years old)
In addition, the body of a paramedic, Mahmoud Suliman Zaqout (23 years old), was found after the IOF redeployment. He was a paramedic in the Civilian Defense Corps who has been missing for two days. As a result, the number of victims during the operation in Jabaliya reached 61 killed. These include 33 unarmed civilians, including 20 children, two women, and a paramedic. The civilian victims included an infant girl, two young sisters, a father and son, a brother and sister, and three children from the same family.
From midnight till 1:00am on 3 March IOF warplanes carried out three raids on metal workshops in Jabaliya refugee camp, Tal al-Za'tar housing project near Jabaliya, and Beit Hanoun. PCHR's fieldworkers report that extensive damage was caused to the town's infrastructure and to tens of houses and to agricultural fields. PCHR's fieldworkers are in the town to document these crimes and assess the damage.
At approximately 1:12am, an IOF warplane dropped a bomb on the office of the pro-Hamas "Change and Reform" parliamentary bloc in the Palestinian Legislative Council in Khan Younis. The office was located in the second floor of a multi-story residential building, al-Farra Building, in Khan Younis. Extensive damage was caused in the area.
At approximately 1:20am, an IOF warplane dropped three bombs at a metal workshop in Abu Bakr al-Siddiq Street in Rafah in the southern Gaza Strip. The workshop was completely destroyed and a nearby workshop was extensively damaged. In addition, a warehouse for the Palestine Red Crescent Society, a shop, and several houses suffered extensive damages.
At approximately 1:30, an IOF warplane attacked a group of resistance members east of Sheja'eya Quarter in Gaza City. Two of them were instantly killed. Two others and a woman were injured. The victims killed are:

1. Ramzi Fathi Khweiter (20 years old)
2. Abd al-Fattah Mohammad Abd al-Aal (24 years old).
At approximately 2:20am, an IOF warplane attacked a Naval Police Compound west of Nuseirat refugee camp with three rockets. One Naval Police member was killed and another was seriously injured. The killed victims is Darwish Adel Meqdad (34 years old).
At approximately 2:40, an IOF war plane fired a rocket at a member of the resistance near Baker Building in the port area west of Gaza City. He was killed instantly. He was identified as Ibrahim Sayyed al-Masri (20 years old). In addition, IOF warplanes conducted two raids against a house belonging to members of the Ahel clan in Beach Camp and a metal workshop in Sahaba Street east of Gaza City. Both targets were destroyed. The Ahel house was targeted two days earlier with an air raid after the house owner was killed by IOF several hours prior to that.
PCHR reiterates its condemnation of these serious crimes, and:
1. Affirms that these crimes are a continuation of Israeli war crimes in the Occupied Palestinian Territory (OPT) in general and the Gaza Strip in particular. These crimes are indicative of IOF disregard for civilian Palestinian lives.
2. Reiterates the warning over the escalation crimes against civilians in light of the statements and threats by Israeli political and military leaders, which threaten to cause additional civilian casualties.
3. Calls upon the High Contracting Parties (HCP) of the Fourth Geneva Convention (1949) to fulfill their legal obligation under Article 1 of the Convention and ensure that it is respected by all parties under any circumstances. The Centre calls upon the HCP to fulfill their obligations under Article 146 of the Convention to pursue persons suspected of perpetrating grave violations of the Convention, which are defined as war crimes under Article 147 of the Convention.
Related Links