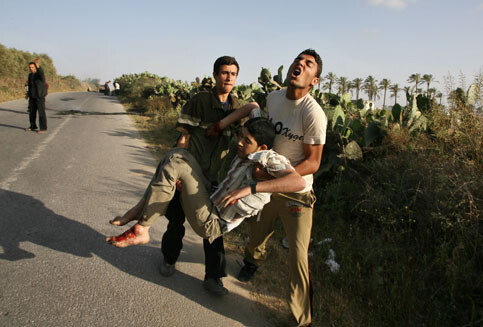 In the past 24 hours, Israeli Occupation Forces (
IOF
) have escalated attacks against the Gaza Strip, while they maintained the tightened siege imposed on Strip. On Wednesday evening, 16 April 2008, and in less than half an hour,
IOF
killed 13 Palestinian civilians, including a journalist, eight children and two brothers, and wounded 32 others, including 17 children and a woman, in Juhor al-Dik village in the central Gaza Strip. They also razed large areas of agricultural land and demolished a number of houses during an incursion into the village. The Palestinian Centre for Human Rights's (
PCHR
) investigations strongly indicate that
IOF
used excessive force and
willfully targeted journalists in spite of the clear markings on their suits and vehicles
.
According to investigations conducted by PCHR, at approximately 04:00, IOF moved nearly 1,200 meters into Juhor al-Dik village in the central Gaza Strip. They raided and searched a number of houses and started to raze areas of agricultural land. At approximately 7:00am, IOF fired a tank shell at a house belonging to Salem 'Ali Abu Sa'id, 73. Abu Sa'id and his daughter-in-law, 36-year-old Hala 'Atiya, were wounded by shrapnel to their shoulders. Medical sources described Abu Sa'id's wounds as serious. At approximately 4:30pm, an IOF aircraft that provided air cover for the incursion fired two missiles at a number of Palestinian civilians who gathered near al-Ihsan Mosque, nearly 300 meters away from the area in which IOF troops were deployed. As a result, nine Palestinian civilians, including six children and two brothers were killed, and 18 others, including 12 children, were wounded. The civilians who were killed were identified as:

Mahmoud Ahmed Mohammed, 45;
Sofian Ahmed Mohammed, 41;
'Abdullah Maher Abu Khalil, 15;
Tariq Fareed Abu Taqiya, 16;
Islam Hussam al-'Eissawi, 16;
Talha Hani Abu 'Ali, 13;
Bayan Sameer al-Khaldi, 17;
Mohammed Mohammed al-'Assar, 17; and
Fadi Jamal Musran, 20.
Fadel Shana'a, 23, a cameraman of Reuters, accompanied by Wafa Abu Mezyed, 25, a soundman, arrived at the area to photograph the children who were killed by Israeli missiles. When they finished photographing, they got in a Reuters vehicle, which was clearly marked with the press badge. They then traveled back to continue their work in the area. They stopped hundreds of meters away from the area where IOF troops were deployed. They got out of the vehicle and a number of children gathered around them. Soon after, IOF fired a tank shell at them. Shana'a was instantly killed and Abu Mezyed was wounded. Abu Mezyed was able to flee from the area. IOF soon fired another shell that hit the back of the vehicle and heavily damaged it. Three civilians, including two children, were also killed by the attack, and 12 others, including five children, were wounded. The civilians who were killed were identified as:

Ahmed 'Aaref Farajallah, 14;
Ghassan Khaled Abu 'Otaiwi, 17; and
Khalil Isma'il Dughmosh, 22.
At approximately 9:30pm, IOF troops redeployed outside the village after razing at least 200 donums of agricultural land and demolishing six houses.
PCHR strongly condemns and expressed utmost concern over these crimes, and:
1) Asserts that these latest crimes are part of a series of continuous crimes committed by IOF in the Occupied Palestinian Territory (OPT) with total disregard for the lives of Palestinian civilians.
2) Warns of further escalation in attacks against Palestinian civilians in light of statements and threats by Israeli political and military officials, which may cause more civilian casualties in the Gaza Strip.
3) Expresses utmost concern over continued crimes committed by IOF against journalists and media professionals, and stresses that such crimes aim at silencing the press and prevent journalists from covering crimes committed by IOF against civilians.
4) Calls upon the international community to immediately intervene to stop such crimes, and calls upon the High Contracting Parties to the Geneva Convention, Relative to the Protection of Civilian Persons in Time of War, to fulfill their obligation under Article 1 of the Convention to ensure respect for the Convention in all circumstances, and their obligation under Article 146 to search for and prosecute those who are responsible for perpetrating grave breaches of the Convention. Such breaches constitute war crimes according to Article 147 of the Convention and the Protocol Additional to the Geneva Conventions of 12 August 1949, and Relating to the Protection of Victims of International Armed Conflicts (Protocol I).
Related Links