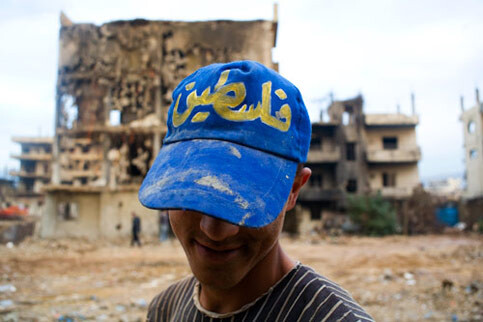 The 'Electronic Intifada,' which appears to be more effective than any of its predecessors, has caught us with our pants down. Suddenly, even our most senior officers and cabinet ministers, who are holed up inside the country for fear of lawsuits abroad, have begun to realize that it is not possible to respond to everything with fire.

—Doron Rosenblum, Haaretz, 31 October 2009, after EI's exclusive video of the Chicago protest against former Israeli Prime Minister Olmert protest was broadcast on Israeli national television
As the year closes, The Electronic Intifada (EI) asks our readers to make a donation to support our independent, fearless reporting and analysis about Palestine in 2010.
It's easy, quick and secure and your donation is tax-deductible if you are a US taxpayer.
We want to tell you why your support is so vital. This year began with Israel's massive attack on the civilian population and the very foundations of civilized life in the Gaza Strip — homes, schools, universities, public facilities, factories, shops and food warehouses. An editorial in Ireland's Sunday Business Post observed that "with the Western media self-censoring the most terrible images from Gaza — particularly those of young children murdered en masse — one has to go onto websites such as Electronic Intifada … to see the reality."
The mainstream media's myopic gaze quickly turned away from Gaza once the intensive bombing stopped, but EI has kept a constant focus on the people there — their analysis, struggles, celebrations, tragedy and steadfastness.
Thousands of people come to The Electronic Intifada every single day to learn the truth about what is happening all over Palestine and in the growing global solidarity movement. We have seen our traffic grow by 17 percent since the start of the year not including a huge surge during Israel's attack on Gaza a year ago. Many of our original stories were picked up by mainstream media, reaching even bigger audiences, and were republished or translated by countless print publications and websites all over the world.
At a time when traditional media models — focused on profits — are failing, The Electronic Intifada has pioneered a thriving model of independent nonprofit journalism. It works only because individuals like you understand the value of what we do and are prepared to support it. Your tax-deductible donation will make a real difference whether it is for $60, $100, $1,000 or more.
We've included below some links to highlights of EI's unique reporting and analysis in 2009. These are only a small sampling of the high-quality original reporting and analysis that your support makes possible. Every day, reporting like this is motivating more people to learn about how they can become part of the movement for justice.
Show your support for independent journalism about Palestine today. Please donate now by credit card. You can also give by Paypal or check.
With thanks and best wishes for 2010,
The Electronic Intifada Team
TO DONATE BY CREDIT CARD:
https://secure.groundspring.org/dn/index.php?aid=10090
TO DONATE BY PAYPAL OR CHECK:
http://electronicintifada.net/v2/article2162.shtml
The Electronic Intifada: Highlights from 2009