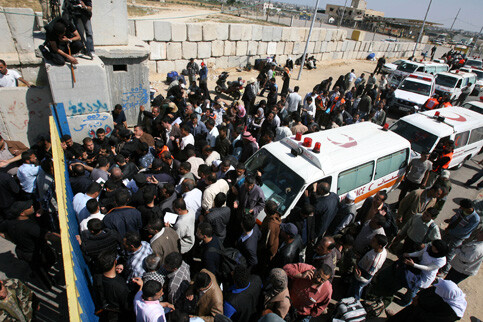 CAIRO

(

IPS

) - Following renewed fighting between rival Palestinian factions Fatah and Hamas, Egypt has stepped up calls for dialogue and reconciliation. But critics say Cairo's partiality to Fatah — which is backed, like the Egyptian regime itself, by the

US

— prevents it from mediating fairly in the crisis.

"The Egyptian government is very sympathetic to Fatah," Magdi Hussein, political analyst and secretary-general of Egypt's frozen Labor Party, told IPS. "For that reason, any new Egyptian attempt to mediate the dispute is doomed to failure."

On 25 July, five members of Hamas's military wing were killed when a bomb exploded on a crowded beach in Gaza. Hamas, currently party to a fragile truce between Israel and resistance factions in the Gaza Strip, blamed elements of the US-backed Fatah movement for the attack.

In the first days of August, Gaza City's al-Shejaeya district became the scene of open conflict between Hamas security forces and Fatah partisans suspected of involvement in the bombing. Dozens were arrested after a 48-hour battle involving the use of heavy weapons, while scores of Fatah supporters fled to the West Bank by way of Israel.

Ever since, the rival factions have engaged in harsh crackdowns on suspected opponents throughout their respective territories.

In the Gaza Strip, Hamas has arrested scores of Fatah personnel suspected of attempting to destabilize the territory. The Fatah-dominated Palestinian Authority (PA), meanwhile, has retaliated in the West Bank by launching wide-ranging arrest campaigns targeting Hamas supporters, opposition figures and journalists.

PA security agencies have also used the occasion to close down a number of Islamic-oriented schools, cultural centers and charitable institutions throughout the West Bank.

In an effort to contain the crisis, Egypt, a traditional mediator of Palestinian infighting, has reiterated calls for reconciliation.

Earlier this month, head of general intelligence Omar Suleiman — Cairo's usual point man for Israel-Palestine security affairs — reportedly invited leaders of both Fatah and Hamas to hold reconciliation talks under Egyptian supervision.

Despite rumors that both groups would soon dispatch delegations to Cairo to discuss their differences, however, these were soon dispelled. "Until now, we haven't received any invitation from Cairo," Hamas spokesman Salah al-Bardawi was quoted as saying.

Commentators, meanwhile, point out that Egyptian mediation attempts will be sorely undermined by Cairo's relative closeness to Fatah. "Egypt openly supports Fatah," Gamal Zahran, political science professor at Suez Canal University and an independent member of parliament, told IPS. "This is primarily due to the fact that Cairo doesn't want to see Hamas become a successful example of Islamic governance in the region."

According to Hussein, Egyptian attempts to arbitrate fairly in the dispute "cannot possibly succeed" until Egypt assumes the role of a genuinely impartial mediator.

"As it now stands, Egypt is completely biased towards Fatah, which itself has a close relationship with Israel," he said. Noting that "both Hamas and [PA President Mahmoud] Abbas were elected by the Palestinian people in 2006," Hussein added that "Egypt's national interest requires neutrality and the avoidance of taking sides."

Critics point to the government's refusal to open Egypt's 14 kilometer border with the Hamas-run Gaza Strip as further proof of official bias against the resistance group.

Since its 2005 withdrawal from the Gaza Strip, Israel has kept its borders with the enclave hermetically sealed. And for more than one year, the Egyptian government, citing the lack of a formal treaty regulating border protocol, has completed the strip's isolation by sealing its own border with the territory.

Often described by the western media as an "embargo," the de facto siege — which enjoys the support of the both the US and the EU — has destroyed the Gaza Strip's economy and deprived many of its roughly 1.5 million residents of food and medicine.

"The Egyptian government is taking part in the siege and forbidding the entry of material aid into the starving territory," Hamdi Hassan, prominent MP for the Muslim Brotherhood opposition movement told IPS. Hassan went on to question how Egypt could pose as a neutral mediator in the dispute between Fatah and Hamas while at the same time being "utterly beholden to US and Zionist dictates."

Hamas has repeatedly offered to jointly reopen the Egypt-Gaza Rafah border crossing, but Cairo has consistently refused, saying it would deal only with "official and legitimate" authorities of the PA. Although the two-month-old ceasefire between Israel and Hamas calls for the gradual reopening of the Gaza Strip's borders, this stipulation has yet to be implemented.

One Hamas official has attributed the ongoing closure of the Rafah crossing to Egypt's "unmasked sympathy for the Fatah-run PA."

But according to Zahran, official partiality towards Fatah is not the only thing hindering effective mediation by Egypt. "The Egyptian regime itself is facing domestic instability, and this has an impact on the effectiveness of its foreign policy," he said. "All things considered, Cairo's call for inter-Palestinian dialogue will most likely fail."

All rights reserved, IPS - Inter Press Service (2008). Total or partial publication, retransmission or sale forbidden.