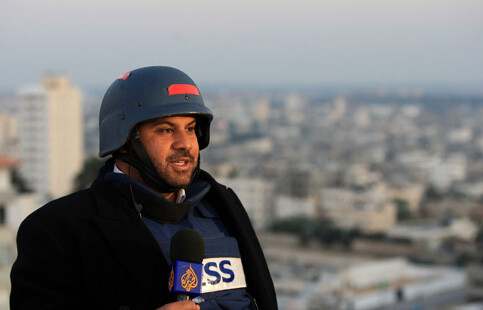 CAIRO (IPS) - Coverage of Israel's recent war on the Gaza Strip by regional news stations has reflected longstanding political divisions within the Arab world. Qatar-based Al-Jazeera's reporting drew a particularly angry response from Egypt.
"Coverage of the Gaza conflict by certain Arab language news channels aggravated the rift between the Arab 'moderate' and 'rejectionist' camps," Mohamed Mansour, professor of mass media at Cairo University told IPS.
From 27 December to 17 January, Israel pounded the Gaza Strip with air strikes and artillery in a three-week campaign that killed more than 1,300 Palestinians. The assault came in ostensible retaliation for rockets fired at Israel by Gaza- based Palestinian resistance factions, chief among them Hamas.
Over the course of the assault, Arabic-language television channels covered events closely. Day after day, regional news stations broadcast images of the violence, graphically portraying its horrific toll on the Gaza Strip's defenseless civilian population.
"Arabic news media revealed Israeli war crimes in Gaza to the entire world," Hamadeen Sabahi, opposition MP and editor-in-chief of independent weekly al-Karama told IPS. "The enormous demonstrations held worldwide in solidarity with Gaza came as a direct result of this news coverage."
Al-Jazeera won especial praise for its thorough reporting of the crisis. Over the course of the conflict, the Doha-based satellite channel provided non-stop coverage of events, with correspondents reporting live from battle-scarred areas inside the Gaza Strip.
"Al-Jazeera's reporting was by far the best," said Sabahi. "With correspondents based in Gaza and Israel, it managed to broadcast events live as they were unfolding, exposing the grim results of Israeli aggression in real time."
"Although it obviously sympathized with the Palestinian resistance, Al-Jazeera's coverage was also very professional," said Sabahi. "It provided alternative opinions, including Israeli military spokesmen and others critical of Hamas and the resistance."
To the chagrin of Egyptian officialdom, however, Al-Jazeera also gave considerable airtime to opponents of Egypt's official approach to the conflict.
Egypt's reluctance to open its border with the Gaza Strip to desperately needed humanitarian aid during the crisis came in for particular censure. Speaking live to Al-Jazeera, critics from around the Arab world — including Egypt — blasted Cairo's position, which many saw as proof of Egyptian complicity with Israel against the Palestinian resistance.
Four days into the conflict, facing mounting popular displeasure both at home and abroad, the Egyptian regime mobilized its formidable media machine to retaliate.
On 31 December, the host of Egyptian television's popular talk show al-Beit Beituk described Al-Jazeera's Gaza coverage as "part of a despicable media war against Egypt."
The next day, Mohamed Ali Ibrahim, editor-in-chief of prominent state daily al-Gomhouriya, lambasted Al-Jazeera for giving airtime "to those who insult Egypt and its leaders and accuse it of betrayal."
Nor did Ibrahim spare Al-Jazeera's benefactor and host nation Qatar, which, in a 6 January editorial, he described as "a tiny statelet that uses Al-Jazeera like a crazy man beats on a drum."
Opposition critics, in turn, condemned the state media's attack on Al-Jazeera, which they say only served to highlight the government's sensitivity to any criticism of its dubious policies.
"The only thing lower than Egypt's border policy was its subsequent media campaign against anyone critical of that policy," said Sabahi. "The base manner in which government editors-in-chief attacked critics ended up hurting the regime's image even more." "The official media focused entirely on attacking critics of Egypt's approach to the crisis," Sabahi added. "Along with Al-Jazeera, this included Syria, Iran, Hamas, Hizballah and most Egyptian opposition parties."
Animosity over unfolding events in Gaza reflected the wider rift between the Arab "moderate" camp — states allied with Washington — and the "rejectionist" camp, which opposes US policy in the region. The moderates are led by Egypt and Saudi Arabia, while the rejectionists include Syria, non-Arab Iran, Hamas, Lebanese resistance group Hizballah and — to a lesser degree — Qatar.
The differences between the two blocs are most stark vis-a-vis the issue of Palestine. While the former grouping supports US-backed PA President Mahmoud Abbas (whose term expired on 9 January 2009) and his attempts to negotiate with a Israel, the latter supports the Hamas-led armed resistance against Israel.
The rift was highlighted on 16 January — at the height of the conflict — when leaders and representatives of 12 Arab League member states met in Qatar, where they took an exceptionally strong stand against the concurrent Israeli aggression. Egypt and Saudi Arabia, however, declined to attend, preferring to discuss the crisis at a scheduled Arab economic summit in Kuwait three days later.
Mansour criticized the government's heavy-handed media campaign against Al-Jazeera, but expressed little surprise. "Media institutions, public or private, will always reflect the opinions of the governments or people that finance them," he said.
"Al-Jazeera, too, while providing first-rate coverage of events in Gaza, generally reflects the official position of its benefactor," Mansour added. "For example, Al-Jazeera obviously leaned towards the official Qatari perspective in its coverage of the recent Arab conferences in Doha and Kuwait."
In any event, Egyptian displeasure with Al-Jazeera appears to be ongoing.
On 3 February, independent daily al-Dustour reported that Egyptian authorities had barred two prominent Al-Jazeera journalists from entering the Gaza Strip through Egypt's Rafah border crossing.
All rights reserved, IPS - Inter Press Service (2009). Total or partial publication, retransmission or sale forbidden.
Related Links