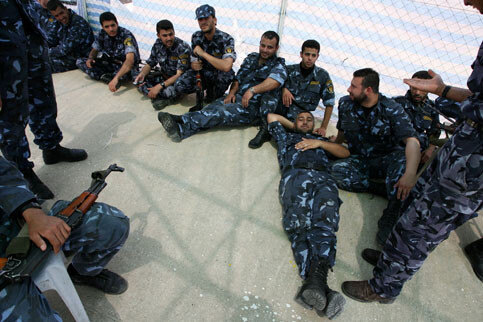 CAIRO, 6 May (IPS) - With next-door Gaza Strip in a humanitarian crisis, the government is desperate to avoid a repeat of January's Palestinian influx into the Sinai Peninsula. In recent weeks, the security presence along Egypt's 14-kilometer border with the hapless territory has been significantly reinforced.
"The authorities are still in the process of boosting the police presence and enhancing security along the border," Hatem al-Buluk, independent journalist and resident of al-Arish, located some 40 kilometers west of the border, told IPS.
Since last June, when authority over the Gaza Strip was seized by Palestinian resistance faction Hamas (after it won the elections here in 2006), the territory has been subject to a crippling Israeli embargo. Backed by both the US and the EU, the siege has effectively deprived Gaza's roughly 1.5 million inhabitants of badly needed food, medicine and fuel.
In the last week of April, the UN agency for Palestine refugees, UNRWA, which provides some two-thirds of the territory's population with essential foodstuffs, reportedly suspended deliveries due to fuel shortages.
Along with the siege, the people of Gaza have also borne the brunt of almost constant Israeli aggression. In March, more than 120 were killed — many of them civilians — during a six-day Israeli military incursion employing tanks and helicopter gun-ships.
"Their situation is agonizing," said al-Buluk. "In addition to facing brutal Israeli violence on a regular basis, they have almost entirely run out of fuel and most basic food commodities."
Egypt's border build-up follows recent suggestions by Hamas officials that if the siege is not lifted soon, desperate Gazans could storm the border en masse and pour into Sinai seeking food and supplies.
"The situation [in Gaza] is no longer bearable," Hamas leader Khalil al-Haya told reporters. He went on to warn that in light of Gaza's desperate circumstances, an "unprecedented explosion" was "imminent."
Cairo, interpreting the comment as a veiled threat to the integrity of its border, reacted angrily.
"These statements are unacceptable," a foreign ministry source was quoted as saying in the local press. "Pressure from any party, or any violation of the border by force, will be decisively met with."
Hamas officials quickly moved to reassure Cairo that the group had no intention of breaching the border with Egypt.
"Hamas has no plan to knock down the border fence or to target Egyptian border guards," Hamas spokesman Sami abu Zahri declared, answering exaggerated claims in Egypt's official media that the group intended to launch an armed assault on the frontier.
Nevertheless, the government is taking no chances. According to press reports, and confirmed by people in the area, the police presence along the border has been significantly strengthened in recent weeks.
"There has been a gradual reinforcement of Egyptian border security since early April," said al-Buluk. He went on to note that, over the course of the last month, the number of central security officers stationed in the area has been raised from 750 to 2,750.
Al-Buluk also noted that the government was in the process of building an imposing barricade between Egypt and the Gaza Strip "as fast as possible."
"Some 20 local companies are currently working on the wall, which runs along the entire length of the border," he said. At four meters high and two meters thick, he added, the wall appeared to be "impervious to assault."
On 23 January, an estimated half million Gazans flocked into northern Sinai after the border wall was destroyed by a series of explosions. Most used the opportunity to stock up on vital foodstuffs and medicine not available in Gaza.
Although Cairo initially tolerated the influx, the border was re-sealed ten days later after most itinerant Gazans had returned home. As the flashpoint Rafah border crossing was closed, limited clashes erupted between some Palestinians and Egyptian security forces.
Since the re-closure, Cairo has held separate talks with Palestinian and Israeli officials in hope of reaching a mutually acceptable arrangement governing border traffic. These efforts have been hindered, however, by Tel Aviv's insistence on maintaining significant control over border security.
Abdelaziz Shadi, professor of political science at Cairo University, said that Egypt was "well within its rights" to bolster security in the area. "The status of the border is inextricably tied to Egypt's national security," Shadi told IPS.
According to al-Buluk, Cairo fears that another major influx of Gazans could lead to their permanent settlement in Egypt's Sinai Peninsula.
"The government is worried that, should the Palestinians flood into Egypt a second time, Israel could reoccupy Gaza and close the border, preventing them from returning," he said.
In such a scenario, al-Buluk added, "Israel will have successfully transplanted its Palestinian problem from Gaza to Sinai."
All rights reserved, IPS - Inter Press Service (2008). Total or partial publication, retransmission or sale forbidden.
Related Links