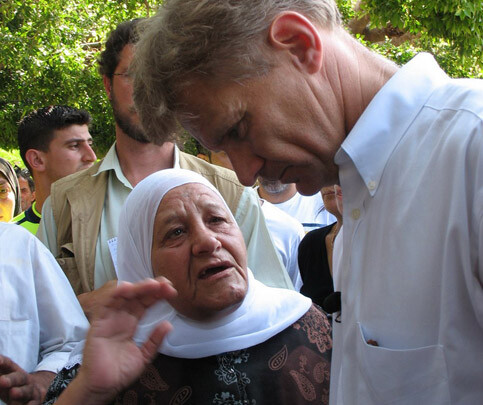 BEIRUT
- In an exclusive interview with the
UN
's Emergency Relief Co-ordinator, in Beirut on Monday, Jan Egeland told
IRIN
the humanitarian situation in Lebanon is rapidly deteriorating. Israel has been attacking Lebanon since 12 July displacing at least 700,000 civilians, the
UN
says.
QUESTION: What do you hope to achieve from your visit to Lebanon?
ANSWER: First, I hope we can send a forceful message to the parties of the conflict and to the world saying we need a cessation of hostilities because the civilian population is really excessively hurt in this conflict.
Secondly, I want to help establish a big effective and well coordinated relief program. Thirdly, I will encourage a good and generous response to the international appeal for money and resources to Lebanon that I'm launching today for 150 million dollars. Finally, I want to meet with humanitarian colleagues in the UN and NGOs and Red Cross and Red Crescent and hear what they can advise us to do.
Q: How would you describe the current humanitarian situation?
A: It's very bad, and deteriorating by the day. We have tens of thousands of new displaced by the day and many new casualties among civilians every day. I've see too many wounded children, and too many desperate civilians fleeing from the fighting.
Q: What assistance is the UN providing for the Lebanese people right now?
A: The United Nations has a network of organisations working together to meet emergency medical needs, water and sanitation needs, shelter and protection needs for vulnerable groups, and logistical needs.
Q: What is the best solution in order to get aid to people?
A: The best solution is a cessation of hostilities, in the absence of that we have been trying now since Thursday to get an agreement on the so-called humanitarian corridors that go to the country and within it to help the people.
Q: Did you visit South Lebanon? What did you see?
A: I couldn't, I tried to go to Sidon (45 km south Beirut), and it turned out it would have taken the whole day from morning to night to go up and down. So many roads have been destroyed that I would have to go in enormous detours, and we could have been stuck and my whole program wouldn't be complete. So I regret not being able to go to the south, and that shows in a way the kind of access problems they have in Lebanon, and how impossible it is for humanitarian workers to reach many parts of the country.
Q: What are you going to say to the Israelis when you meet them tomorrow?
A: I will tell them exactly what I said here, and ask for cessation of hostilities. Civilian population has to be shielded and spared and so do civilian infrastructures, and we need the internal corridors. We will then assemble a notification system and send our convoys with food and other supplies without fear of being attacked.
Related Links
This item comes to you via IRIN, a UN humanitarian news and information service, but may not necessarily reflect the views of the United Nations or its agencies. All IRIN material may be reposted or reprinted free-of-charge; refer to the copyright page for conditions of use. IRIN is a project of the UN Office for the Coordination of Humanitarian Affairs.