In a corrugated iron building a few miles from Jericho's town center, rows of dirt trays are stacked floor to ceiling. Inside the trays, soft white mushrooms grow under florescent lights.
Women in matching aprons and colorful headscarves pick the day's harvest and package the small bulbs neatly into small plastic containers, ready to be delivered to shops across the occupied West Bank.
"There was no Palestinian mushroom in the Palestinian market, so all our consumption of fresh mushrooms would come from the Israeli market — and our philosophy is against that," Mahmoud Kuhail, the thirty-year-old co-founder of Amoro Agriculture and owner of the mushroom farm, told The Electronic Intifada.
Together, the West Bank and Gaza Strip are Israel's second largest importer. The West Bank alone provides more than $3.3 billion to the Israeli economy every year, according to the Palestinian Central Bureau of Statistics.
Since the economic sanctions imposed by Israel in 2007 and the war last summer, Gaza has had little opportunity to export goods and subsequently has become more dependent on Israel.
Government officials and civil society groups believe boycotting Israeli goods could be the ticket to rejuvenating the Palestinian economy, with $2 billion worth of imported Israeli products potentially being exchanged for Palestinian alternatives. So explained Salah Hanieh, head of the Palestinian Society for Consumer Protection, a civil society group in coalition to lead and support the boycott, divestment and sanctions (BDS) movement.
In May 2013, with no prior agriculture experience, Kuhail and three friends founded Amoro Agriculture at the Ministry of National Economy in Ramallah, and spent the following eighteen months researching and visiting farms across Europe to learn how to cultivate the perfect mushroom.
Special equipment imported from France and assembled by Palestinians allows carbon dioxide, temperature and humidity levels to be controlled, enabling the mushrooms to grow and thrive in a Mediterranean climate.
According to Kuhail, within a month of launching, Amoro Agriculture has already taken over half of the mushroom market in the West Bank. The company employs twenty Palestinians, fifteen of them women. Plans to export the crop to Gaza are well underway.
Responsibility
Activists are continually working to change public opinion and encourage the Palestinian population to boycott Israeli products. West Bank institutions such as Birzeit University, Bethlehem University and An-Najah National University have banned all Israeli goods from their campuses.
Lectures and outreach programs to schools, factories and society groups are held throughout the occupied West Bank to raise awareness of the boycott campaigns. And shops, such as Bas Baladi (Only My Country), selling only Palestinian-produced goods, are popping up around Ramallah, the seat of the Palestinian Authority.
"We want it to be a cultural thing, to be established in society — that the Palestinian people completely boycott Israeli products. If we want an independent political state, then an independent economy is vital," said Salah Hanieh.
"When wives have lost their husbands [to Israeli military violence] or parents have been imprisoned, it should be easy for children not to buy Israeli ice cream, even if it is delicious," he added.
Unemployment
The grassroots movement is also compelling the Palestinian Authority — the largest employer in the West Bank and Gaza Strip, but derided for "security coordination" with the Israeli army — to adopt the rhetoric of boycott.
A committee representing various Palestinian political factions announced in a press conference in Ramallah last month that it would ban the sale of products by six Israeli companies, giving the West Bank sellers two weeks to dispose of the goods.
Years of occupation have devastated the West Bank economy, with unemployment rates at eighteen percent in 2014 and poverty levels surpassing seventeen percent in 2011, the most recent year for which statistics are available, according to the statistics bureau.
At the conference, committee member and Palestine Liberation Organization official Wassel Abu Yusef said that boycotting Israeli products is part of the Palestinian leadership's policy of fighting the occupation formally and informally. The boycott, he says, would allow Palestinian merchants to "fill the vacuum" and subsequently generate employment.
Supply
However, shop owners who had supported the three-month temporary boycott during Israel's attack on Gaza last summer — sales of Israeli products saw a fall of 50 percent — fear that there is not enough supply of Palestinian products currently on the market for the ban to be realistic in the long term.
"I think the idea is an excellent one, but I'm not sure how it can be achieved," said Eyad Reyad Khalil, human resources manager at Maxmar Gourmet Supermarket in Ramallah.
"Israel produces a lot of specialized products, like lactose-free milk for example, that Palestinian producers haven't yet started to think about producing."
According to a report published by the World Bank in 2013, restrictions on Palestinian access and movement within Area C, the 61 percent of the West Bank that is under full Israeli military control, has considerably hampered agriculture and further economic development, resulting in Palestinians being increasingly dependent on Israeli goods.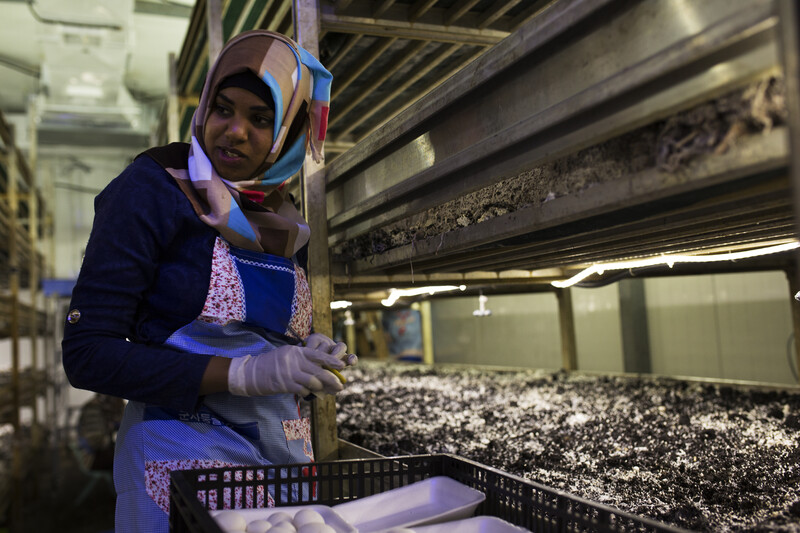 With the Israeli elections coming up this month, Salah Hanieh is optimistic that the boycott of Israeli products could have an immediate financial impact upon private Israeli companies.
"It's not just our market, Europe and the US too have started to understand the situation for the Palestinian people and have began to boycott Israeli products as well," he said.
The boycott's economic cost will push the Israeli public to pressure the government to reconsider its policies towards the Palestinians, Hanieh believes.
Last year, Israel saw a considerable decrease of its exports to Europe, with the European Union banning all poultry trade from illegal settlements and many major European retailers withdrawing Israeli products from their shops.
Ireland's largest supermarket, SuperValu, removed all Israeli goods from their stores and the UK's Tesco chain no longer stocks any produce from settlements.
In addition, the international boycott resulted in a loss of foreign investment. A case in point was when Holland's and Luxembourg's pension funds, PGGM and FDC, respectively, divested tens of millions of euros from Israel's biggest banks due to their involvement in Israeli settlements and human rights violations in the occupied territories.
Back at the Amoro plant near Jericho, the young company is keen to not only produce mushrooms, but an array of exotic vegetables that are currently only imported from Israel.
"We feel it's a big responsibility for us to give the consumer the chance to choose Palestinian products rather than by force always having to choose the Israeli products," Kuhail explained.
"It's not just about our products; we want other farms and companies to do the same. So together we can build a stronger and more independent Palestine."
Rosie-Lyse Thompson is a British multimedia journalist currently based in Amman. She can be followed on Twitter: @rosiethomp.
Tags