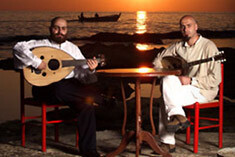 Among this year's nominees for a BBC Radio 3 Award for World Music is Palestinian group the Chehade Brothers. Rami and Farid Chehade, in their 20s, are originally from East Jerusalem. They have recently enjoyed success with their improvised approach to tarab (a musical style fusing various cultural elements), which they term "light popular tarab". The result is a modern, smooth and gentle approach to a popular style of music.
Coming from a Christian Palestinian family where art was deeply appreciated and encouraged, the brothers are able to play many Middle Eastern instruments, a few of which include the oud, kamanjeh, tabla, bouzok, and kanoun.
Becoming representatives for Palestine with performances in cultural festivals globally, the Chehade Brothers have also performed with the Oriental Roots Orchestra. They now boast a debut album, "Bridge Over the Mediterranean", composed by them and featuring lyrics written by poet Elie Azar.
The Award
The Chehade Brothers have been nominated for the Award for World Music in the "Middle East & North Africa" category. The other nominees in this category are Khaled from Algeria, Mercan Dede from Turkey and Souad Massi from Algeria.
While a jury decides the winners of the Awards, the worldwide public may also have its say.
You may vote for the Chehade Brothers in the "Audience Award" category. Voting closes 31 January 2005.
To listen to a sample of the Chehade Brothers' music at the Awards for World Music website.
The Chehade Brothers' debut album is available for purchase online at Amazon.com.
Related Links