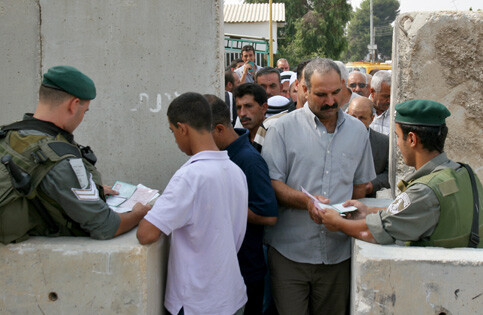 On 26 August 2008, a group including representatives of the Amsterdam-based group A Different Jewish Voice and a prominent Dutch development organization attended a meeting at the offices of

SNS

Asset Management in Utrecht, the Netherlands. The group also included two international law specialists, including myself. We were there to urge the bank — a full subsidiary of

SNS

Bank, one of the top five banks in the Netherlands — to withdraw its investments in the French Veolia Corporation because of Veolia's direct and indirect involvement in Israel's violations of international law in occupied East Jerusalem.

Our group was concerned over Veolia's involvement in the City Pass consortium to construct a light rail line on occupied and annexed Palestinian land in East Jerusalem. The first phase of the light rail project begins in the settlement of Pisgat Zeev, where illegal construction of houses and infrastructure first began under Israeli military oversight in 1982. The light rail is planned to run through other settlements, including Neve Yaakov. It will pass over a showcase bridge designed by Santiago Calatrava, a prominent Spanish architect, and eventually terminate at Mount Herzl in West Jerusalem.

The land on which the light rail is being constructed includes East Jerusalem, part of the West Bank, which Israel occupied in 1967. For 41 years, Israel has been confiscating Palestinian land not for military purposes, effectively annexing West Bank land to expand its territory. This is a serious and direct violation of international humanitarian law. There are now 450,000 Israeli settlers in the West Bank, also a serious and direct violation of international humanitarian law, which forbids an occupier from transferring its civilian population to the territory it occupies.

Israel has also committed serious and direct breaches of international humanitarian law by substantially altering the nature of the occupied territory in a way that does not benefit the local (occupied) population. [1] The light rail project is part and parcel of this, as it is clearly infrastructure designed to benefit the illegal settlements that have been built on stolen Palestinian land.

Veolia has claimed — erroneously — that the light rail would be "accessible to both Jews and Arabs." However, the Jewish-only settlements and neighborhoods of West Jerusalem where the light rail is being built are effectively off-limits for Palestinians. Just as the case with the bypass roads built for the exclusive use of Israeli settlers to the detriment of Palestinians, the light rail will almost exclusively serve Jewish settlers and Jewish neighborhoods in West Jerusalem.

In its 2004 Advisory Opinion concerning Israel's construction of a wall on Occupied Palestinian Territory, including East Jerusalem, the International Court of Justice declared that all states are obligated "not to recognize the illegal situation resulting from the construction of the wall and not to render aid or assistance in maintaining the situation created by such construction." That same legal reasoning applies to the light rail project.

Accordingly, ASN Bank, also part of the holdings of SNS Bank, decided in 2006 to exclude Veolia Corporation from its investment portfolio because of Veolia's involvement in the light rail project. [2] The bank acknowledged that construction of the light rail was in violation of international law, including United Nations Security Council resolutions that call on Israel to withdraw from the Occupied Palestinian Territories. ASN Bank also determined that Veolia was not consistent with the bank's investment standards, which include ethical criteria that are based on well-established international guidelines.

Meanwhile, SNS Bank has been under pressure from Palestinian, Israeli and Dutch advocacy groups, as well as international lawyers and human rights experts, concerning its investments in Veolia (SNS Asset Management is responsible for an investment portfolio of 22 billion Euros). Numerous letters by Palestinian, Israeli and Dutch international lawyers, activists and organizations have been written calling on SNS Bank to exclude Veolia from its investment portfolio.

At the August meeting, SNS Bank acknowledged that it had concerns with Veolia's activities in East Jerusalem and was aware of the position of ASN Bank. However, SNS Bank insisted that according to its own assessment, Veolia's involvement with the light rail project did not amount to "direct serious violations" of human rights. As a result, SNS Asset Management decided to continue in a "trajectory of engagement," which began in May 2008 when the Bank requested more information from Veolia about its role in the light rail project. [3] From May until the time we met at the end of August, SNS Asset Management had yet to receive an explanation from Veolia Corporation for its involvement.

However, as we reminded SNS Bank in our August meeting, the light rail project is inextricably linked with Israel's wide array of human rights abuses. In its efforts to annex Palestinian land, Israel has destroyed Palestinian homes and property and has imposed severe movement restrictions on Palestinians for the benefit of Israel's illegal settler population in the West Bank. These restrictions are particularly dire for Palestinians living on land that falls between Israel's illegally-built wall and the internationally-recognized armistice line separating the West Bank from Israel. [4] Palestinians who nonviolently resist the theft of their land are met with arbitrary arrest, detention without trial and even torture by the Israeli occupation forces.

The systematically abusive and racist nature of Israel's occupation of the West Bank, as well as the Gaza Strip, has led high-profile persons like South African Archbishop Desmond Tutu, former US president Jimmy Carter and UN human rights expert John Dugard [5] to describe it as resembling a situation of apartheid and colonialism. Trade unions, academics and cultural figures increasingly call for the boycott of and divestment from companies that profit from Israel's serious and systematic violations of Palestinian rights.

SNS Bank's investment in Veolia is not consistent with its motto as "The Responsible Investor." For SNS to live up to its motto, it must demand on a prompt response from Veolia to the concerns over Veolia's involvement in the City Pass consortium. This would be in line with the responsible actions of ASN Bank, for a truly responsible investor cannot be party to this situation of gross, serious and well-documented violations of international law and human rights.

Jeff Handmaker is an author, a human rights lawyer, and a researcher and university lecturer in human rights at the Institute of Social Studies in The Hague.

Endnotes
[1] Hague Regulations IV (1907), articles 43 and 55 and Geneva Conventions, Common Article 1.
[2] ASN Bank, "Verscherping Mensenrechtencriteria" (Sharpening Human Rights Criteria), Spaarmotief, May 2007.
[3 Adri Nieuwhof, "Dutch bank agrees: Jerusalem tramway is illegal," The Electronic Intifada, 6 June 2008
[4] United Nations, "The Humanitarian Impact of the West Bank Barrier on Palestinian Communities: East Jerusalem," Office for the Coordination of Humanitarian Affairs, June 2007, Update No. 7.
[5] See United Nations, Report of the Special Rapporteur on the situation of human rights in the Palestinian territories occupied since 1967, 17 August 2007.