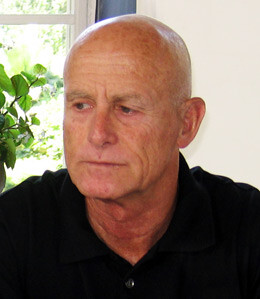 Last May, although he was visiting the Netherlands, Dutch police failed to arrest Ami Ayalon, an Israeli government minister. An application for Ayalon's arrest had been submitted to Dutch authorities by Khalid al-Shami, a Palestinian man who alleged he was tortured by Israel's Shin Bet secret service when Ayalon ran it. It was a narrow escape; but credible reports indicate that Dutch authorities actively colluded with Israel to frustrate the course of justice.

Al-Shami had tried fruitlessly for years to get Israel to investigate his claim that after he was arrested by soldiers on 31 December 1999 he was subjected to weeks of often round-the-clock interrogation and mistreatment amounting to torture at Israel's Ashkelon prison. Al-Shami alleged that he was subjected to extreme cold, stretching, sleep deprivation and being bound to a painfully small chair by his hands and feet for long periods. He was denied legal representation for the first twenty days, before the Israeli military court extended his detention for an additional month.

A month before Ayalon's four-day visit to the Netherlands, European Union governments had adopted updated Guidelines on Torture and Other Cruel, Inhuman and Degrading Treatment. These called on all countries to ensure that their judicial systems would effectively pursue allegations of torture, protect victims, and investigate suspects and bring them to justice in fair trials. The EU's goals were nothing less than to prevent and eliminate torture and impunity wherever it occurred.

There is ample reason for them to focus on Israel. In February 2000, Israeli authorities released a previously secret state comptroller's report acknowledging for the first time that the Shin Bet "knowingly" committed torture. Israel's high court acknowledged as much two years later when it banned the use of "physical pressure" in interrogations.

In November 2001, the United Nations Committee on Torture added its voice, expressing its concern about Israel's use of methods similar to those alleged by al-Shami against both adults and minors. While acknowledging Israel's security concerns, the UN report emphasized that "no exceptional circumstances" could justify torture. Israel's state prosecutor received over 500 complaints of Shin Bet mistreatment since December 2001, yet, a joint report by the Israeli human rights organizations B'Tselem and Hamoked protested, the prosecutor "has not found cause to order the instigation of a single criminal investigation."

It was because of such systematic impunity that al-Shami was forced to take his quest for justice abroad. "Ayalon's visit to the Netherlands provided an exceptional opportunity and engaged a duty to arrest him and establish jurisdiction," said the Gaza-based Palestinian Centre for Human Rights which has helped gather evidence in al-Shami's case and those of other victims seeking legal redress outside Israel, "in accordance with the legal principle of universal jurisdiction."

Al-Shami's lawyers' initial 16 May torture complaint included a request for urgency because Ayalon was only scheduled to be in the Netherlands for a few days to speak at a conference organized by a Dutch pro-Israel organization. On 18 May, Dutch Foreign Affairs minister Maxime Verhagen attended the event and declared that he was "lucky to be in the company" of Ayalon.

Only one month later, on the International Day in Support of Victims of Torture, the EU issued a statement condemning any action or attempt by states or public officials to legalize, authorize or acquiesce in torture and other cruel, inhuman or degrading treatment or punishment under any circumstances, including on grounds of national security or through judicial decisions.

Though time was pressing, the Dutch Public Prosecutor failed to initiate an investigation because another body, the College of Procurators-General, had to rule on whether Ayalon had immunity. When their decision arrived on 21 May that he could be charged in the Netherlands, it was a day too late.

This was no accident of timing, according to a report in Israeli daily Yedioth Ahronoth on 7 October. As soon as Israeli officials learned of al-Shami's legal action, they "immediately contacted Dutch authorities to make certain Ayalon would not be arrested." The Dutch government's "speedy and positive response to Israel's plea," the newspaper said, meant that Israeli officials did not have to consider "the possibility of spiriting Ayalon out of the country immediately," as they had done in other cases of senior Israeli officials being pursued by judicial authorities in Europe (Itamar Eichner, "Report: Minister Ayalon evaded arrest in Holland," YNet, 7 October 2008).

The Dutch daily De Volkskrant cited an Israeli government official confirming the contacts between the Israeli and Dutch Ministries of Foreign Affairs and Ministry of Justice. Not only did the Dutch foreign minister publicly associate himself with Ayalon while the latter was been accused of torture, but, it would appear, his department helped the accused get away.

This is not only a violation of al-Shami's rights and a further slap in the face of Palestinian torture victims, it is a grave violation of the Netherlands' commitments under international law and further exposes Europe's shameless collusion with Israel's mounting human rights crimes.

Arjan El Fassed is co-founder of The Electronic Intifada and the author of Niet iedereen kan stenen gooien (Uitgeverij Nieuwland, 2008).