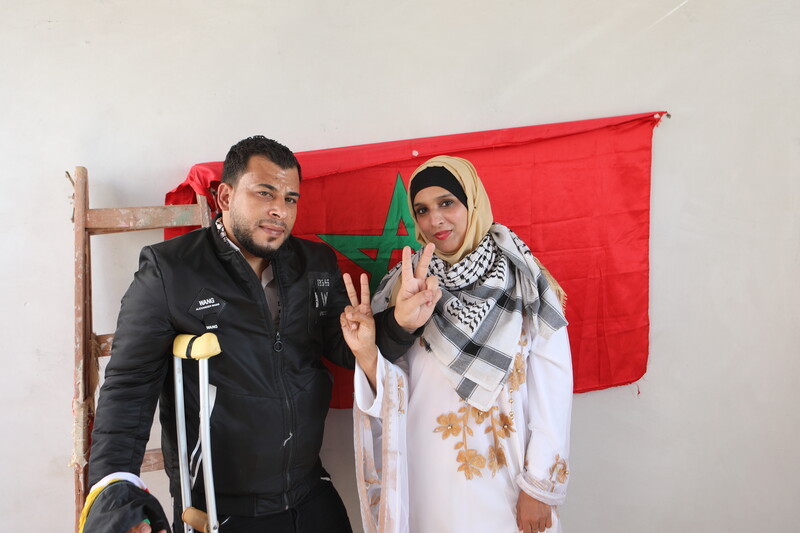 When Muhammad al-Amoudi was shot during the Great March of Return protests in April 2018, little did the 27-year-old foresee how it would affect the rest of his life.
But the bone-shattering bullet that traveled through one foot before lodging in the other, also marked the beginning of the unlikeliest of love stories that eventually resulted in the construction worker's marriage to a young Moroccan woman.
Such developments are unlikely, but not unheard of. Over the past few years despite all the obstacles and hardships, it has become something of a phenomenon for young foreigners to seek out Gaza as their destination and home.
Gaza's ministry of interior registered more than 3,000 entry permits and other documents for foreign and expatriate visitors in 2019. According to ministry statistics seen by The Electronic Intifada, more than 500 are residency requests, either temporary or longer term, for those settled in Gaza.
These foreigners include people like Mahjouba Qanoun, who was watching the news far away in Casablanca, Morocco, when Muhammad's injury was caught on camera.
Mahjouba, 26, was an office administrator at a private school when she saw Muhammad being stretchered off a field in Gaza, flashing a victory sign to the cameras.
She has closely followed the news from Palestine since she was 11, she told The Electronic Intifada. Since then, and like many people in Morocco, she had dreamed of visiting.
Social media provided another way for her to keep track of Palestinian news, so when she saw Muhammad wounded on the screen it did not take her long to track him down on Facebook.
At first, she was concerned about his condition, checking regularly with him about his rehabilitation. But soon their conversations became more intimate and feelings began to develop. In November 2018, he proposed. She accepted.
Dreams of Gaza
In March last year, Mahjouba went to Cairo where she presented a letter from the Moroccan foreign ministry affirming her intention to marry in Gaza. This allowed her to travel through Sinai. She and Muhammad were married on 9 March 2019 in Khan Younis in the southern Gaza Strip where they now live.
Palestine is hugely popular in Morocco, where the Palestinian struggle, as it is in so many Arab countries, is seen as a common cause. Moroccans will even tell someone who angrily confronts another to "go liberate Palestine," according to Mahjouba, as a way to tell them that there are more worthy ways for them to expend their anger.
Still, many of her friends opposed the move, wondering how she would live under occupation and in such difficult conditions. Mahjouba did not worry about the dangers.
"Many think Gaza is a place of fear," she said. "But there are beautiful mosques, art and science here. These are people who love to live, for their children and for peace."
Nevertheless, and for all that she has been paying attention, she was caught unaware of some vital matters. She did not realize how separated the Gaza Strip is from the West Bank. She fully expected hardships, but did not realize how sociable Palestinians in Gaza can be in spite of the numerous challenges they face.
She welcomed Gaza's religious spirit and said the only danger she feels is from Israeli bombings.
Muhammad, who has not been able to work since his injury, is happy but concerned for his new wife.
"She is fearful when she hears the sounds of Israeli bombings. She is experiencing electricity and water shortages for the first time."
But, he said, she has accepted these conditions and acclimatized well. She has also, he said, helped him as he tries to overcome an injury that kept him at home for six months and is still causing him pain.
Muhammad is awaiting Palestinian Authority financial assistance to have an operation in Egypt.
A life of steadfastness
Mahjouba is not the only woman who traveled from North Africa to live in Gaza. Amina Radi, 26, arrived in mid-October last year to marry Ehab Hamid, 28, a mechanic from Nuseirat refugee camp in the central Gaza Strip.
She left her job as a French teacher in a primary school in Bejaia province in northern Algeria after meeting Ehab online at the beginning of 2019. They decided to marry and she agreed to come and live in Gaza for what she already understood, she told The Electronic Intifada, would be "a life of steadfastness."
Like Mahjouba, Amina has felt a strong connection to Palestine since she was a child. Partly, this connection is religious attachment, she said, referencing the centrality of Palestine in Islam.
And part of the connection is historical. Algeria, which fought off French colonial shackles to secure independence in the early 1960s, has long been a strong supporter of Palestinian rights to freedom and self-determination.
When Amina first set foot in Gaza, she dropped to her knees, kissed the land and cried, she told The Electronic Intifada.
"It was a great feeling."
Having spent several months there now, she said, the Palestinians of Gaza, with their ability to remain steadfast under the toughest of circumstances, have only grown in her estimation.
"People have adjusted themselves to the simplest and most basic necessities of life. Even as the ambulances hurry and funerals are held during the day, before sunset you will hear the sounds of wedding celebrations."
Also like Mahjouba, Amina's family and friends were against her move, mostly fearing for her safety. She tries to assure them, but mostly she is just happy to be in Gaza.
"I tell people every day how close-knit the community in Gaza is and how much people care, for each other and for outsiders like me. People here love me because I am Algerian."
And she's not the only one. Amina has two new Algerian friends who both traveled to Gaza last year to marry: Fatima Bou Qalqal, 27, from Msila Province, northern Algeria, and Nawal Bou Abdulkarim, 30, from Algiers, the capital.
They both now live in Gaza City.
From Syria with love
Lina Sbaih's situation is a little different. Lina, 26, met her Syrian husband in Gaza.
Anas Qaterji came to work in Gaza in 2013 purely because an opportunity presented itself. His family's restaurant in Aleppo was destroyed during that country's ongoing conflict and he had managed to escape to Egypt, where he was offered a job at a restaurant in Gaza by someone he met.
The 32-year-old has since worked in several eateries and hotels in Gaza, until he opened his own restaurant in the Nuseirat refugee camp in the central Gaza Strip three years ago.
The restaurant is called Jar al-Qalaa (The Castle) 2, a reference to his family's restaurant of the same name.
Anas' was a journey from fire to fire. Just a year after he arrived in Gaza, Israel launched its 2014 offensive that killed more than 2,200 people, the vast majority of them civilians.
Despite this, he said, and the hardships he has to contend with, he loves life in Gaza. This is especially so in the refugee camp where, he said, the sense of community reminds him of Aleppo.
"Gaza is a loving community. I lived in the city and the camp. I found the camp residents are close to the customs and traditions of Aleppo," he told The Electronic Intifada.
He and Lina married in 2018. They had met in another restaurant where Anas, according to Lina, had "boldly asked" for her address to seek permission from her family to marry.
It worked.
"It was a strange thing to do, but it turned out to be the most beautiful event in my life," said Lina, who now is a homemaker. "I've found my happiness with him."
Said Anas: "Here we live with joy whatever the difficulties and even at times of war."
Amjad Ayman Yaghi is a journalist based in Gaza.
Tags