On April 14, an American corporation was confronted with the choice of whether or not to examine their role in perpetuating the cycle of violence in the Mideast. An alliance of Catholic nuns and Jewish peace activists teamed up to introduce a shareholder resolution asking Caterpillar, Inc. to conduct an internal investigation to determine if the use of their bulldozers to violate human rights laws goes against corporate policies. In fact, it was the first time ever that a shareholder resolution relating to human rights violations in the occupied territories has been brought before a

US

corporation. Though the odds against the resolution were tremendous, it still garnered 4% of the vote, enough to be re-introduced next year.

Caterpillar, the industry leader in heavy equipment manufacturing, has put its brand name at risk by becoming the industry leader in transforming construction equipment into military equipment. According to Caterpillar Chairman Jim Owens, in a letter sent to Jewish Voice for Peace on August 22, 2003, Caterpillar bulldozers are sold to Israel through the US Foreign Military Sales Program. In other words, Caterpillar bulldozers are not given to Israel as construction equipment but explicitly as weapons.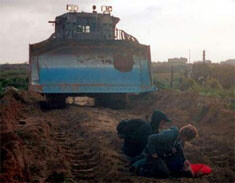 The Caterpillar Corporation came under intense fire from human rights groups for their role in providing Israel with bulldozers that were used to destroy part of the Jenin refugee camp in April of 2002 and killing American human rights volunteer Rachel Corrie nearly a year later. Caterpillar bulldozers razed an entire neighborhood in the West Bank refugee camp of Jenin to the ground, leaving about 4,000 people, almost a quarter of the camp, homeless. Human Rights Watch later reported that a bulldozer buried a paralyzed man alive in his house, despite pleas from the family for time to save his life and evacuate him. Human Rights Watch said, "The abuses we documented in Jenin are extremely serious, and in some cases appear to be war crimes.

On March 16, 2003, Rachel Corrie, an American from Washington, was killed as she attempted to prevent the destruction of a Palestinian home in Gaza. According to the Investor Responsibility Research Center which provides impartial information on corporate governance and social responsibility, "Corrie was wearing a bright orange vest and yelling at the driver through a bullhorn to stop. The driver pushed the mount [of dirt] on top of Corrie, ran her over and then backed over her again." Legislation now pending in the House of Representatives is calling for an independent American investigation into her death. The photograph of Corrie before her death, in front of a Caterpillar bulldozer, made front page news worldwide and sparked increasingly negative press reports about the company.

Corrie's death and the destruction of a neighborhood of the Jenin refugee camp shed light on Caterpillar's role in perpetuating the cycle of violence since 1967. According to Israeli human rights groups, Caterpillar bulldozers have been used to demolish over 7,000 homes, making over 50,000 Palestinians homeless. Most homes are demolished for minor permit violations, and only a small percentage of home demolitions involve families of those involved with violence against Israelis. According to Amnesty International, "wanton destruction," including destruction of property in occupied territory, "constitutes a war crime."

Some years ago, the Israeli Supreme Court made a groundbreaking decision on in the trial of Nazi war criminal Adolf Eichmann. They ruled that, "the degree of responsibility increases as we draw further away from the man who uses the fatal instrument with his own hands." In other words, the company that is producing the weapons that make wanton destruction possible are equally, if not more, responsible for the crime. Caterpillar sinks further into the mire of war crimes by supplying bulldozers to Israel not as construction equipment but unambiguously as weapons, unnecessarily risking its reputation, image and credibility.

Given the gravity of Caterpillar's situation, the shareholder resolution, filed by the Mercy Investment Group and the Loretto Community and initiated by Jewish Voice for Peace, made a reasonable request: it called for Caterpillar to conduct an internal investigation to find out whether sale of bulldozers to Israel violates their code of conduct. The Caterpillar Board of Directors responded by saying that the resolution asks the company to get embroiled in a political conflict better left to political leaders. But while Caterpillar claims neutrality, it continues to profit from perpetuating the cycle of violence in the Mideast by providing weapons to Israel. If Caterpillar wants to disentangle itself from a political conflict best left to leaders, it should present what the resolution called for: full disclosure.

Related Links

BY

TOPIC

: Caterpillar

Liat Weingart is Co-director of Jewish Voice for Peace, the country's largest grassroots Jewish peace organization; Sister Valerie Heinonen, o.s.u. Consultant, Corporate Social Responsibility; and Mary Ann McGivern, member of the Loretto Community.