My pen is bleeding, my hand is shaking, my heart is sighing and my mind is stuffed with the bitter experiences of the past 14 months. The latest is today's anniversary of the Palestinian catastrophe (Nakba); today is a double Nakba.

My ideas are scrambled; however, I must rein them all in and allow my words to flow, with the hope of reaching hearts, minds and souls.

"I prefer death to these days; death is much better than these moments when a brother kills his brother", said Yousef Almadhoun, also known as Abu Mohammad, a 77-year-old man from the northern Gaza Strip town of Beit Lahiya.

Abu Mohammad says that at his age he recalls the days of the Nakba in 1948 when Jewish gangs attacked Palestinian towns so they could drive Palestinians out and establish their 'state' on the land.

"I wonder as to what is going nowadays. I do wonder why brothers fight each other. We are still suffering the first Nakba, and we don't need another Nakba. What is going on is haram, haram [pity]".

Abu Mohammad adds, "When I was young, I recall that the Jewish gangs, who crushed us out of Palestine, used to be united irrespective of their names; the Haganah, the Stern, the Irgun and others. The generation of today who battle in streets can never get us my land back.

"The generation of today cannot liberate Palestine, cannot restore their ancestors' lands", Abu Mahmoud says of the fighting parties in Gaza Strip, sighing bitterly.

Beit Lahiya, one of the Gaza Strip areas where hundreds of thousands of Palestinian refugees reside, has been gripped by waves of factional infighting over the past several months.

Infighting in this town has left behind a series of sad stories amongst many locals, a number of whom were delighted to speak about their experiences with the new Nakba as they describe today as the anniversary of their first Nakba.

"This is Nakba, my son, this is Nakba. Can you imagine, while I was cooking maftoul [couscous] some weeks ago for scores of my grandchildren, the room I was sitting in was riddled with several gunshots — not from the Israelis this time, but rather from Palestinian gunmen", said 60-year-old Mrs. Almadhoun.

It's is a Nakba, really a Nakba, as infighting has dramatically rocked various parts of the Gaza Strip.

While the Almadhoun family was telling their story, Palestinian bullets were penetrating Palestinian bodies in nearby Gaza City.

Victims of the new Nakba speak out, yet they fear being harmed again or abducted by the masked gunmen who have pervaded the Gaza streets.

D.M of the same traumatized town, particularly the mostly damaged part of the town, where the most wanted Fatah member S.M used to stay a few weeks ago, recalls the most deadly armed attack on the quarter.

"On March 21, we lived non-stop shootouts between gunmen; it was the most horrible day in months. Gunmen were taking rooftops; hundreds of stray bullets were riddling walls, windows and doors, while residents were seeking safe heavens inside their homes".

D.M, adds, "In this deadliest attack the prominent Fatah guy [R.S, known as Elhabbar], was killed; on this day, more than one child was kidnapped by gunmen for extracting information about [S.M.]".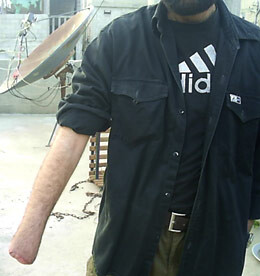 Another man, whose hand was amputated by Palestinian bullets, recalled how he was hit.

"I was sitting on the rooftop with my family when three bullets hit my leg. Shrapnel grazed my face and hands. By then I fainted, and I woke up in the hospital to find out that I no longer had a hand".

M.Z, a local from the same quarter, voiced his astonishment of another feature of these hard times: what the Palestinian refugees are enduring nowadays.

"I wonder as to what they want from attacking institutions and public utilities — what's going on? What they want, it's really enough, really enough".

I do agree with you, Mr. Z; it is really enough.

Gaza's streets, which used to be filled with demonstrations and ceremonies to commemorate the Palestinian Nakba at this time of the year, have been empty today, with very few cars driving along the main roads.

Palestinians during this Nakba have fled the streets, not to nearby towns, but rather to the insides of their homes. Why? Because Palestinians now have no other choice but to stick to their homes, and who knows, they might be killed, wounded, or even attacked.

The other half of the Palestinian refugees were more lucky than their kin in the Gaza Strip, as they managed to reaffirm their right of return to their historical homeland of Palestine, on which Israel was declared on 15 May 1948.

While they were commemorating the Palestinian Nakba in different parts of the West Bank, Palestinians called on their brothers in Gaza to stop fighting each other and instead point their guns towards Israeli soldiers, lest the entire cause fades away.

This call came as more than twenty Palestinians fell victims of internecine infighting, while more than fifty others have been wounded since Friday, just two months after rival Fatah and Hamas parties established a unity government and announced an end to the confrontations.

On 8 February 2007, rival factions agreed in the holy city of Mecca to a ceasefire after their bloody clashes claimed the lives of more than 150 people in the preceding four months.

According to the United Nations Relief and Works Agency for Palestine Refugees in the Near East (UNRWA), there are 4.2 million Palestinian refugees, distributed in the Gaza Strip, West Bank, Lebanon, Syria and Jordan.

As stipulated in United Nations General Assembly's resolution 194 of 1949, refugees have the right to return to their lands prior to 1948 and to compensation for the trauma and losses inflicted upon them at the hands of the Israeli occupation. Israel still refuses to acknowledge this right, and Palestinians continue to live out its consequences.

All photographs copyright Rami Almeghari.

Rami Almeghari is currently contributor to several media outlets including the Palestine Chronicle, aljazeerah.info, IMEMC, The Electronic Intifada and Free Speech Radio News. Rami is also a former senior English translator at and editor in chief of the international press center of the Gaza-based Palestinian Information Service. He can be contacted at rami_almeghari at hotmail.com.

Related Links