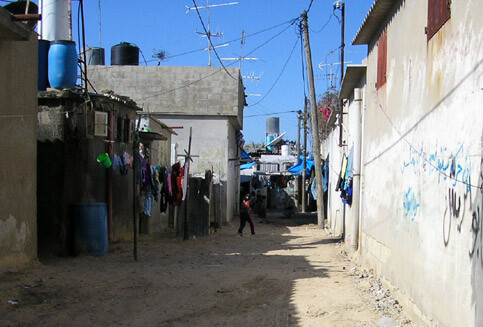 GAZA
— The international community underlined its ongoing commitment to the plight of the Palestine refugees during 2004 when donor contributions to the United Nations Relief and Works Agency for Palestine Refugees (
UNRWA
) topped
US
$502 million, the largest amount ever donated to the Agency in one year in its 55-year history.
A total of US$368,022,307 was donated to the Agency's cash and in-kind budget for its regular health, education, relief and social services and micro-credit programmes across its five fields of operations. A further US$23,026,843 was donated to projects in the five fields, such as rehabilitation of the homes of the very poor and the building of badly needed classrooms in the Agency's crowded schools.
Adding to the total were pledges of $109,172,142 to UNRWA's emergency appeal for the West Bank and Gaza Strip. Although not as much as the Agency requested to provide for all the needs of the refugees who are suffering as a consequence of the conflict in the occupied Palestinian territory, the amount donated to UNRWA's appeal is up on previous years. The money was used, among other things, to provide food assistance, job creation programmes, emergency medical care and new homes for some of those whose shelters have been destroyed in Israeli bulldozing operations.
The largest donors to the Palestine refugees were the European Commission ($130.4m), the United States of America ($127.4m) and members of the European Union, such as the UK ($39m), Sweden ($31.7), Norway ($19.6m) and the Netherlands ($18m).
Although a part of the total can be accounted for by exchange rate gains due to the US dollar rate against the Euro, the Agency has seen real increases in the levels of donor support to the refugees across all of its budgets. The trend of improving donations is a positive development given that UNRWA will need substantially larger budgets in the coming three to five years.
As a consequence of extensive consultations with donors UNRWA is to launch a five year plan to donors next week that will require major growth in donations if UNRWA is to maintain the high levels of human capital development achieved by the Palestine refugees. The Agency also faces a challenge in helping to build stability in the aftermath of an Israeli disengagement from the Gaza Strip.
Peter Hansen, UNRWA's Commissioner-General: "For many years Palestine refugees have seen donations fail to keep pace with their needs for education, healthcare and social services. This means much work is required to give them the opportunities that others in the region take for granted. The donations received by UNRWA in 2004 are an encouraging sign that the international community is ready to do more to help the Palestine refugees help themselves."
Related Links