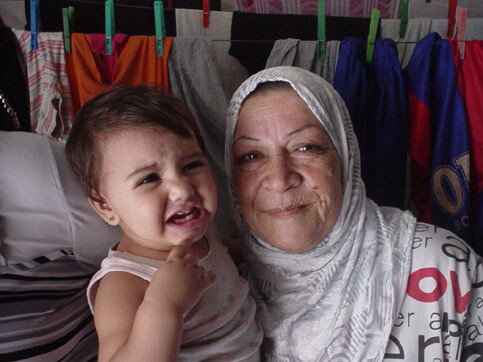 BEIRUT
- "May I have some more water?" asked Samah Al-Saad as she handed over a bucket to her neighbour, Souad Hammood, in Al-Bashoura, a crowded mainly Shi'ite area of the Lebanese capital, Beirut.
Hammood filled the bucket halfway and handed it back. "I just can't spare any more," she apologised.
Shortages of food, water and basic supplies are affecting the more than 500,000 people displaced by the Israeli bombardment of Lebanon over the past 10 days, launched in response to the capture of two Israeli soldiers by Hizbullah militants.
Al-Saad and her two children - Aya, aged one and five-year-old Mahmood - moved in to her mother's one-bedroom apartment in central Beirut after Israeli warplanes struck the Rafik Hariri airport near her house last week.
"I thought it was an earthquake, but then as the smell of fire permeated our house, I realised it was something more dangerous than an earthquake," said Al-Saad.
Without stopping to think, she and her husband grabbed the children, wallets, stuffed a few nappies and whatever children's clothes they could find into a bag, and rushed out of the house.
"It was chaos, as other people were running to their cars and everyone was asking, what happened?" recalled Al-Saad.
Now she stands surrounded by clothes drying on lines outside her mother's apartment in the modest neighbourhood near the Husseini mosque. "There are 15 of us in this house, we all came to stay with my mother," she said.
Al-Saad's daughter, Aya, seems to be getting sick, and she is worried it will be difficult to keep her healthy in these conditions.
"Money is running out," Al-Saad admitted. Her husband used to work in the destroyed suburb of southern Beirut, a Hizbullah stronghold repeatedly bombed by Israeli warplanes.
Al-Saad and her family are from the Hizbullah-controlled south of the country, which has borne the brunt of the cross-border Israeli attacks. "There is nowhere to go anymore and no one can help as we are all in the same sinking boat."
Meanwhile, her neighbour Hammood also has unexpected visitors: about 13 of them, most from the southern suburb, and some from southern Lebanon, sleeping on bare floors for the past 10 days.
"We can't stay like this for much longer," said the 60-year-old Hammood. Besides the sheer discomfort and tension of being displaced, there is also the matter of "pride", which gets stepped on day after day, she explained.
"We never seem to get any peace," said Hammood, who lived through Lebanon's long civil war between 1975 and 1990. "We are again refugees in our country, and again, no one seems to care!"
The men of the two families didn't want to be interviewed. One said he was too ashamed not to be able to help his family, and "just talking about our problems won't fix them."
The Lebanese Higher Relief Committee established to deal with the crisis announced a breakdown of the displaced on Saturday. Some 97,436 are living in schools countrywide others are with friends and relatives.
Statistics available show there are 39,421 displaced in Beirut, Mount Lebanon is hosting 40,768, 12,646 in the south. Some 1,659 people fled to the north of the country and 2,968 are in the Bekaa region. There is no accurate breakdown on the rest of the displaced as yet.
Related Links
This item comes to you via IRIN, a UN humanitarian news and information service, but may not necessarily reflect the views of the United Nations or its agencies. All IRIN material may be reposted or reprinted free-of-charge; refer to the copyright page for conditions of use. IRIN is a project of the UN Office for the Coordination of Humanitarian Affairs.