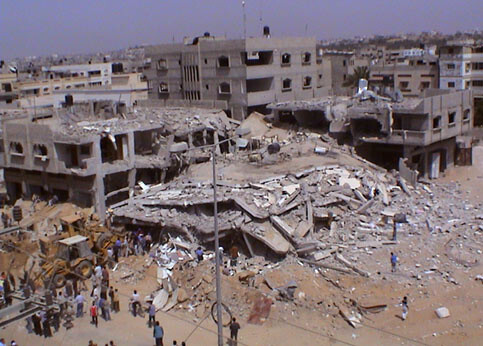 Al-Haq is deeply alarmed by the recent escalation in violence in the Gaza Strip. At least 30 Palestinians have died in Israeli attacks over the last four days. In the most recent incident, a man's body was found under the rubble of a house which the Israeli occupying forces had demolished. There has also been a substantial increase in the number of Palestinian homes demolished: it is estimated that 100 Palestinian homes have been totally or partially demolished during the last four days. Further, hundreds of buildings have been demolished in the last two weeks, leaving over 1,160 Palestinians homeless. Such actions are clearly in line with Israeli policy as outlined by Israeli Foreign Minister Silvan Shalom, who stated that, "Israel is dealing with animals and will use all of its resources to fight against them."
These events in Gaza are not the first time that Israeli authorities have conducted mass demolition of Palestinian homes: the Israeli military razed scores of homes in Rafah in October 2003. In addition, Israel demolished hundreds of Palestinian homes in Jenin in April 2002; like the present situation, this mass house demolition followed the killing of a number of Israeli soldiers.
As the violence escalates and the death toll mounts in the Gaza Strip, Al-Haq calls on the international community to intervene and uphold their legal obligations to ensure that the fundamental rights of the Palestinian people are protected. Such mass house demolitions are a clear and blatant violation of international law. The destruction of personal property is prohibited by Article 53 of the Fourth Geneva Convention Relative to the Protection of Civilian Persons in Time of War, which establishes that,
"[a]ny destruction by the Occupying Power of real or personal property belonging individually or collectively to private persons…is prohibited, except where such destruction is rendered absolutely necessary by military operations."
The extensive destruction of property not justified by military necessity is considered a grave breach (i.e., a war crime with mandatory universal jurisdiction) under Article 147 of the Fourth Geneva Convention. Although Israel may claims that its actions are based in military necessity, the manner in which these demolitions are being conducted unquestionably constitutes collective punishment and violates the fundamental legal principles of proportionality and distinction, and the obligation to treat protected persons at all time with humanity. As such, it is expressly prohibited under the Fourth Geneva Convention and the Hague Regulations. As the International Committee of the Red Cross (ICRC) noted to Israeli authorities in 1996,
"…during military operations aimed at restoring order, every precaution must be taken to avoid injury, loss or damage to civilians and civilian property. All measures taken must respect the principle of proportionality, regardless of the circumstances."
On this, the 56th anniversary of al-Nakba Day, during which 750,000 Palestinians were expelled from their homes, Al-Haq emphasises that the international community has remained silent for too long. Silence and inaction has become complicity, allowing Israel's illegal actions to continue unabated.
The international community must speak out and take clear action. Third-party states have a clear obligation under international law to take action and ensure the protection of the Palestinian people. To this end, we call on the High Contracting Parties to the Geneva Conventions to act and ensure that this protection is provided by:
a. giving meaning to their obligation under common Article 1 to ensure respect of the Conventions by intervening with the Israeli authorities to stop their violations of international law in the Gaza Strip and elsewhere in the OPT;
b. ensure that they are not enabling Israel's violations by selling Israeli authorities military or other equipment used in the commission of these violations;
c. ending the culture of impunity by prosecuting those within their jurisdiction who are responsible for such violations.
Related Links