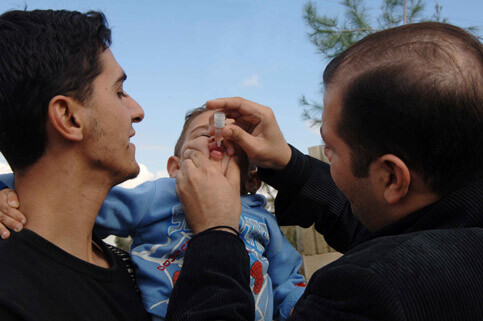 BINT
JBEIL
- The destruction in villages and displacement of residents in southern Lebanon from the recent war posed problems for medical volunteers on the first day of a national emergency polio immunisation campaign for children on Monday.
"Usually, we would know exactly where to go to immunise the children," said nurse Nawal Saab, a member of one of the teams carrying out door-to-door immunisations in Bint Jbeil, 110 km south of Beirut. "This year, because so many houses have been destroyed and so many families have had to move in with relatives, outreach has been rendered more complicated."
According to the United Nations, 1,200 of 1,500 homes in Bint Jbeil were destroyed during the 34-day war between Israel and Hezbollah in July and August. To ensure that all resident children are immunised over the coming days, health volunteers are marking homes numerically.
More than 2,000 medical volunteers, local and international health NGOs, national health authorities and the UN's children's agency (UNICEF) took part in the first phase of the immunisation campaign - which will last for six days. The second round begins on 4 December.
A total of 320,000 children will be immunised in the two rounds of the campaign.
In other years, polio immunisation would constitute a routine part of primary care services. "This year, during the war, the health structure was destroyed," Imran Mirza, UNICEF project officer for health, said. "There was so much population movement, and the vaccination system was rendered inappropriate."
During the war, 8,000 children aged up to five were vaccinated during an emergency campaign against polio. "However, dangerous and unstable conditions made it impossible to reach many children in the southern regions most affected by bombing," UNICEF said.
Lebanon was declared polio-free in 2002. However, in compliance with global standards set by the the World Health Organisation, routine campaigns are required to prevent new outbreaks of the virus.
"Since people from polio-affected countries in the region regularly move in and out of Lebanon, children are now vulnerable to infection," Roberto Laurenti, UNICEF representative in Lebanon, said.
This item comes to you via IRIN, a UN humanitarian news and information service, but may not necessarily reflect the views of the United Nations or its agencies. All IRIN material may be reposted or reprinted free-of-charge; refer to the copyright page for conditions of use. IRIN is a project of the UN Office for the Coordination of Humanitarian Affairs.
Related Links