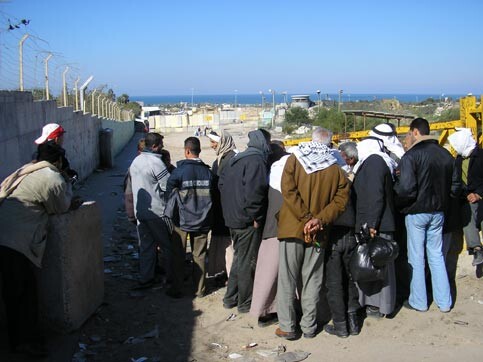 Location: Southern Gaza Strip: al Qarara, village north of Khan Yunis, near "Kissufim" settler road. Southern Gaza Strip: al Mawasi, a sealed Palestinian enclave inside the Gush Katif settlement bloc. Northern West Bank: Nablus area.
Chronology of Events
Israeli settlers have been given a forty-eight hour grace period (beginning midnight 14th August), within which to leave their illegal settlements in the Gaza Strip and West Bank. Meanwhile the IOF is imposing increased closures across the OPT, severely restricting Palestinian civilians' freedom of movement, while Palestinian civilians are also coming under attack from militant settlers.
The international community welcomes the unilateral move by Israel to 'disengage' from Gaza but is reluctant to put this move into the broader context of continued settlement expansion, particularly in occupied East Jerusalem, and continued construction of the Annexation Wall. Israel is removing 8,500 settlers from the Gaza Strip, corresponding to only 2 percent of the total settler population (425,000) currently living in the OPT, including East Jerusalem, and this year alone Israel is building housing for 30,000 more settlers in the West Bank. The removal of settlers from Gaza must be viewed within this broader context of ongoing settler activity in the West Bank.
The reports below represent a few of the many incidents recorded by PCHR's fieldworkers since the 'disengagement' process began, showing some of the suffering and hardships imposed on Palestinian civilians during this time.
Closures and Curfews
Al-Mawasi
IOF have imposed a tightened siege on the al-Mawasi area. They have continued to close al-Tuffah and Tal al-Sultan checkpoints at the entrances to the area. On Sunday, 14 August 2005, IOF reopened al- Tuffah checkpoint for a few hours and allowed Palestinian civilians to go back to their homes in al- Mawasi. On Monday morning, 15 August 2005, IOF ordered residents of Tal Reidan quarter in the north of al-Mawasi area through megaphones not to leave their homes until further notice.
It is worth noting that IOF informed the Palestinian side that they would close al-Tuffah checkpoint during the implementation of the "Disengagement Plan," and would open Tal al-Sultan checkpoint for humanitarian cases only.
A number of international humanitarian organizations have provided Palestinian civilians living in the area with humanitarian aid that is sufficient for three months in preparation for the expected closure of the area. A number of individuals were trained to provide medical aid in cases of emergency, and three ambulances were made available for use in the area.
Northern West Bank
Following the declaration of the northern West Bank as a closed military zone, on Monday morning, 15 August 2005, IOF started to impose more restrictions on the movement of Palestinian civilians. They erected a number of iron gates on the main roads. They erected an iron gate at al-Mas'oudiya crossroads on the Nablus-Jenin road, only 4 kilometers away from "Shavi Shomron" checkpoint, northwest of Nablus. Another iron gate was erected near al-Taneeb brick factory on the Nablus- Tulkarm road. IOF informed workers in the factory not to come to the factory until further notice. IOF also erected an iron gate at Surra crossroads, southwest of Nablus. In addition, IOF established a number of military sites near these gates.
Attacks and Arrests
Al-Mawasi
Since Sunday evening, 14 August 2005, Israeli settlers have been positioned near "Kfar Yam" and "Sheirat Hayam" settlements. They have prevented Palestinian civilians from moving on the road that links between the two parts of the al-Mawasi area in Khan Yunis and Rafah.
A few hours following an attack by dozens of Israeli settlers on al-Farra and Shurrab quarters in al- Mawasi area in Khan Yunis, IOF raided Zo'rob quarter and arrested a Palestinian civilian.
According to investigations conducted by PCHR, at approximately 01:15 on Tuesday, 16 August 2005, dozens of Israeli settlers moved from "Neve Dekalim" settlement, west of Khan Yunis, moved into al- Farra and Shurrab quarters in al-Mawasi area. They threw stones at Palestinian houses and attempted to burn a number of them. Palestinian civilians gathered and started shout until the settlers left the area. At approximately 02:45, IOF moved in Zo'rob quarter. They raided and searched a number of houses and arrested Fadi Khader Zo'rob, 17.
International Law
Settlements and settlers are illegal under international law. The Fourth Geneva Convention, the primary document governing the OPT, stipulates in Article 49 that the transfer of the population of the occupying power into the occupied territory is in breach of international law. The International Court of Justice confirmed in its 2004 judgment that settlements and settlement activity is illegal.
Freedom of movement is a right afforded to Palestinian civilians under the Fourth Geneva Convention as well as under established international treaties on human rights. Preventing free movement of people and goods interferes with the right to work, the right to health, the right to education, the right not to be held as a prisoner without a free and fair trial.
Related Links