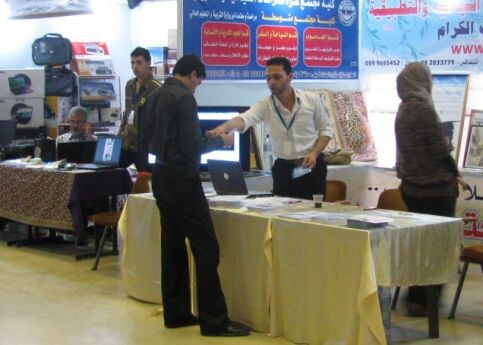 The relentless Israeli blockade of the Gaza Strip has squeezed many things, but it hasn't robbed people of their ability and desire to innovate and invent.

At the Rashad al-Shawa cultural center in heart of Gaza City, dozens of local companies and individuals recently demonstrated hi-tech products and inventions at an exhibition sponsored by government and nongovernmental bodies.

Munther al-Qassas, who holds a diploma in political science and works as a cab driver, stood behind his own invention — a device that helps those who are paralyzed or who have lost the use of limbs to operate a TV set.
The

TV

remote controller is placed into the device. "As you observe, a person can then use his head, tongue or shoulder to control the

TV

," al-Qassas explained as he demonstrated the interface which has two small balls on it that respond to movements from the user. Thousands in Gaza have suffered grievous injuries or permanent paralysis as a result of Israeli military attacks over many years.

The Israeli blockade prevents most electronic and electrical parts from being imported to Gaza, but al-Qassas explained that he was able to make his device using recycled materials including parts of pens, electrical plugs and wires, and toy balls.

The entire project cost just $100, which al-Qassas said, "makes it efficient and affordable, and people who use it can fix it if it breaks."

At another corner of the exhibition, Huda Abu Shammala and Ula Skaik, two recent graduates in electrical engineering from the Islamic University of Gaza, stood behind a metal detector that they recently built — and which they hope could be used to detect land mines and unexploded ordinance.

During its winter 2008-09 invasion of the Gaza Strip, Israel heavily bombed the Islamic University. The UN-commissioned Goldstone report stated that the targeted facilities "were civilian, educational buildings" and that the investigators "did not find any information about their use as a military facility or their contribution to a military effort that might have made them a legitimate target in the eyes of the Israeli armed forces."

The young women's device resembles a miniature combat tank with treads to propel it forward, except it carries no weapons. Instead, a probe extends from an arm in front of it.

"This robot metal detector is made of simple materials that already exist here," Abu Shammala told The Electronic Intifada. "As you see, the circuit is small, the structure is made of metal, and the treads that make it move as well as the detection arm, all are locally found."

The device can detect metals down to a depth of 15 centimeters below the ground.

"The idea came to us during the Israeli war on Gaza in January 2009," said Abu Shammala. "We heard that the Israeli forces used such equipment to comb the areas they invaded." She hoped that her and Skaik's robot could be developed to detect land mines and ordnance especially in border areas where Israel has declared "buffer zones" inside the Gaza Strip which prevent farmers from cultivating their own land.

Other companies, such as the National Company for Elevators, TV and radio stations and local computer firms, had the chance to show off their latest products.

Muhammad al-Jabali a visitor to the exhibition, noted that many companies were also displaying imported hi-tech products. "We really want to see more locally-made hi-tech, but unfortunately such things are very limited due to the siege," he said.

For almost four years Israel has enforced a comprehensive blockade on the Gaza Strip, preventing the entry of essential items such as electric devices and hi-tech products. Amidst the crippling blockade, Palestinians in Gaza rely on underground tunnels from Egypt to supply such goods.

"The Ministry of Telecommunications initiated this forum for the various companies or individuals to exhibit their products in an attempt to show the world that Gaza is still living and can make something," said ministry representative Marwan Hammad, who led the exhibition. "This is really a challenge from the Palestinians in the Gaza Strip to show they have the will to live."

"Some of the projects or inventors got patents from international organizations for their products," Hammad, himself an engineer, said. "This shows how people here are determined to break the Israeli siege."

Hammad called on the international community to help end the Israeli blockade so that Gaza can be involved in the international cycle of development and invention like any other place. The world, he said, should support "creative Palestinians to develop more ideas and engage in more inventions. Gaza is full of such people but they need a great deal of help."

As the Islamic University graduate Huda Abu Shammala said while showing off her invention, "As long as the Israeli blockade continues, there is a very limited chance for development."

All images by Rami Almeghari.

Rami Almeghari is a journalist and university lecturer based in the Gaza Strip.