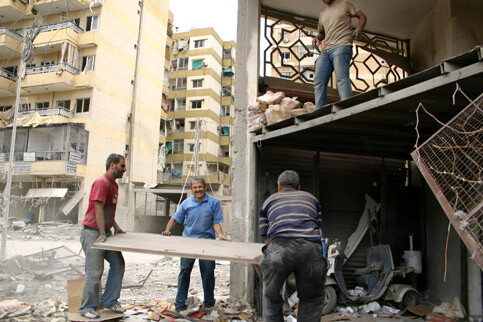 BEIRUT
— For the past two weeks, Lebanese
TV
stations have been working flat out to provide their viewers with reports of the Israeli offensive in the country. Exhausted anchors have given the crisis 24-hour rolling coverage and correspondents have taken great risks to cover the heavy fighting.
In addition to covering the news however, Lebanon's many TV channels are also playing a role in the massive relief effort for the hundreds of thousands of Lebanese who have been displaced.
Phone numbers for volunteers and donations are continually flashed up on screens and information from people in the areas that have seen the heaviest fighting has been included in the news.
Often these messages are simple requests for mattresses or food for schools that are housing the displaced. At other times they include vital information for aid workers.
"They are helpful. They are sympathetic to the fact that many aid organisations do not have the resources to know what is going on," says Ghassan Makarem, an activist with Samidoun, an umbrella organisation for several activist groups.
Many news stations have taken calls from people who have been trapped in villages in the south and were desperate for aid from the emergency services, bringing the conflict directly into living-rooms across the country.
"There was no plan to do this job but suddenly we found ourselves in this situation," says Mariam Bassem, news editor at New TV, a popular left-leaning station. "People are calling us to help them and asking us to link them to the government. People are calling every minute so we decided to continue this service. And as the number of viewers is very high now, we find that people can get the assistance they require."
As the number of displaced moves upwards of 700,000, according to UN organisations, the government and NGOs are struggling to cope and are relying on donations and help from volunteers.
Activists say that TV is playing a key role in raising funds too. "We have an agreement by which TV stations make calls for volunteers and donations" Makarem says.
TV has also helped reunite family members who have been separated in the chaos. Bassem of New TV recalls one such incident. "One woman called in saying: 'I have lost my daughter. I want to know any information about her. Can she call this number?' And two minutes later, the daughter called. I think we have done a good job."
Not all TV stations have the same approach however, with some outlets broadcasting only information from official sources. "We are not refusing to do that [provide information] but the source must be official," says Eva Hachem, news editor at Lebanese Broadcasting Company (LBC), Lebanon's first private TV station. "Sometimes the government asks us to put on air some numbers to help people. Some embassies sent videos showing their citizens how they could leave, so we put those on air."
Al-Manar, known as Hizbullah's focal media company, made a decision early on that it was going to do everything it could to help those affected. "Our correspondents have been doing their best to help individual people," says Ibrahim Farhat, an Al-Manar employee. "They are ready to broadcast any information that might help the displaced."
But like many vital services in Lebanon, the TV industry has not escaped the conflict. So far, two media workers have been killed in Israeli air strikes and television transmitters belonging to LBC and Future TV - founded by former Prime Minister Rafiq Hariri - have been destroyed. In addition, Al-Manar's premises have been reduced to ruins following direct attacks. However, it continues to broadcast from a new location.
Such assaults on the media have drawn criticism from international media groups. Reporters Without Borders (RWB) has condemned Israel's confessed targeting of media installations, which, according to international conventions, cannot be viewed as military targets.
RWB says it has asked the International Humanitarian Fact-Finding Commission (IHFFC) to investigate these Israeli attacks.
In the meantime, despite these assaults, all of Lebanon's TV channels remain on air and aim to continue playing their part in the relief effort.
Related Links
This item comes to you via IRIN, a UN humanitarian news and information service, but may not necessarily reflect the views of the United Nations or its agencies. All IRIN material may be reposted or reprinted free-of-charge; refer to the copyright page for conditions of use. IRIN is a project of the UN Office for the Coordination of Humanitarian Affairs.