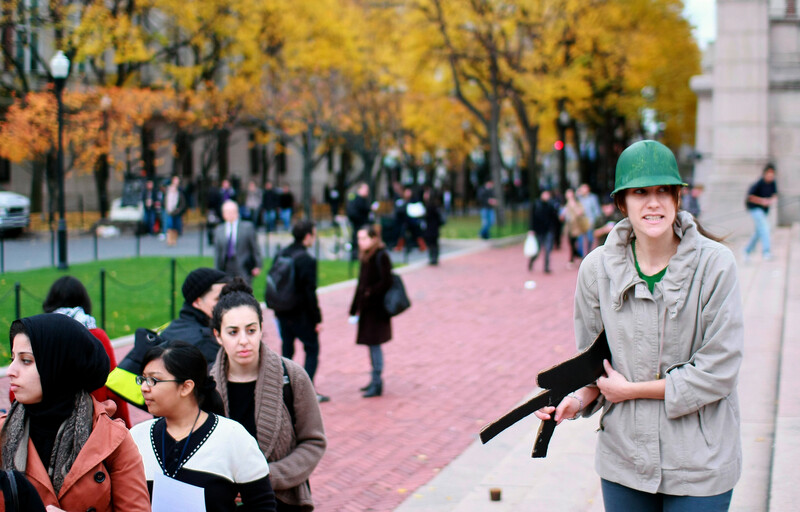 Israel was being discussed as a settler-colonial project in one classroom, while in another a workshop about the Arab uprisings and Palestine took place. In the hallways of New York's Columbia University, activists huddled together and talked about recent travels or the Palestinian Authority's role in the West Bank. And at night, organizers headed down to the Occupy Wall Street encampment in New York's financial district to address a general assembly.
This was the scene at Columbia last weekend as 350 student activists from more than a hundred schools across the nation converged for the first-ever Students for Justice in Palestine (SJP) national conference. The conference was structured around workshops ranging from "The Economics of Israeli Colonialism" to the "Politics of Women's Activism" to "How to Effectively Start and Run an SJP Group." The result of a year of student planning, organizing and fundraising, the SJP gathering comes at a moment when Palestine solidarity activism on college campuses is increasingly scrutinized.
"It's a huge, huge step for us," explained Aman Muqeet, a recent graduate of Florida International University who was part of the SJP National Coordinating Committee, an informal group of SJP activists who organized the conference.
The aims of the "Students Confronting Apartheid" conference, activists said, were to strengthen the student movement for Palestinian rights and develop a better political understanding of the situation in Palestine. SJP activists convened in separate "movement building" workshops to create proposals for a national structure to better coordinate and share resources, though activists said individual chapters would remain autonomous.
The proposals are set to be voted on in the coming weeks. A statement by SJP organizers released after the 14-16 October conference said that a national structure for SJP would "mark the beginning of a new era in Palestine solidarity organizing in the United States" ("Student organizations resolve to organize nationally for Palestine," 18 October 2011).
The hundreds of activists also decided on "points of unity" at their closing session, which mirrored the demands of the Palestinian-led boycott, divestment and sanctions (BDS) movement.
Dina Omar, a Columbia University graduate student and SJP organizer, said that the importance of the conference was in creating a "solid network and apparatus to help and protect students from being systemically targeted by institutional power."
Those institutional powers, who Omar said smear and target Palestine solidarity activists, were clearly on display in the weeks leading up to the conference.
Students under attack
The conviction of ten Muslim students from the University of California at Irvine for interrupting a speech by Israeli ambassador Michael Oren came three weeks before the SJP conference.
And a week before the gathering at Columbia took place, the Anti-Defamation League (ADL) took aim at what they said was the "growing strength" of SJP in a report on "anti-Israel activity" in universities ("Emerging Anti-Israel Trends and Tactics on Campus," 11 October 2011).
Ironically, it was a 2010 ADL statement calling SJP one of the top 10 "anti-Israel" groups in the US that pushed 67 chapters to come together for the first time.
The ADL report called SJP "the primary organizer of anti-Israel events on campus," and said that SJP "presents" a "challenge." The ADL also lauded the US Department of Education's 2010 decision to expand its interpretation of the 1964 Civil Rights Act to "protect" Jewish college students from anti-Semitism, "including anti-Israel and anti-Zionist sentiment that crosses the line into anti-Semitism."
Palestine solidarity activists, though, say that the charge of anti-Semitism is being used to clamp down on Palestinian rights activism. The Department of Education has opened a number of investigations into alleged campus anti-Semitism, including at Barnard College, which is affiliated with Columbia and the University of California at Santa Cruz.
That the ADL, a powerful organization with tens of millions of dollars, would target grassroots student activists is an indication both of the challenges SJP faces and the promise of SJP's work.
Omar said that the various Department of Education's investigations "shed light on how much work we need to do to fight institutional power against suppressing our voices."
SJP chapters continue to face attacks from a variety of Israel lobby groups. And just days before the conference, New York Democratic Congressman Gary Ackerman, a hardline supporter of Israel, attacked New York University staff who had signed onto an NYU SJP letter calling for divestment ("Ackerman Blasts NYU-Israel Divestment Push," 12 October 2011).
Some student organizers say they are overwhelmed at times from what Omar described as "constantly having to take 12 steps back, in terms of shuffling through all the misinformation, before you're able to take one step forward."
Activists continue to develop and expand divestment campaigns
Despite the pressure, though, activists vowed to push on with the core of their work: advancing Palestinian rights, principally through BDS campaigns. Divestment campaigns across US college campuses continue to forge ahead — a major concern for groups such as the ADL.
The BDS movement, which follows a 2005 Palestinian civil society call to boycott, divest from and sanction Israel until it follows its obligations under international law, was a main focus of the conference. Workshops included implementing a successful divestment campaign, preparing for Israeli Apartheid Week and lessons learned from past BDS campaigns at universities.
"BDS is a really good anchor and an important reference point to have in terms of following the leadership of Palestinians," said Ilana Rossoff, a SJP coordinator and a recent graduate of Hampshire University. It was Hampshire's SJP that led the first successful divestment campaign in the US targeting Israel in 2009.
The importance of BDS was also emphasized by speakers at the conference. Bashir Abu-Manneh, a Barnard professor, told attendees at a workshop on potential solutions for Palestine-Israel that "sanctions are the best way to alleviate Palestinian suffering. It is crucial to create a strategy around that in the US: to push the US government to end its military support for Israel and to push American companies to divest from the occupation." ("A 'Palestinian Spring?' Not Yet.," transcribed on the New Politics blog, 17 October 2011).
Student activists also say that the conference came at an opportune political moment in the US, as various "occupations" of public space sprout up in protest at economic inequality. Many SJP activists headed down to the Occupy Wall Street encampment and participated in weekend protests that saw dozens of arrests. Rossoff, who addressed the general assembly, said the feedback from the Wall Street protesters was positive.
"People are thinking very intelligently about coalition politics — what kind of social movement we need to build to have the political strength such that it can work to our goals," Max Ajl, a blogger and activist who attended the conference, wrote in an email. "The timing was key — everywhere there was the buzz that we are part of a broader mobilization, the Occupy movement. There is now both the opportunity and the incentive to link these struggles."
Like many others, Shirien Damra, a veteran SJP organizer from Chicago, came out of the conference energized and hopeful.
"We're making an impact. We're making a huge dent," she said. "It's inspiring and it's so new just seeing all these students that are so driven. They're not [just] Palestinian, they're not [just] Jewish, a lot of these students are not ethnically connected at all, and they see it as a human movement … it's amazing."
Alex Kane is a blogger and journalist based in New York City. He is a frequent contributor to the blog Mondoweiss, and his work has appeared in Salon, AlterNet, The Electronic Intifada, Common Dreams, Palestine Chronicle, Gotham Gazette and Extra. Follow him on Twitter at @alexbkane.
Tags