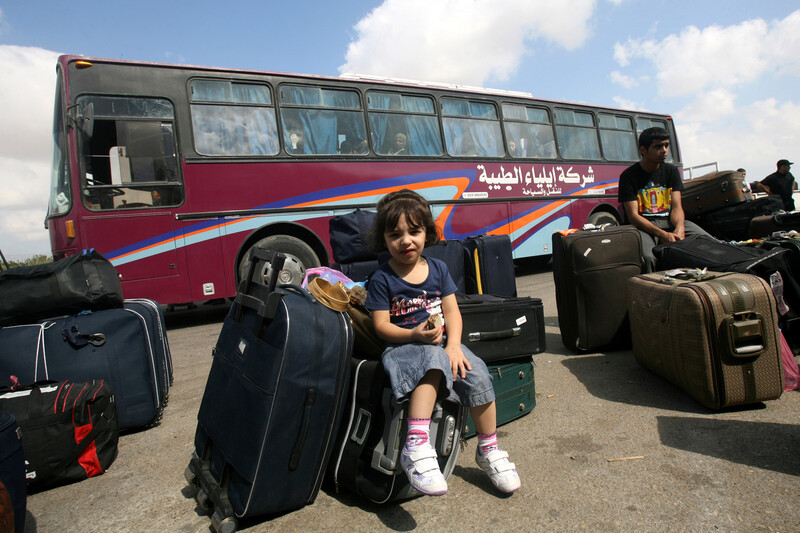 I was a boy of 12 when I slept for two nights on the Egyptian side of Rafah crossing — Gaza's only outlet — after it was shut down by Israel in 2002.
I was with my aunt and eldest sister, who passed away in 2007 because of the Israeli siege. I hardly relate to that experience now because, as a child, I thought of it as "fun." That is how kids look at things: fun.
Fun. We slept on the floor for two days. The conditions were terrible. My aunt was looking after me and my eldest sister, who underwent surgery in Jordan.
In June 2013 — 11 years later — I traveled to Egypt for the second time in my life. But I was sent back to Gaza by the Egyptian authorities, along with 200 other passengers. "That's enough for today," we were told. Two days later, I managed to enter Egypt. I had to change my flights for the second time.
I flew out from Cairo to Malaysia and then New Zealand. It took me more than three months to obtain a visa to visit New Zealand to participate in a conference on Palestine in Auckland and to conduct a speaking tour all over the country.
My visa application was declined at first — thanks to the "balanced approach" New Zealand is trying to maintain "when it comes to Palestine/Israel," as the Palestine/Israel desk officer told me when I eventually visited the foreign ministry in Wellington.
"Balance"
This "balance" is clear to me. I kept receiving conflicting information for two weeks on where to apply. I was told to apply through the New Zealand Embassy in Cairo, then Dubai, then Bangkok, then Tel Aviv, then Dubai again, then Cairo and finally Dubai once more. Thinking of that "balance" makes me lose my balance.
I was also in Malaysia for five days to launch The Prisoners' Diaries, a collection of 22 stories about the prisoners freed in the 2011 exchange deal between Hamas and Israel. I co-translated this book.
Malaysia gives Palestinians with travel documents issued by the Palestinian Authority a month-long visa upon their arrival. I wanted to travel directly to New Zealand first, but I was told that I need to obtain a transit visa from Australia, which is even worse when it comes to treating Palestinians.
I flew back from New Zealand to Malaysia to obtain a transit visa to Egypt from the Egyptian embassy in Kuala Lumpur. In vain, I tried to get it from the Egyptian embassy in Wellington. They only just opened their office in New Zealand, I was told. I had to change my flights for the third time.
Once I got my visa from the Egyptian embassy in Kuala Lumpur, I traveled to Egypt via Doha. Rafah was shut down on my way to the airport. I thought I would be able to stay in Egypt, according to the visa I got, for two weeks. Or in the worst scenario, I would be deported to Gaza, my home and destination.
However, a worse scenario, one that I had not expected, was awaiting me, along with dozens of Palestinians who arrived in the two days after Muhammad Morsi was removed from office on 3 July: deportation.
Humiliated
A new description was given to us: "the deported." We were put on flights back to the countries we had visited. We even had to pay the airfare. Some Palestinians had no re-entry visas to the countries they arrived in Cairo from.
I felt powerless, oppressed and humiliated. I saw people of all nationalities getting into Cairo easily. I was a six-hour drive from home. Yet my visa meant nothing.
The plans and expectations I drew up on what I would do once returning to Gaza meant nothing to the Egyptian authorities. "Rafah is shut down. You should not have traveled to Cairo in the first place," I was told. Cruel.
I had no choice but to get on the plane back to Doha, and then Kuala Lumpur.
"Please be seated until all passengers get off the plane. I will assist you. You will not be able to get your passport until you arrive to Malaysia. We will give it to the immigration and they will decide if you will be able to enter Malaysia or not," the airline officer kept reminding me.
After I explained "my situation" to the immigration office in Kuala Lumpur International Airport and the reason why I was deported, I was given a 24-day visa.
Degraded
I was asked by the Egyptian authorities to stay in Malaysia until Rafah is officially re-opened. Staying in Cairo's deportation room is the best recipe to die slowly. I spent 14 hours there.
There were many other Palestinians there. All felt oppressed, abandoned, degraded. The six-hour drive home became a journey of thousands of miles without any guarantee of reaching one's destination. I stayed in Malaysia until things got clearer, to paraphrase Mourid Barghouti, a Palestinian poet and novelist, writing in his famous book I Saw Ramallah. Barghouti saw Ramallah after thirty years in exile. I was lucky. I saw Gaza 13 days later, although it felt like years.
I managed to get back to Gaza, finally. I arrived to the immigration desk in Cairo International Airport the moment a dozen of "deported Palestinians" were moving out of the deportation room to get "the deportation bus" to Rafah.
"You are lucky. You didn't spend a single minute in the deportation room," one of them told me.
"The 14 hours I spent last time in the deportation room were surely enough," I told him.
"Everyone has a share in this," I added.
I felt so happy being deported this time. It's different, when you are deported back home, where I always wanted to be.
I read the fine print on the first page in my passport. "This passport/travel document is of a great value that requires from its bearer the utmost attention to prevent it from being carried or used by an unauthorized person. This passport, travel document, as long as it's valid, will enable its bearer on return from abroad to enter the area of the Palestinian Authority," the passport reads.
I am serious. This is not a joke.
Yousef M. Aljamal is a Gaza-based translator and blogger. His website is www.yeljamal.wordpress.com. He can be followed on Twitter: @YousefAljamal.
Tags