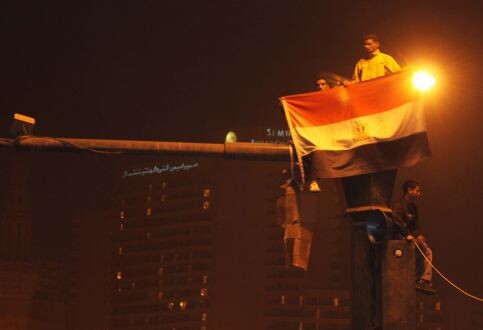 CAIRO (IPS) - Demonstrations calling for the ouster of President Hosni Mubarak of Egypt continued for the second day yesterday in several Egyptian cities with police cracking down violently, a development that many analysts here say reflects the nervousness of the regime.
At least four persons have died so far, 600 have been arrested and many more injured. Protests are flaring up in Cairo, 6th of October City, Suez, Mahalla al-Kubra and Alexandria.
"Young people are standing in the way of heavily armed armored vehicles and stopping them. People are genuinely frustrated," Khaled al-Balashy, editor-in-chief of al-Badil newspaper told IPS.
"That was the first time I see people literally sacrificing their lives in face of police brutality," al-Balashy said. "They think nothing worse could happen to them. This is unprecedented. And the changes will be equally unprecedented. It is a matter of time."
Diaa Rashwan, an analyst with the semi-official al-Ahram Center for Strategic Studies noted that the protests are now calling for regime change, not for the usual government benefits or reduction in food prices.
"Protesters want the regime out. That in itself has confused the government," Rashwan said. "They do not know how to respond so far. The only answer has been extra security — I think they are scared."
The government has stepped up its security response across the country, with armored vehicles visibly deployed around important buildings in Cairo — including the television and radio building overlooking the River Nile and several ministerial offices.
Hundreds of members of the Egyptian Press Syndicate demonstrated outside their union, where there was a heavy police presence, while hundreds of lawyers were trying to break a blockade by the police of the Bar Association building nearby.
Several women journalists were beaten by the police and were seen crying in pain. Many were seen yelling at officers who had used clubs against women reporters.
"These protests may not bring immediate or quick results," said Qutb al-Arabi, an activist with the Egyptian Press Syndicate.
"But it is a message to the government that we are truly fed up."
Al-Arabi said he was demonstrating with other journalists initially for greater press freedoms, but as the police cracked down with violence, the demands have now shifted to request the departure of 82-year-old President Hosni Mubarak who has ruled Egypt since 1981.
Mubarak and his government have been losing popularity due in part to implementation of economic policies backed by Western institutions such as the International Monetary Fund, the World Bank and the US Agency for International Development that have led to high prices, rampant unemployment and corruption.
The government has cut or removed subsidies for many staple goods in a country where millions survive on less than two dollars a day.
Just before the protests broke out Tuesday, the government was preparing to cut energy subsidies, a move that would have pushed prices up even further.
The health ministry was also planning to cut its public health care coverage — limiting the hours at public hospitals were patients could be seen for reduced fees.
Politically, more activists are being pushed to the sidelines — including Islamic opposition, secular and independent political leaders.
Several political activists were particularly shocked in November over what they saw as the rigged parliamentary elections, which the ruling National Democratic Party won with an overwhelming majority — leaving very little room for opposition.
"The government's performance is very weak on many levels, be that socially, politically or economically," said Gouda Abdel-Khalek, head of the economic affairs committee at the left-leaning opposition al-Taggammu Party.
But some analysts say that the Egyptian regime is flexible enough to note the demands of the protestors.
"We are talking about a state that is a professional survivor," Mohamed Abdel-Salam, editor-in-chief of the political periodical al-Seysa al-Dawlia told IPS. "They survived many other storms before."
Abdel-Salam said the size of the protests yesterday and today were clearly larger than what Egypt was used to, but "it is still smaller than protests in Tunisia, Lebanon or Yemen."
"The political elite are reading the events well and we expect to see some positive response soon because they will strengthen the hand of the reformists inside the ruling establishment. The changes will likely be political rather than economic," said Abdel-Salam, whose publication is part of the state-run al-Ahram Institution.
The government however has not indicated it is responding either politically or economically.
The Interior Ministry has been the dominant government voice so far. In a statement Tuesday, the ministry blamed the Muslim Brotherhood for the protests — a declaration that positions the government to ignore demands of protesters since the Muslim Brotherhood is outlawed.
Opposition parties say the protests were spontaneous and not organized by the Muslim Brotherhood.
"It was a popular unrest. It wasn't the Muslim Brotherhood," said Abdel-Khalek of al-Taggammu party. "I hope that the regime will get the real message and won't believe its own untruths."
Abdel-Khalek, who also teaches economics at Cairo University, said that the regime will fight hard for its survival because it is "a matter of life and death."
"They are afraid that once they are toppled, there will be investigations into their corruption and their mismanagement of the country," he told IPS.
The liberal Wafd Party called Wednesday for a "reconciliation government" that would include members from outside Mubarak's ruling National Democratic Party, and also on Mubarak to dissolve the current "rigged" parliament.
But all analysts agree on one thing; the emergence of a new generation of young Egyptians who are more combative and who are not afraid of the police — who are capable of bringing about more change than previously thought.
All rights reserved, IPS — Inter Press Service (2011). Total or partial publication, retransmission or sale forbidden.
Related Links