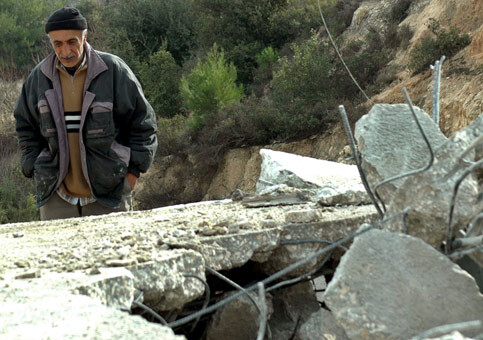 RAMALLAH, Nov 21 (IPS) - Al-Walajeh village was once a quiet but busy place. Just four kilometers from Bethlehem and 8.5 km from Jerusalem, its rolling hills filled with fruit trees, natural forests, and blooming vegetation made it a prime farming location. Easy access to large and consistent markets led its inhabitants to relative economic prosperity. Life was good.
Today, however, al-Walajeh village is a different place altogether.
"The demolishing of houses is a weekly event here in al-Walajeh," Sheerin Alaraj, al-Walajeh Village Council member, told IPS.
"People have nowhere else to go and so there are at least three families living in every house, sometimes even more. Some families have even been forced to live in caves," she said.
Since Israel's full-scale military occupation of the West Bank began, more than 12,000 Palestinian homes have been demolished, making house demolitions a grim hallmark of Israel's occupation strategy.
Alaraj's village, home to some 1,700 Palestinians, is under attack. But like the rest of her community she is refusing to leave.
The construction of the Israeli wall, plus subsequent land grabs by surrounding Jewish settlements, has decimated the villagers' land, and their livelihoods.
Al-Walajeh now consists of just four and a half kilometers of land — it is 22 percent of its original size.
In June of 2004, the International Court of Justice declared that Israel's construction of the wall "was contrary to international law."
The Court ruling stated that "Israel is under obligation to cease construction and dismantle the wall … Israel should compensate owners of land seized to construct the barrier and those harmed by the barrier … all states are under obligation not to recognize the situation, and ensure Israel's compliance with international law."
Israel has said it will not accept the Court's non-binding judgment, and has continued to construct the wall which upon completion will stretch 703 km around the West Bank, often times cutting deep across the Green Line — the internationally-recognized borders demarcated between Israel and Jordan in 1949.
Israel has stated that the purpose of the wall is to prevent suicide bomb attacks, but critics maintain that the underlying intention is to annex as much land as possible to the expanding Israeli settlement colonies inside the occupied West Bank.
Al-Walajeh, land that was once fertile and green has disappeared beneath the concrete of three major Israeli settlements — Gilo, Har-Gilo and Giv'at Yael.
What trees remain are now under attack — large swathes of the village's remaining trees are being hacked down to make way for a new section of the Israeli wall.
When this section is completed, the villagers will be separated from more than 90 percent of their agricultural land.
They will be completely surrounded by the wall, and forced to use a terminal to get into, and out of, their own village. Al-Walajeh will be reduced to an area of just 2.2 square kilometers.
The villagers still refuse to leave.
"The residents of al-Walajeh are being manipulated and squeezed by the Israeli state to voluntarily leave their village," states a joint study by the Jerusalem based Applied Research Institute (ARIJ) and the Land Research Center (LRC).
So far this policy has failed.
Even in the face of brutal circumstances, the people of al-Walajeh are holding onto what's left of their land.
For those unlucky enough to be living in the way of, or on the other side of the future wall, house demolition is imminent.
Munthar Hamad, now a homeless citizen of al-Walajeh, has had his home destroyed twice. First bulldozed in January of 2006, his home was again destroyed in December of the same year.
According to the ARIJ-LRC report, Hamad "invested 50,000 Shekels ($12,000) to rebuild his 120 square meter house for the second time, and now Israel has not only bankrupt[ed] him but also turned him, along with his other five family members, into refugees."
Under the Fourth Geneva Convention the destruction of private property by an occupying power is prohibited unless such destruction is lawfully justified as being imperative to the security of the occupying power.
For the 12,000 Palestinian families, including those from al-Walajeh, whose homes have been destroyed, it's hard to understand how Israel's security is dependent upon their homelessness.
Surrounded by Jewish settlements from the north, south, and west, encircled by the wall, and controlled by an Israeli entry and exit terminal, the villagers of al-Walajeh will soon become virtual prisoners on their own land.
"It's like a life sentence in prison for everyone here, even for those who are yet to be born," said Alaraj, "People outside need to know what's happening here."
All rights reserved, IPS - Inter Press Service (2007). Total or partial publication, retransmission or sale forbidden.
Related Links