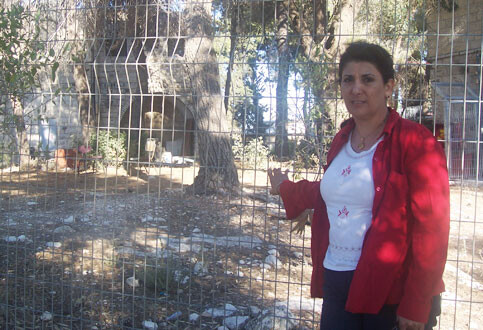 "They will not criminalize us, rob us of our true identity, steal our individualism, depoliticize us, churn us out as systemized, institutionalized, decent law-abiding robots. We refuse to lie here in dishonor!"
- Bobby Sands, Provisional Irish Republican Army

It's as if the very moment I passed by Bab al-Amud or Damascus Gate in Jerusalem's Old City, I was transported back in time to a forbidden place, a place I was forced to feel as though I was illegally trespassing through just by gazing at it, a place now belonging to others. "This place you talk about no longer exists. It's been long gone." That's what they continue to say with such impunity and disregard, but those sentiments of deterrence wouldn't stop me. They never had before, and they wouldn't stand a chance now. I was determined to go back, to see it all again with my own eyes, to capture every sight so the memories would be engraved in my head forever, despite any and all pretentious constructions that would be made without our permission. Despite all the renovations and reconstructions to make it "their own," it would always be Deir Yassin to me.

"Deir Yassin," she says with a sadness, a sense of loss in her eyes each time she speaks of the atrocious day she lost her home. "Deir Yassin," she says with a childlike innocence in her voice as she recalls sweet memories before her entire world was completely denatured by evil. "Deir Yassin," the imperishable words of my grandmother continue to resonate with me each day for she made me promise to never forget, and that's a promise I intend to keep to her.

I followed the imperiously-placed road signs leading to Givat Shaul until the memories began flooding back, one by one. With no place to park, I took the chance of leaving the yellow-plated car on the side of the road, near the abandoned blue fence so I would be able to step back in time on foot. In the cool breeze of that afternoon, standing on the ledge overlooking the Har HaMenuchot cemetery in scenic view of the Jewish Holocaust memorial, Yad Vashem, I inhaled deeply and digested the view of what was now known as Givat Shaul. As I stood there taking in the surreal surroundings of Mount Herzl and Yad Vashem, I was overcome by emotions as the tales of my grandmother soon came to life right before my very eyes.

"See right there," she pointed behind me, "that was my father's stone quarry, and there's the grain mill." For as long as I live, I'll never forget the look on her face, the way her lips quivered, the way she tapped her tired fingers on her chest with such pride, and the high pitch in her voice as she spoke with such nostalgia. As a little girl, she played house with her friends at the nearby monastery surrounded by fig, almond and apple trees, just as any child would do, oblivious to the tragedy that awaited them. At eight years old though, her childhood was no longer one free of trauma and injustice. In less than a day, she was forced to leave everything she had ever known behind, taking nothing with her but the clothes on her back. Sixty-two years ago, she had once called this place home. This was home, and without her knowledge, her permission, or her right, it was all taken away. Someone else callously decided it was no longer hers to claim. The thought of that still makes me feel as though I've been kicked repeatedly in the stomach.

It's difficult to return to Deir Yassin without suddenly becoming transfixed by the blatant ethnic cleansing and hypocrisy lying on the very ground once belonging to the native Palestinians who called this very ground home less than seven decades ago. Chilling tales and memories have allowed Deir Yassin to live on in the hearts and minds of countless worldwide, allowing it to be deemed as so much more than just a name associated with death, destruction and pillaging. Deir Yassin will continue to resonate as a lesson of resilience and determination to never forget.

Before walking back to the car and bidding my farewell to Deir Yassin once again, I stood on the ledge overlooking Mount Herzl with the hope of trying to absorb and digest all that I had seen that day. Standing there captivated by all that I had taken notice of this time, I couldn't help but feel as though my blood began to boil. Looking onto the grand, monumental view of Yad Vashem erected to honor those who so unjustly lost their lives in the Holocaust, I stood on the land where my own family too lost their livelihoods and lives so unjustly without so much as a marker to honor them. A mile away from Deir Yassin sits a memorial to commemorate the victims of the Holocaust, to remind the world of the inhumanity that took place with such impunity. Today, it continues to remind the world of the atrocities that took place with a timeless, ubiquitous message of "never to forget man's inhumanity to man."

I can't help but feel as though the overwhelming irony is shamelessly mocking me as I stand there on the other side of Yad Vashem in Deir Yassin, where a massacre took place 62 years ago. I stood there honoring those whose names don't appear in a museum, whose voices are rarely, if ever, heard in the media, and whose legacies are insolently ignored and omitted from textbooks and classrooms, rendering them invisible to so many in the world. Standing there, I wonder if those who visit the museum look over to the other side and even know what occurred there some 60 years ago, whether or not they question what happened, and whether or not they feel any sympathy like they do for their own. Deir Yassin carries with it such magnitude, for it is not just the story of a massacre, but the story of two peoples — the victims and the victims of those victims — whose fates allowed them to be conjoined on stolen land.

Wiped off the post-1948 maps of Israel, Deir Yassin can never and will never be wiped out of the minds of Palestinians worldwide, those under occupation and those in the diaspora. No matter how the maps and signs are altered, I will always find a way back to Deir Yassin, because it is my moral responsibility to return and keep its legacy alive. This is where I come from. This is where my family, who are still alive and well to remember, suffered. This is where injustice took place, and I will never forget. After all, it was Simon Wiesenthal who said that "hope lives when people remember," when observing the suffering of the Jews at the hands of injustice. Likewise, the suffering of the Palestinians deserves to be dignified as well. As any people who have been subjugated and oppressed, Palestinians too will hold on to their relentless refusal to concede and forget.

Despite all the agony, anguish and traumatizing memories that have echoed with her throughout her life, my grandmother's eyes still light up just at the sound of hearing Deir Yassin. Today, this place that's been associated with such pain and suffering to so many continues to instill such pride and joy in her. I've never known such strength and resilience, but I hope to learn from it every single day.

So, today, I commemorate the 62nd anniversary of the Deir Yassin Massacre. Commemorating Deir Yassin is not to create a sadistic exploitation of the suffering of a people. It is a reminder to us all that injustice did take place there, and that it is our responsibility to remember that the atrocities and intolerance we see and hear about today had their inception with Deir Yassin. Deir Yassin, which catapulted the Nakba, our catastrophe, is an undeniable marker of unabashed injustice, and it will continue to deter any prevarication and the notion that "ignorance is bliss." Deir Yassin signifies that Palestinians existed and still exist, and we will never give up without a fight.

David Ben Gurion, Israel's first prime minister, was mistaken when he arrogantly asserted that "the old will die and the young will forget," for he underestimated the indomitable will of the Palestinian people. Despite heartache, pain and suffering, we will never relinquish a dream so imbedded in our hearts and minds. Yes, the old may die, but the young will never able to forget, and to paraphrase Bobby Sands, "our revenge will be the laughter of our children," those who will carry on this dream and fight for justice. This dream will live on in the hearts of generation after generation; it is an inextinguishable fire burning inside our hearts, and what we say today will be our lifelong commitment to it.

Dina Elmuti is a graduate student in the Masters in Social Work program at Southern Illinois University at Carbondale.